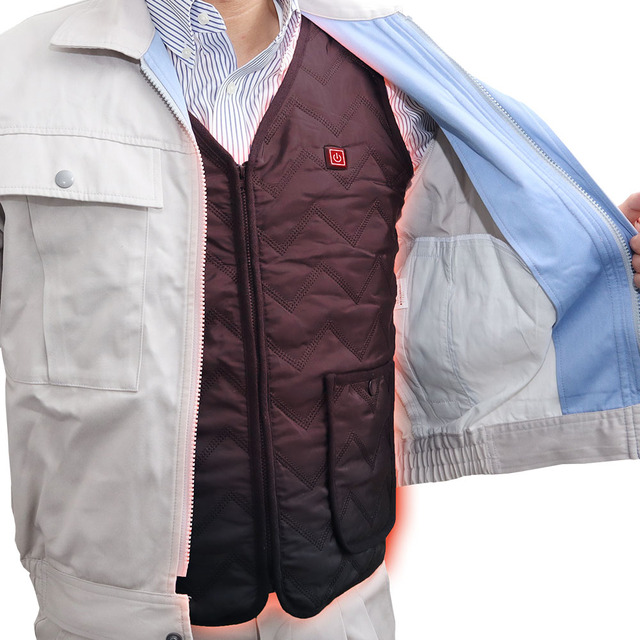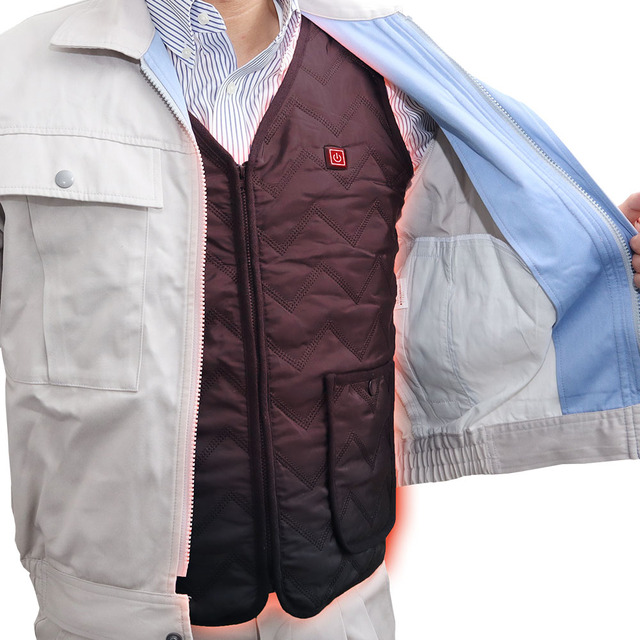 Sanko Co., Ltd. says, "Washable! "Best with built-in electric heater" was released. This product is an electric heating inner vest with a built-in heater and adjustable size. By adjusting the chuck on the side and the button on the shoulder, it is a free size that can be fitted and used by people of various body types.

■ It gets warm in about 10 seconds
The power supply can be used by connecting a mobile battery via USB. With a pocket on the front to store the mobile battery. It warms up in about 10 seconds when the power is turned on. A 10,000mAh battery can be used for up to 8 hours. The heater temperature can be adjusted in 3 steps by pressing the button on the front part. The setting status can be grasped by the color of the LED lamp. Red: high temperature (about 55-60 degrees), white: medium temperature (about 50-55 degrees), blue: low temperature (about 45-50 degrees).
The back side uses a mesh that does not get stuffy, so you can wear it as an outer or inner. If it gets dirty, you can wash it by hand, so you can use it cleanly at any time.
"For those who ride motorcycles and bicycles, fishing, watching sports, winter sports, etc., it is warm anytime, anywhere. Recommended for measures against the cold in winter. 』
Product features
・ Warm your body with 5 heaters.
・ The size can be adjusted according to your physique and dress with the side chuck and shoulder buttons.
・ Easy to use with mobile battery
・ Maximum temperature of about 60 degrees, 3 levels of temperature setting according to the situation
・ The back side is mesh and does not get stuffy
・ Can be worn as both outer and inner
・ With battery storage pocket
・ Can be washed by hand if dirty
specification
・ Corresponding size / one size fits all
・ Wearing size / Height 57 Chest circumference 104-128 Waist circumference 94-120 (mm)
・ Weight / 350g
・ Accessories / main body, Japanese manual
・ Power supply from power supply / USB port
・ Voltage / 5V
・ Current // 2A
・ Power consumption / 10W
・ Temperature / Low: 45-50 degrees Medium: 50-55 degrees High: 55-60 degrees
・ Continuous use time / When using 10000mAh mobile battery, low: about 8 hours, medium: about 7.5 hours, high: about 7 hours
・ Recommended battery / 2.0A output or higher
・ Pocket size / width 125 x height 160 (mm)
・ Material / 100% polyester
・ Package size / width 280 x height 330 x depth 70 (mm)
・ Weight (including package) / 440g
・ Warranty period / 12 months
・ Release date / 2020/10/21
・ Model number / SDJEMKBS
・ JAN / 4562331785880
■Can be washed! "Vest with built-in electric heater"
■IT life hack
■IT life hack twitter
■IT life hack Facebook
■Articles related to digital home appliancesI Read
・Portable Bluetooth speaker! Harman "JBL GO 3" is now available
・I want to use it with the iPhone 12 series! AUKEY staff, recommended quick charger is this
・Boil water in a PET bottle in about 2 seconds! Sanko, instant water heater kettle "hot water server mini2"
・Ultra-compact foldable 2-port USB charger! AUKEY "PA-U32" is on sale special price 799 yen
・A toy camera that adults can play with! Rare "LOMO SMENA 8M" produced by the Soviet Union