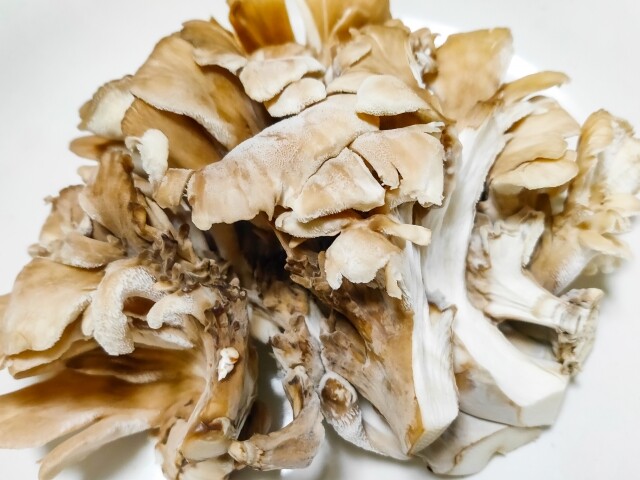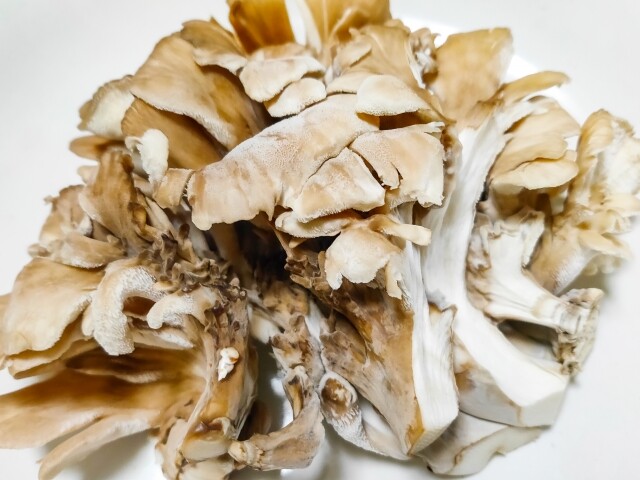 Now, "Maitake" is a big topic on SNS. In a tweet on January 6, 2020, "I've just cut a pig's shoulder block and baked it with mushrooms and soy sauce. What's so soft! ?? The red part is fluffy like fat. Some people have quoted tweets that have reached "20,000 retweets" or "40,000 likes". Therefore, let's introduce the enzyme "protease" that softens meat, and introduces the health power of mushrooms that are happy this season.

Of the mushrooms, the most common mushroom is the protease, an enzyme that breaks down proteins. When maitake is cooked with meat, proteases break down the protein in the meat and soften the texture.
It is known to use pineapple, a tropical plant, to soften meat. Some say that this is why pineapple is contained in sour pork. In addition, papaya and kiwifruit seem to be used. However, these drawbacks have a unique fragrance and there is a drawback that the cooking method is restricted.
Therefore, the best match between meat, food, and taste is Maitake. The Cooking Society of Japan has published experiments that tested the effects of protease using enokitake, oyster mushroom, eryngii, shiitake mushroom, nameko, bunashimeji, and maitake mushrooms. I have.
It is said that aminopeptidase, a type of protease, removes bitterness and produces amino acids to improve umami. Maitake is a magical ingredient that not only tastes good on its own, but also makes the meat soft and delicious.
■ Steak and Snow Country Maitake Pole Source
Materials (for 4 people)
・ One pack of Maitake mushroom poles ・ 4 steak meats ・ 1/2 onion
・ Slightly salt and pepper ・ Appropriate amount of salad oil
<Match seasoning (A)>
・ 2 tablespoons of soy sauce ・ 2 tablespoons of mirin ・ 1 tablespoon of sake
● How to make
① In a sealed storage bag, put the Snow Country Maitake Mushroom and steak meat in a size that is easy to eat
Knead lightly and leave at room temperature for about 20 to 30 minutes (1-2 hours for refrigerator). Slice onions.
② Shake the steak meat lightly with salt and pepper just before baking, and bake the salad oil in a heated frying pan.
(The degree of baking is optional)
③ After baking, put the meat on a plate, drain the excess oil from the frying pan, re-fire,
Add A to the makitake poles and onions, fry, lightly boil down to make the sauce, and finish along with the meat.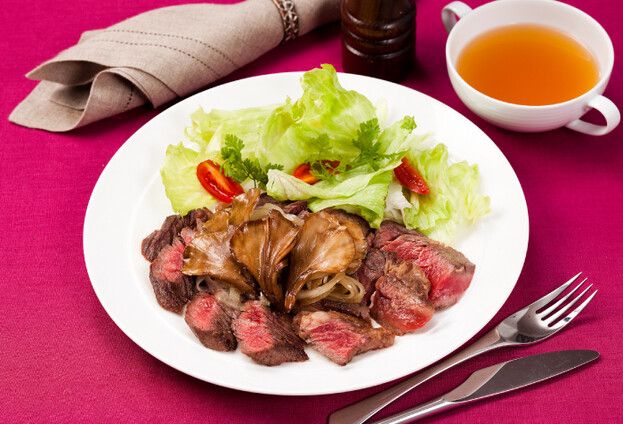 ■ Snow country mushroom chicken cream stew
Materials (for 4 people)
・ 2 packs of Snow Country Maitake Mole ・ 2 packs of Shimeji Megumi Snow ・ 240g chicken thighs ・ 2 onions ・ 1 carrot
・ 4 potatoes ・ 100cc of milk ・ 4 tablespoons of flour ・ 40g of butter ・ 4 cups of chicken soup ・ Salt and a little pepper
● How to make
① Snow Country Maitake-Koku and Snow Country Shimeji Megumi are sized to be easy to eat. Cut other ingredients into bite-sized pieces.
② Add chicken soup and (1) to a pan and cook.
③ When the ingredients are well cooked, sprinkle with the flour-dissolved milk, add the eringi and butter and simmer gently.
塩 Season with salt and pepper. Add a small amount of whipped cream if you like to make it more mellow.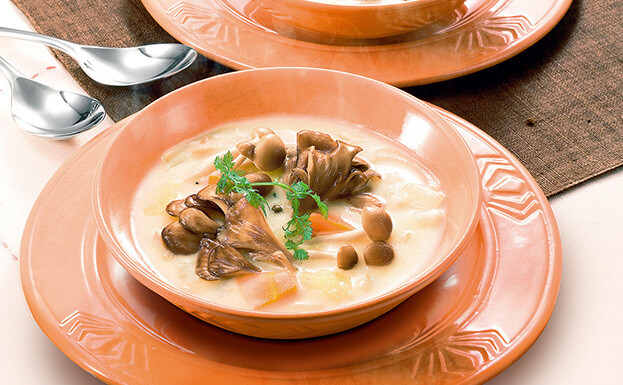 ■ Snow Country Maitake Pole and Pork Hot Pot
Materials (for 4 people)
・ 2 packs of snow country Maitake pole ・ 600 g of pork belly ・ 2 green onions ・ 2 bok choy greens ・ Pot dashi ・ 4 cups of chicken soup
・ 2 tablespoons of soy sauce and sake ・ A little salt ・ Sauce ・ 150g of miso ・ 1 tablespoon of sake ・ 1 tablespoon of mirin ・ 1 tablespoon of sugar
・ 1 tablespoon soy sauce ・ 3 grated garlic ・ Ginger
● How to make
① Shake pork, ginger, leek and sake and steam for about 1 hour and 30 minutes.
② The snow country Maitake-koku is placed in the large bunch, the green onion is cut diagonally, and the pak choi is divided into four equal parts.
③ Sprinkle in a soup stock, boil the meat and bok choy, and add the sauce.
■ Maitake no Tooruri cheese sukiyaki
Materials (for 2 people)
・ Snow country Maitake pole 1 pack ・ Snow country Eringi 1 pack ・ Chicken thigh 1 piece ・ Tomato 1 piece
・ 1/4 onion ・ Olive oil suitable amount ・ Parsley if you like
<Match seasoning (A)>
・ 70cc soy sauce ・ 3 tablespoons ketchup ・ 100ml mirin ・ 3 tablespoons sugar ・ 100cc water
● How to make
① Mushrooms in the snowy country are small enough to be eaten. Cut chicken thighs into bite-sized pieces, and cut tomatoes and onions into 8 equal parts.
② Add olive oil to a pan, fry chicken thighs, mushrooms in order, and add the combined A.
Once it has boiled, add the onions and tomatoes, cover it, and cook it lightly until the ingredients are cooked. Cheese sauce
Please attach and enjoy.
<How to make cheese sauce>
Put milk (60cc) in a heat-resistant container and add sliced ​​cheese (4 pieces) in small pieces. Wrapped microwave
(600W) and heat for one and a half minutes, mix well and shake with coarsely ground pepper (appropriate amount).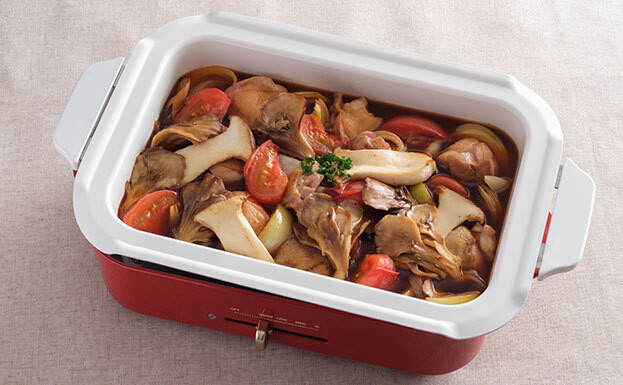 ■IT life hack
■IT Life Hack Twitter
■IT Life Hack Facebook
■Articles related to cultureI Read
・Experience "cutting with a smartphone"! Kaiji, a "cutting" specialist, commemorates the 111th anniversary of Kaiji's founding.
・"The Legend of Galactic Heroes Die Neue These" The long-awaited second season, "Seiran," will be aired for the first time at Family Theater
・The 4th new Tokyo Metro "Find my Tokyo." CM featuring Satomi Ishihara will be released in advance with the title "Kinshicho-a city where the world and Nippon can be more connected"!
・I shouldn't have watched it … I'm sorry to release the movie "Looking for Yutaka Ozaki" If you are an au Smart Pass Premium member, you can listen to Yutaka Ozaki Playlist, where you can listen to songs in the movie
・Create art using aibo! "Aibo x graphic art competition" held at Sony Square Shibuya Project