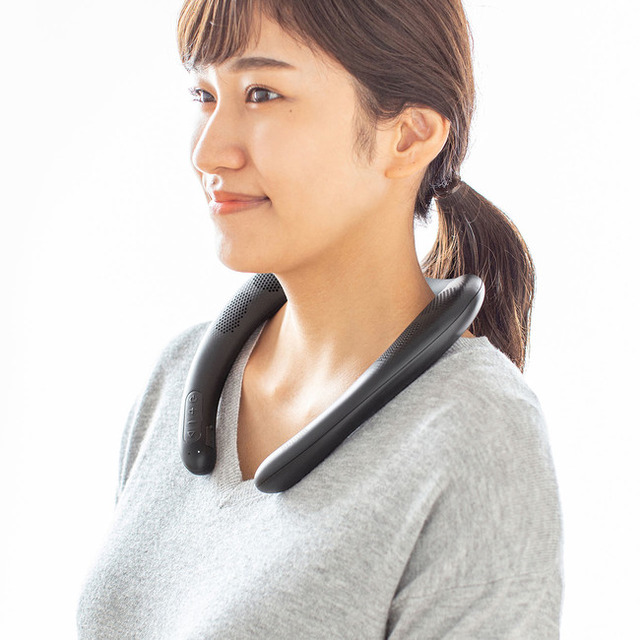 Sanwa Supply Co., Ltd. has released a new Bluetooth wearable neck speaker "MM-SPBT4BK" with the concept of "wearing sound" with a feeling of openness that earphones do not have.

■ Wear on your shoulders Do not block your ears
The "MM-SPBT4BK" is a Bluetooth wearable neck speaker that can be worn on your shoulder without blocking your ears.
Since it is easy to use just by putting it on your shoulder, you can ease the burden on your ears compared to earphones.
A soft silicone material is used for the neck to make it easier to wear and reduce the burden on the neck. It moves flexibly and fits gently on the neck.
An inward design that focuses on the position and angle of the speaker unit so that the sound reaches the ears properly. You can hear clearly even at low volume, and enjoy music and calls. A remote control is attached to the tip of the neckband, and you can adjust the volume and play / pause at hand.
With a built-in high-sensitivity microphone at the tip, you can talk while doing housework or work as a hands-free microphone for smartphones. It can be used not only for watching TV and music, but also for multi-purpose such as web conferencing and telephone answering during telework.
In addition to power saving with the latest technology Bluetooth 5.0, the communication distance supports up to the theoretical value of 10m. It can be used without problems even while walking, and can be used while moving freely.
In addition, it supports not only Bluetooth connection but also microSD card connection, and can be used as a music player as it is by inserting a microSD card containing MP3 music data.
As it weighs only 190g, it is suitable for long-term use. With IPX5 waterproof specifications that are safe even if it gets wet with water drops or sweat, it can be used around water such as in the kitchen or during exercise. Unlike earphones and headphones, you can listen to the surrounding environmental sounds without blocking your ears, so it is the best product for work.
■Bluetooth wearable neck speaker "MM-SPBT4BK"
■IT life hack
■IT life hack twitter
■IT life hack Facebook
■Articles related to digital home appliancesI Read
・A beautiful cross section like a shop! Cordless electric kitchen knife "Electric Knife Slim"
・You can use it in the office as your own! "UV-C negative ion air purifier with UV function"
・Wireless and unobtrusive cables! Sanwa Supply, Bluetooth binaural headset
・Sprinkle disinfectant and water widely and quickly! Sanko "Shoot! Disinfectant Buster Gun "
・Reprinted as a portable gas stove! "Sengoku Aladdin Portable Gas Stove Silver Queen"