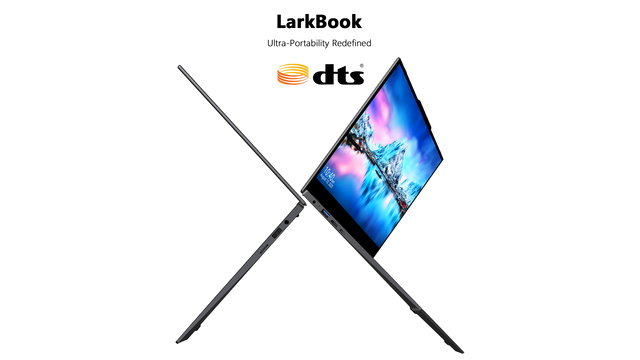 PC / tablet maker CHUWI will release a new thin and lightweight notebook PC "LarkBook" at the official online store from December 15, 2020 [Tuesday]. A $ 50 discount coupon will be given to those who register for the e-mail newsletter on the pre-campaign page. You can buy the Lark Book for a special price of $ 379.

■ Ultra-lightweight body of only 1 kg
The LarkBook uses an aluminum-magnesium alloy, which not only feels sophisticated, but also weighs only 1 kg, which is about 50% lighter than other 13.3-inch notebook PCs. Furthermore, it is only 11.9 mm thick, so you can easily carry it in your bag.
■ DTS surround where you can enjoy music
Enjoy colorful photos and videos on a 13.3-inch display with a resolution of 1920 x 1080. Furthermore, it is equipped with DTS surround technology, and you can listen to music with high sound quality through four speakers.
■ Energy saving design
Equipped with Intel's N4120 processor in a compact body. It has a maximum frequency of 2.4GHz and can play 4K video smoothly with UHD600 graphics.
Energy-saving design with maximum power consumption of 6W, can be used for a long time. The fanless design allows you to concentrate on your work in a quiet environment.
■ Lark Book-Ultra-thin and lightweight notebook PC
LarkBook keeps high performance while pursuing thinness. It is a high spec with an energy-saving N4120 processor and 8GB memory + 256GB storage built-in. Recommended for those who frequently use laptops on the go.
<Product overview>
Product name: LarkBook
OS: Windows 10 Home
Size: 307 x 200.8 x 12.3 mm
Weight: 1 kg
Screen size: 13.3 inches
Resolution: 1920 x 1080
CPU: Intel Celeron N4120
GPU: Intel UHD Graphics 600
ROM: 256GB SSD
RAM: LPDDR4 8GB
Bluetooth: 4.2
Wi-Fi: 2.4G / 5G
Input / output terminals: USB 3.1 x 1, USB 2.0 x 1, USB Type-C, HDMI, 3.5mm headphone jack, Micro SD expansion slot
■CHUWI JP official website
■Pre-campaign page
■IT life hack
■IT life hack twitter
■IT life hack Facebook
■Articles related to personal computersI Read
・You can adjust the height in 3 steps! Low desk for smart wiring
・Now on sale at Fumofu no Omise! Colorful "Kraken Keyboards"
・Recommended for teleworking and working from home! PC desk with secure storage space
・Install a small computer or hard disk behind the display! VESA mounting holder
・Can be used with webcams and smartphones! Two types of stands that can be taken from directly above