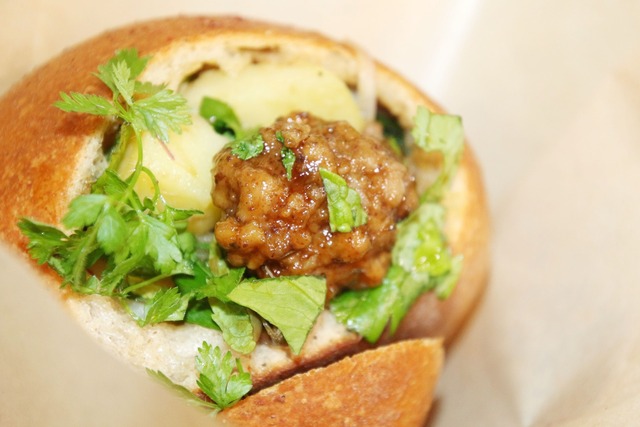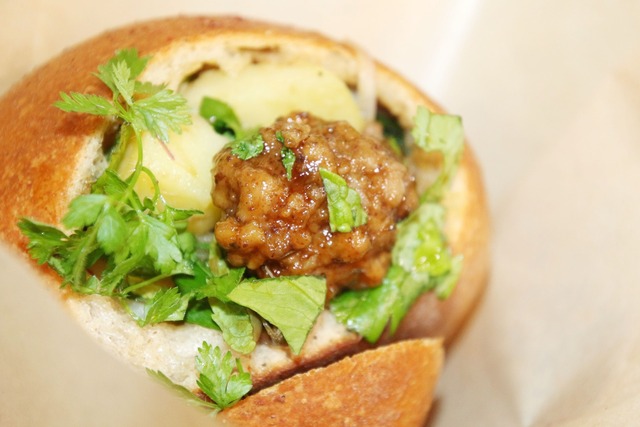 "Ginza Sony Park" started "Season 2" in October 2020 under the concept of "an ever-changing experimental park". From Saturday, November 28, 2020, three new partners, "GEN GEN AN", "Kamapan & Friends <Natural Bussankan>", and "Seafool" will build a new Ginza Sony Park. It opened for a limited time until September 2021, which is temporarily closed before. All stores support take-out in addition to eat-in.

■ "GEN GEN AN Phantom" You can enjoy the special tea and the sweets of the new brand tomette from Paris in Ginza.
Since opening a tea leaf shop in Shibuya, Tokyo in 2017 with the theme of "sound and tea," "GEN GEN" has been a hot topic as it continues to provide carefully selected "tea" in a new style that redefines Japanese tea. "AN Phantom" has started a new attempt with the theme of "sweets and tea".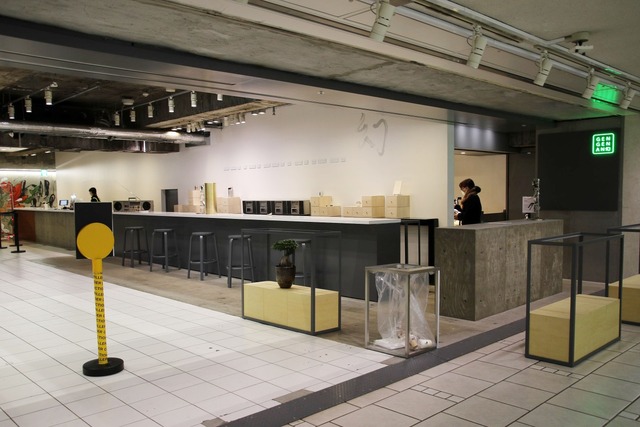 Inside the store, there are devices such as visuals, music, and scents that allow you to enjoy tea time through your five senses.
The MAISON team develops sweets that go well with GEN GEN AN phantom tea in France as a start-up project for tomette, which was launched from the restaurant "MAISON" in Paris, led by Chef Sota Atsumi, who is based in France. .. The tometto x GEN GEN AN phantom "Gateau Basque" was unveiled for the first time in Japan. The sweetness of the caramel is pleasant, and the contents are finished in a moist confectionery.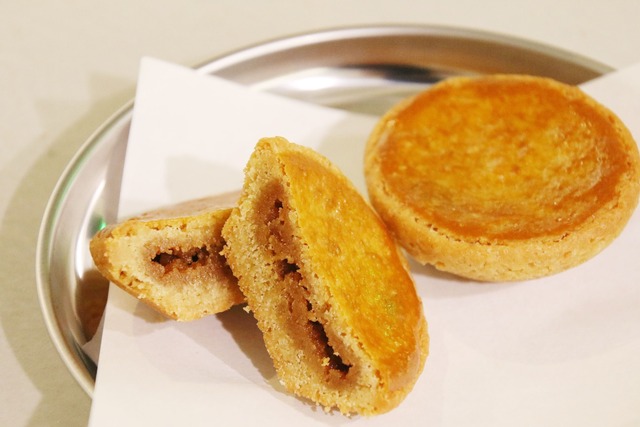 tometto x GEN GEN AN Phantom "Gateau Basque". It's a delicious sweet with a calm sweetness.
Mizudashi green tea has a high aroma, and you can feel the sweetness and umami of the tea.
As a take-out menu, we sell a set of a bottle with the GEN GEN AN logo and a water-drained green tea bag. If you take it out, you can put 500ml of water in a bottle and shake it for 30 seconds to drink tea.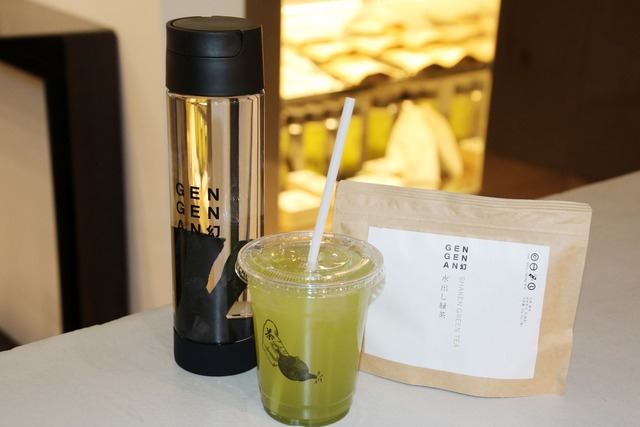 Watered green tea tea that you can drink in the store in the foreground. The bottle on the left and the green tea bag with water on the right.
The store offers an experience that can only be experienced here, along with the tea that is served at this place in Ginza and at the time of brewing.
Ginza is a place where many people come and go and time passes in a hurry. "GEN GEN AN Phantom" aims to become a modern version of the teahouse where you can feel the tea close to you and give it a "pause" by the moment you drink it.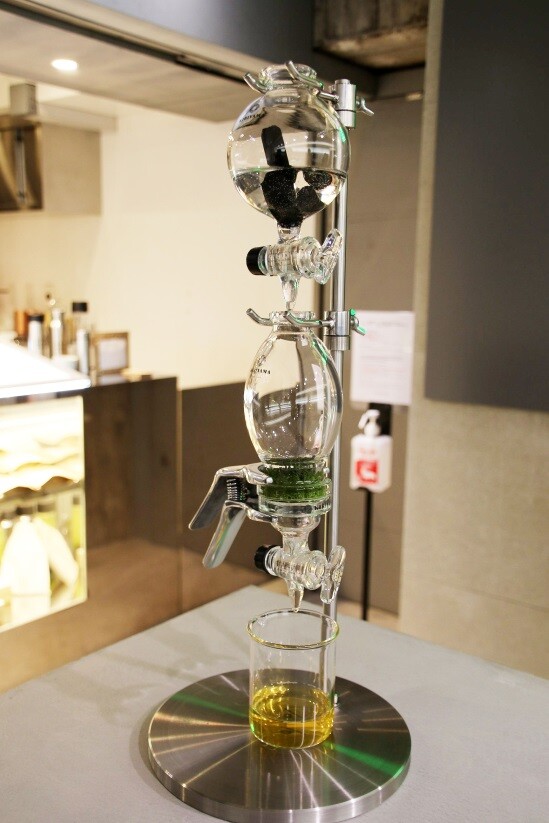 A unique tea extractor that is planned to be sold.
<Detailed information>
Store name: "GEN GEN AN phantom"
Location: Sony Ginza Park B1 / B1F
Business Hours / Regular Holidays: 11: 00-19: 00 Closed on Mondays (* Closed on the following Tuesday if Monday is a national holiday)
Web: https://en-tea.com/pages/gengenan/
Instagram: @ gen2an https://instagram.com/gen2an/
■ "Kamapan & Friends <Natural Bussankan>" First entry into Tokyo with direct-produced combo sandwiches that connect with creators
"Food Hub Project", which operates agriculture, restaurants, grocery stores, etc. under the slogan "local production and local food" in Tokushima and Kamiyama-cho, has the slogan "Friendly food-grow with friends, eat with friends" all over Japan. We have opened a "preferably additive-free" product building that selects vegetables, foods, seasonings, beverages, etc. that are born in Tokushima and are eaten on a daily basis.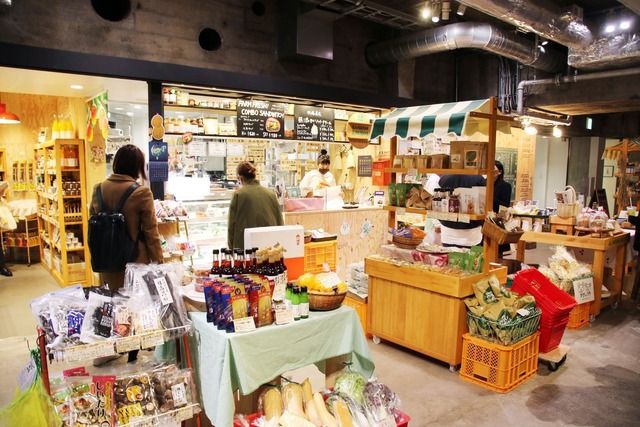 The storefront of "Kamapan & Friends <Natural Bussankan>". Many foods and seasonings are only available here.
"Syokudo and Teishoku" is not something that the maker buys what they have made, but the maker continues to farm by having them send what they have made and continuing to eat it. The concept is to be able to.
We handle a wide range of products, including juices, basic seasonings, dressings, pickles, dried fish, and sweets.
It is attractive to find a maker who is small in scale and rarely seen by people, and to buy things that can only be purchased locally at the store.
From Iwate in the north to Okinawa in the south, you can find local bread from all over Japan. It's also nice to meet bread that you can only taste locally.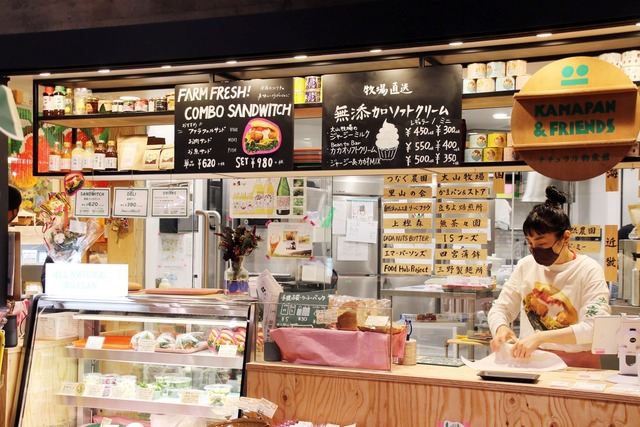 There are many items that can only be purchased locally.
Deli and sandwiches can only be tasted here, made by combining pesticide-free and pesticide-reduced vegetables and seasonings with bread that can only be purchased locally.
We also offer three types of direct-produced combo sandwiches (falafel, meat, and fish) with local specialties sandwiched between Parker buns in Kamiyama-cho "Kamapan" and additive-free soft serve ice cream.
Falafel is originally a Middle Eastern food made from foreign chickpeas. Kurakake beans from Hokkaido are used here. Since it is roughly ground, you can enjoy the rich aroma of beans. It looks exotic, but it's surprisingly good for Japanese people.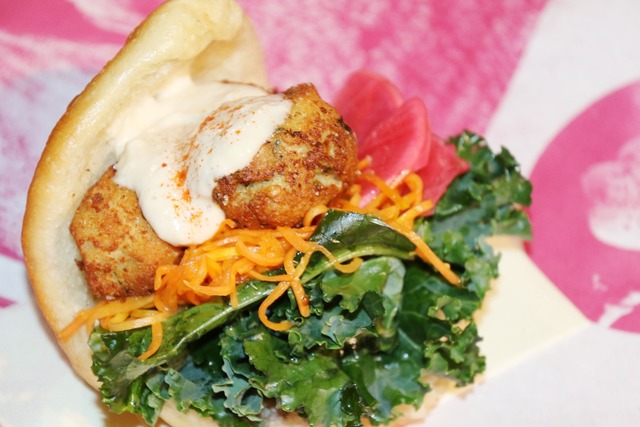 Falafel sandwich using Kurakake beans from Hokkaido. It's delicious and good for your health.
By eating, you can also enjoy the efforts to experience the relationships between the makers and eaters in various regions.
For example, the name of the maker is posted in the store, and you can also see the episode of the maker.
<Detailed information>
Store name: "Kamapan & Friends <Natural Bussankan>"
Location: Sony Ginza Park B3 / B3F
Business hours / regular holidays: 11: 00-19: 00, closed on Mondays (Tuesday if Monday is a national holiday), closed days
Web: http://foodhub.co.jp/
Instagram: @kamapan_and_friends https://instagram.com/kamapan_and_friends/
■ "Seafool" An American-style "seafood fast food" that is rare in Japan
The team of the slice pizza shop "PIZZA SLICE" in Daikanyama, Tokyo, which has become a hot topic among trend-conscious people and young people, is developing a new business format. The concept is to have New York-style seafood eaten.
It is a stand where you can enjoy "seafood fast food", which is rare in Japan, in American style, centering on fish burgers and fried calamari.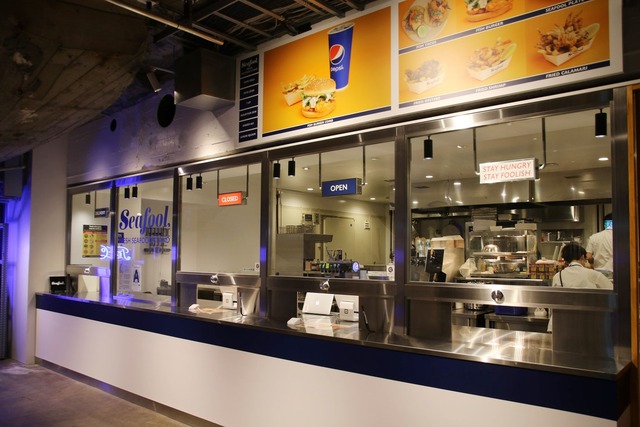 It feels like I brought the store in New York as it is.
In addition, all food menus were devised with the cooperation of Mr. Shigeo Kitade, who develops the popular restaurant "Kitade Shokudo" in Kanda, Tokyo, which is famous for tacos. We also have a seafood plate menu that incorporates seasonal ingredients. All items can be taken out, so it can be used for daily use by people working in Ginza.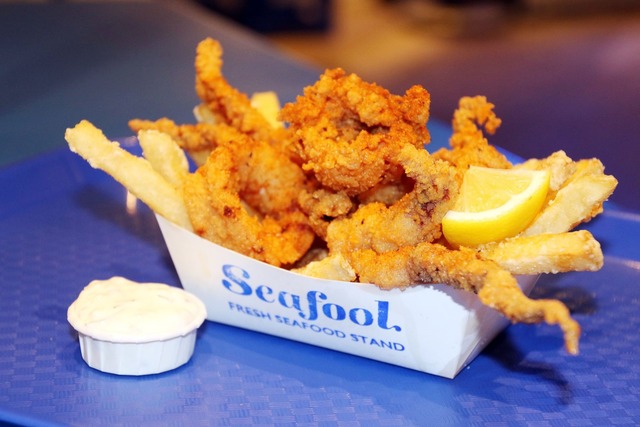 The popular product "Fried Squid". French fries and squid are delicious without complaint.
We also serve alcohol, so you can go drinking after work. People tend to think that Ginza has a high threshold, but there are many young staff, so young people can easily go there.
<Detailed information>
Store name: "Seafool"
Location: Sony Ginza Park B4 / 4th basement floor
Business hours / regular holidays: 11: 30-21: 00, open daily (excluding closed days)
Instagram: @seafool_gsp https://instagram.com/seafool_gsp/
The three stores that have been entertaining visitors in each place have started the challenge, resonating with Ginza Sony Park's concept of "an ever-changing experimental park." Ginza Sony Park will continue to create new encounters, ideas and communication with partners, creators and artists.
If you have a workplace in Ginza, have the opportunity to go near Ginza, or are interested, let's go to experience "Ginza Sony Park Season 2".
■Ginza Sony Park Official Website
■IT life hack
■IT life hack twitter
■IT life hack Facebook
■Articles related to cultureI Read
・Up to 86% off world sweets! Gift Land 2020 Last Inventory Disposal Sale
・Christmas buffet course 4,000 yen per person! All-you-can-eat strawberries for an additional 1,000 yen
・Express the fantastic world of light and sound! "YOKOHAMA CROSS NIGHT ILLUMINATION-" held
・For those who have a backache with a chair! "Assists posture with heater and low resilience! Lumber support cushion "
・Antenor, strawberry! Amaou strawberry and red hoppe strawberry sweets are lined up