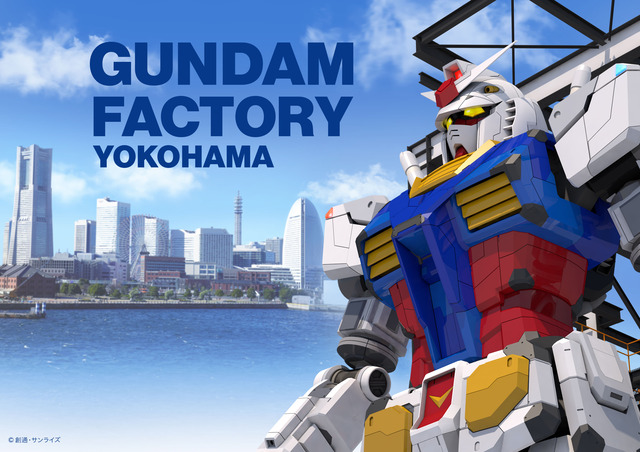 GUNDAM GLOBAL CHALLENGE and Evolving G will open "GUNDAM FACTORY YOKOHAMA" for about one year from Thursday, October 1, 2020, in cooperation with Yokohama as part of the "Mobile Suit Gundam 40th Anniversary Project". In addition, in July and August, a limited program that can be observed from the special viewing deck before opening will be held.

"Gundam GLOBAL CHALLENGE" is a project that has been underway since 2014 to realize the dream of moving a full-scale 18m Gundam to open to the public. While soliciting a wide range of ideas and plans, researchers, engineers, creators and other professionals from all over the world came together to discuss what could be done now, and repeated design and verification. As a result, "GUNDAM FACTORY YOKOHAMA" will be opened at Yamashita Wharf in Yokohama for one year from October 2020. Why don't you experience the lively fusion of Gundam, a content that has attracted a lot of attention from abroad, Japanese manufacturing, and excellent technology?
■ Facility overview
Name: GUNDAM FACTORY YOKOHAMA
Location: Yokohama, Yamashita Wharf [279-25 Yamashita-cho, Naka-ku, Yokohama-shi, Kanagawa]Access: Get off at Motomachi / Chukagai Station on the Minatomirai Line
Total area: 9000㎡
Building area: GUNDAM-DOOK approx. 604㎡ [maintenance deck height approx. 25m]GUNDAM-LAB about 1440㎡ [2nd floor of steel frame, total floor area 2097㎡]Management: Evolving G
■ Summary
Dates: Thursday, October 1, 2020-Sunday, October 3, 2021
Time: 10: 00-21: 00 [planned]Admission: Ticket sales scheduled from July 2020 [paid]* Ticket sales details will be announced as soon as they are determined
* Scheduled maintenance holidays during the period
* Business hours are subject to change depending on the season
■ Pre-Open Limited Program "GUNDAMFACTORYYOKOHAMA Special Experience"
Implement a limited program that can be toured specially before opening. You can enter the venue a little earlier and enjoy the atmosphere, and climb the special viewing deck "GUNDAM-DOCKTOWER". There will also be a shop where you can purchase some original products.
Date: Saturday and Sunday from July to August 2020 [planned]* We do not plan to operate Gundam.
* The details will be announced on the official website as soon as it is decided.
■IT life hack
■IT Life Hack Twitter
■IT Life Hack Facebook
■Articles related to cultureI Read
・Hey! Do you know Saku City, Nagano Prefecture? Hyper Jizo, who speaks when you pray, appears! ? "Jizo Medical Checkup" started at Saku City City Promotion in Nagano Prefecture!
・"Tomica" 50th anniversary TV animation "Tomica Kizuntai Earth Granner" broadcast from April
・National tour information is also lifted! Fans are excited at the mini-live before the broadcast! "Mirai Bunka Village Kishi Yosuke's Startup" Public Live Broadcast Event Report
・The 4th new Tokyo Metro "Find my Tokyo." CM featuring Satomi Ishihara will be released in advance with the title "Kinshicho-a city where the world and Nippon can be more connected"!
・I wish I hadn't watched it … The memory of the movie "Looking for Yutaka Ozaki" that was painful! If you are an au Smart Pass Premium member, you can listen to Yutaka Ozaki Playlist, where you can listen to songs in the movie