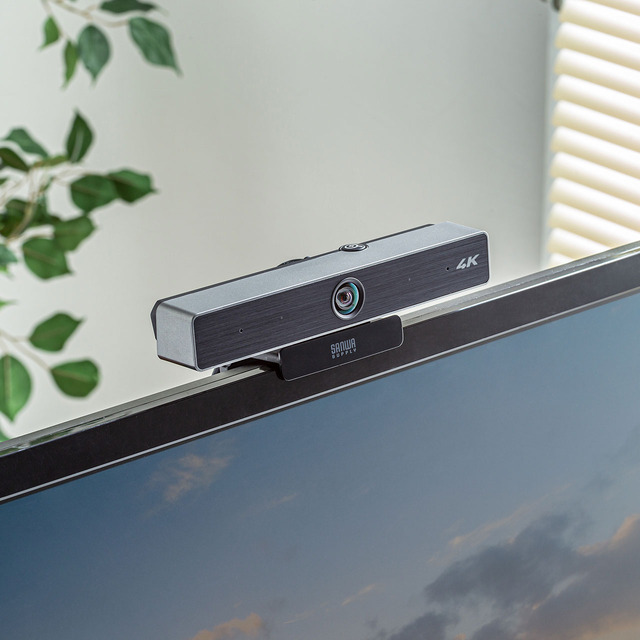 Sanwa Supply Co., Ltd. has released the 4K compatible WEB camera "CMS-V52S" that uses a wide-angle lens that is ideal for web conferencing with multiple people.

■ 4K shooting of up to 3840 x 2160 dots is possible
"CMS-V52S" is a 4K compatible WEB camera equipped with a wide-angle lens.
It is equipped with an 8.5-megapixel camera capable of 4K shooting of up to 3840 x 2160 dots, and projects high-definition images on a large screen. Since it is possible to shoot at a resolution four times higher than that of full HD, materials can be clearly projected and information can be shared smoothly.
Equipped with a zoom function that can be adjusted in 1 to 30 steps, the 1-step setting can be changed by pressing the button once. The maximum magnification is 5 times.
The main unit has a built-in microphone, and you can hold a video conference by preparing a separate speaker. High-sensitivity dual microphone with active noise canceling function blocks extra ambient noise and delivers clear voice to the other party.
Since it is equipped with a wide lens with a wide viewing angle of up to 90 degrees to the left and right, it can project a wide range and is recommended for use when you want to project the entire room.
The lens comes with a cover, which is convenient for protecting the lens and privacy during storage.
The cable length is 3m, and this product can be installed in a place away from the personal computer. Not only is it convenient to route the cable, but it can also be installed with a margin in the cable length when you want to install it in a distant place such as a wall surface and take a picture of the entire room. In addition, the camera body uses a detachable Type-C cable, so cables of different lengths can be replaced.
The angle of the stand at the bottom of the main unit can be adjusted, and the tripod mounting hole can be attached to a commercially available camera tripod. By attaching it to Sanwa Supply's desktop stand for WEB cameras "CMS-STN1BK", it can be changed to the optimum height for WEB conferences.
It is ideal for companies that have introduced satellite offices or work from home, or companies that are considering online seminars and online lessons.
■4K compatible WEB camera "CMS-V52S"
■IT life hack
■IT life hack twitter
■IT life hack Facebook
■Articles related to digital home appliancesI Read
・Wearable neck speaker and neckband earphones! Bluetooth headset that can be used in two ways
・Jacket with built-in USB drive heater! "Double heater built-in" electric heater jacket ""
・Compatible with high-quality 4K 60Hz output devices! Sanwa Supply, 4 input 1 output HDMI switch
・Comfortable on your smartphone! WEB conference speakerphone compatible with Bluetooth connection
・Helping with power shortages during meetings! Hexagonal tap that can be inserted from any direction