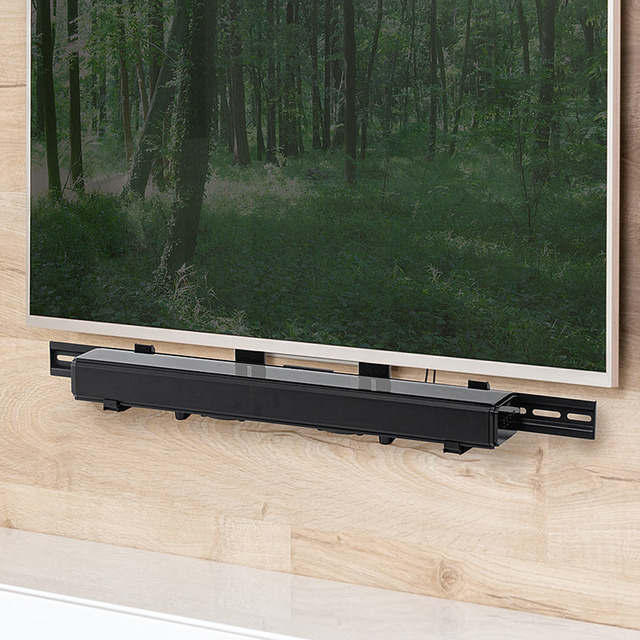 The direct sales site "Sanwa Direct" operated by Sanwa Supply Co., Ltd. will release "100-VESA001", a sound bar stand that can be attached to TVs, monitors, and wall mounts and can also be used as a WEB camera stand.

■ Install a sound bar using VESA
This product is a sound bar stand that allows you to install a sound bar using VESA on the back of your TV or monitor.
It can be installed on either the top or bottom of the TV, and can be installed either above or below, allowing it to be neatly placed near the TV.
It may be installed in front of the TV to cover the TV, or installed on the TV stand to separate from the image and impair the sense of presence. However, if you use this product and install it near the TV, you will feel as if you were there, and the wiring will not be noticeable because it is close to the TV.
The sound bar receiver can be adjusted from 87.5 to 154 mm, and a wide range of sound bars can be installed.
There is a rubber cushion on the part that receives the sound bar, so it is firmly fixed and prevents scratches.
It can also be installed on a TV and used as a WEB camera stand.
It can be installed by stacking the existing wall mount bracket or TV stand bracket with the bracket of this product, and it can be retrofitted without the need for new holes. Also, since it has an anchor, it can be mounted directly on the wall.
The size of this product is about W871 x D115-181.5 x H465mm, and the product weight is about 1.8kg. The load capacity is 6 kg, and the weight of the TV that can be installed is 40 kg.
■Sound bar stand "100-VESA001"
■IT life hack
■IT life hack twitter
■IT life hack Facebook
■Articles related to digital home appliancesI Read
・Wearable neck speaker and neckband earphones! Bluetooth headset that can be used in two ways
・Jacket with built-in USB drive heater! "Double heater built-in" electric heater jacket ""
・Compatible with high-quality 4K 60Hz output devices! Sanwa Supply, 4 input 1 output HDMI switch
・Comfortable on your smartphone! WEB conference speakerphone compatible with Bluetooth connection
・Helping with power shortages during meetings! Hexagonal tap that can be inserted from any direction