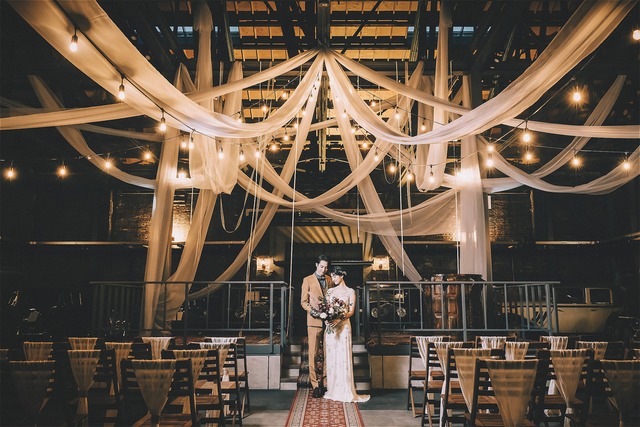 The photo wedding brand "LUMINOUS" operated by Tamenny Art Works Co., Ltd., a group company of Tamenny Co., Ltd., has started a photo wedding service "LUMINOUS La Maison" at a wedding hall in Osaka.

■ Dramatic and special bride experience
Due to the spread of the new coronavirus infection, many brides and grooms have had to postpone or cancel their wedding ceremony. On the other hand, more and more brides and grooms are now considering photo weddings as an alternative to traditional weddings. Under these circumstances, at TAW, for the bride and groom who want to leave a picture of the wedding hall instead of having a wedding ceremony, a bride experience similar to a wedding ceremony can be done under a special location called "wedding hall". "LUMINOUS La Maison" was started in June 2020 with the desire to provide photography technology and services for "LUMINOUS".
■ Kansai's first "LUMINOUS La Maison"
Regarding photo weddings at TAW's Odaiba Studio, the number of inquiries in December 2020 was about 347% compared to the previous year, and about half a year after the start of "LUMINOUS La Maison", the five cities of Tokyo, Yokohama, Chiba, Nagoya and Fukuoka Has been well received by many brides and grooms. And this time, for the first time in Kansai, "La Maison Osaka Dojima" and "La Maison Osaka Port" will be opened in Osaka.
Although it is more reasonable than a traditional wedding ceremony, the bride and groom who live in Kansai can also experience a full-fledged bride experience and a special time only for two people. With this service, taking advantage of the location of a real wedding hall, you can also take pictures in the brides room and in the sacred chapel. "LUMINOUS La Maison" will create the best moments for the bride and groom and the one that will not fade.
■ Partnership with two venues
This first Kansai development was realized through a partnership with two wedding halls, "Laguna veil Osaka" (La Maison Osaka Dojima) and "AKARENGA WEDDING" (La Maison Osaka Port).
At "Laguna veil Osaka", the colorful floors reminiscent of luxury residences create a special space for only two brides and grooms.
If you look at the windows, you can spend a lifetime of memorable time on the open floor where the blue sky spreads and the natural floor colored with greenery and flowers.
At "AKARENGA WEDDING", you can have a luxurious and adult wedding ceremony in a classical and quaint red brick warehouse.
The Red Brick Warehouse, which has a long history of nearly 100 years, is a perfect place to swear eternal love with your loved ones, with a graceful and majestic space.
■IT life hack
■IT life hack twitter
■IT life hack Facebook
■Articles related to cultureI Read
・Have a fascinating time for 999 yen! 45-minute all-you-can-eat buffet special course
・Tanjiro Kamado & Tanjiro Kamado 󠄀 Mameko participate in Versus mode! Home video game "Kimetsu no Yaiba Hinokami Blood Wind Tan"
・Can be attached to your desk! Acrylic partition to prevent droplet infection
・100% vegetable and additive-free meat hamburger steak! "NEXT hamburger 1.0"
・Devil's blade, double ring! Tanjiro Kamado and 12 other types are on sale