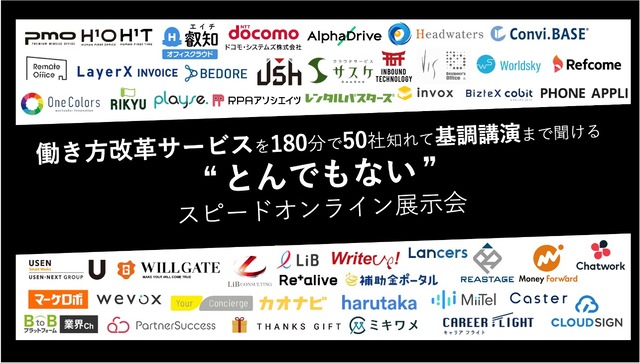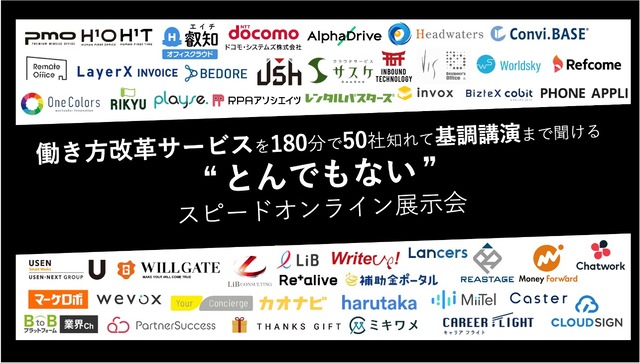 H Co., Ltd. ・ OneColors Co., Ltd. ・ 2Links Co., Ltd. holds a "ridiculous speed online exhibition where 50 companies are known for their work style reform service in 180 minutes" with 50 companies selected as companies related to work style reform To do. You can watch it for free.
* At a later date, we plan to plan an off-party for the company to speak at the voice SNS "Clubhouse".

■ Background of the event and solutions
This exhibition is an online exhibition to promote the realization of work style reform, and all transformation solutions such as "telework support", "meeting solution", "workplace construction", "RPA / business automation", and "labor saving" are available. Exhibit in one place.
"Under the recent spread of new coronavirus infections, it is difficult to hold large-scale real events worldwide and in Japan, and even if they are held, it is difficult to visit, creating new businesses and employment. It is a difficult situation, and we would like to hold a main conference online to solve the following problems. 』
・ Loss of opportunity to create business due to lack of information gathering at real events, etc.
・ Reducing the marketing burden of managers and staff by utilizing the tools of each company
・ Knowing the outlines and initiatives of each company that you did not know before, leading to job hunting and job hunting
・ Characteristics of a ridiculous speed online exhibition where 50 companies are known for work-changing services in 180 minutes
1. 1. 50 companies to watch x 3 minutes
2. 2. 180-minute speed online stage broadcast
3. 3. Get to know the latest tools and the efforts of each company
4. Keynote speech by industry celebrity
5. Participants can watch anywhere with Zoom without showing up
6. Participation or exit is possible
7. Can be matched with the companies on the stage by questionnaire
8. Free of charge
■ Keynote speech
"About the use of flexible office tools in telework in the after-corona / 5G era"
-Speaker name
・ Mr. Toshimitsu Kuwahara, Urban Development Business Headquarters, Nomura Real Estate Development Co., Ltd.
After engaging in land purchase for development of medium-sized high-grade office "PMO", launched a new office brand "H¹O" that meets the needs of the small office market with less than 10 employees. .. We combine work places such as main offices, satellite offices, and working from home, and execute business strategies, product planning, and customer proposals based on the concept of an office portfolio that recommends efficiency and decentralization. Also serves as the executive chairman of the Nomura Real Estate Employees' Union.
・ Mr. Yukihiro Nakamura, General Manager of Marketing Department, Sales Support Department, Cloud Business Department, NTT DoCoMo, Inc.
Joined NTT in H8. Engaged in solution corporate sales for 22 years and experienced sales, SE, marketing and other operations. Currently working on marketing and sales of dDREAMS cloud.
・ Alpha Drive Co., Ltd. CEO Yoichi Aso
After joining Recruit Co., Ltd., he set up an IT business subsidiary as a founder and president, and oversaw the incubation department at the head office. After launching an in-house business development program and a start-up company support program and supporting the incubation of venture companies as a new business management executive, he became an entrepreneur. Founded Alpha Drive Co., Ltd. in February 2018. In April 2018, co-founded Genome Clinic Co., Ltd. Since June 2018, he has been a venture partner of "UB VENTURES". Since September 2018, he has also served as an executive officer of Newspicks Co., Ltd.
・ Examples of companies on stage (in no particular order)
Nomura Real Estate Co., Ltd./LayerX Co., Ltd./BEDORE Co., Ltd./TPO Co., Ltd./USEN Smart Works Co., Ltd./ZENKIGEN Co., Ltd./Vis Co., Ltd./Partner Success Co., Ltd./Phone Appli Co., Ltd./Netlex Co., Ltd./Revcomm/ Caster Co., Ltd./Lancers Co., Ltd./Money Forward Co., Ltd./Biztex Co., Ltd./Live Co., Ltd./Rear Live Co., Ltd./Marketing-Robotics Co., Ltd./Live Consulting Co., Ltd./Subsidy Portal Co., Ltd./Infomart Co., Ltd./Co., Ltd. World Sky Co., Ltd./Interpark Co., Ltd./Rental Busters Co., Ltd./Essence Co., Ltd./Attorney Dotcom Co., Ltd./AlphaDrive Co., Ltd./Rifcam Co., Ltd./JSH/Chatwork Co., Ltd./Atrae Co., Ltd. 2.1 Co., Ltd./Take Action Co., Ltd./Leading Mark Co., Ltd./Docomo Systems Co., Ltd./Deepwork Co., Ltd./Persoltemp Staff Co., Ltd./Light Up Co., Ltd./Inbound Technology Co., Ltd./manebi Co., Ltd./Rear Stage Co., Ltd./Co., Ltd. Willgate / Kaonavi Co., Ltd./H Co., Ltd./OneColors / 2Links Co., Ltd.
* Subject to change due to the circumstances of the company
·Overview
A ridiculous speed online exhibition where 50 companies are known for work change services in 180 minutes
Date and time: Tuesday, March 23, 2021 13: 00-16: 00 (assumed)
Location: Zoom Online
Target: Anyone can participate
Cost: Free
Participation method: From the application page below (input is completed in 20 seconds)
https://bit.ly/3pCABfL
■ Co-sponsored
H Co., Ltd. (https://eichiii.com/)
One Colors Co., Ltd. (https://one-colors.jp/)
2Links Co., Ltd. (https://peers.jp/business/2links)
■ Sponsorship
CXO Bank Co., Ltd. (https://www.cxobank.jp/)
■ Sponsorship

Nomura Real Estate Development Co., Ltd. Urban Development Business Headquarters
In addition to large-scale office development, we develop offices suitable for corporate growth stages and usage, such as ventures, startups, and large corporate project rooms. We have a medium-sized high-grade office "PMO (60 bases *)" and a quality small office "H¹O (H-ONE: 15 bases *)". Furthermore, we have developed a satellite-type shared office "H¹T (H-One T: 80 bases *)" that supports remote work, and actively work to improve office efficiency, decentralization, and corporate productivity while combining work places. support.
–PMO https://www.pmo-web.com/
A medium-sized office with one floor and one tenant design that has the same functionality and grade as a large-scale building. An office as a force that can brilliantly show the face of the company and secure excellent human resources for creative and vibrant companies.
–H¹O https://h1o-web.com/
An office for a small number of people, with the concept of "human first", considering the ease of working for each person. Thorough design for people to work comfortably, such as secure multiple security, detailed reception service, individual air conditioning and rich greenery.
–H¹T https://www.h1t-web.com/
Hourly rental workspace for corporations that fits the work style of the new normal era Not only for employees who use it, but also for work style reform in the general affairs and human resources departments that are managed. We offer a variety of plans such as private rooms for web conferencing, and a rich fee structure such as a pay-as-you-go system.
* The number of bases is planned as of January 2021 and includes alliances.
■Click here for free viewing and application (entry completed in 20 seconds)
■IT life hack
■IT life hack twitter
■IT life hack Facebook
■Articles related to IT businessI Read
・Himi City, Toyama Prefecture x Panasonic Corporation x 16 venture companies! "Himi Venture Summit" held
・More than 50 leading-edge DX companies exhibit online! "Digital Transformation EXPO" held for the first time
・COOs of 50 growth venture companies gather! "Venture COO Large Stage" will be held for the first time
・A tremendous HR exhibition will be held in March! Online exhibition to know the latest information of 50 HR related companies
・Former Instagram Japan Business Representative Tsuguhide Nagase appointed to TOKYO FM audio content platform business