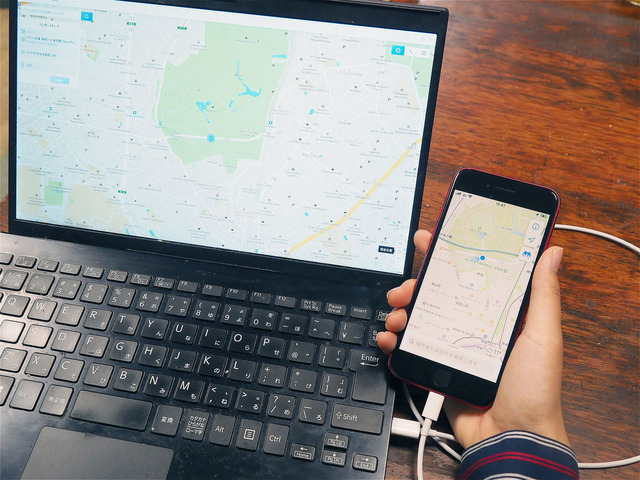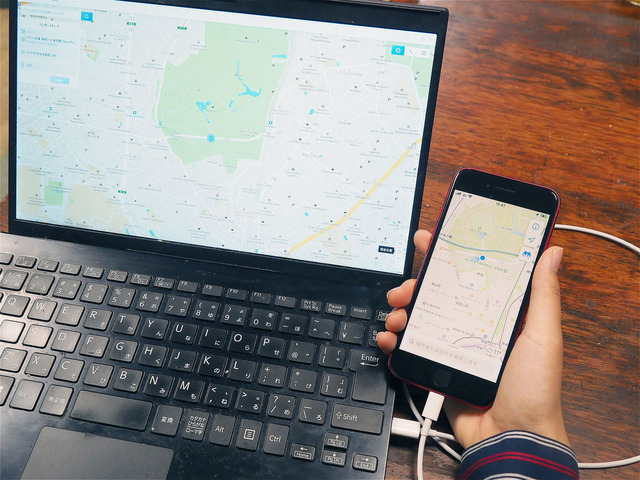 The smartphone has a built-in GPS, and it is possible to acquire the location information of the current location. Location information is used in various apps such as photo apps, map apps, SNS, transfer guidance apps, and location-based games such as "Pokemon GO", but in order to protect privacy and security, the true location Sometimes you want to hide the information (for example, the location information of the shooting location is included in the photo). In addition, dating apps are also matched based on their own location information, so by actively changing the location information, it will be possible to match with more people. Even in location-based games, if you can change location information, you can capture more efficiently (however, in location-based games, changing location information using tools is often prohibited by convention, so be careful. It is).

A tool created to meet the needs of freely changing GPS position information is a tool called a position information camouflage tool. There are various location information camouflage tools for iPhone / iPad, but the one that is gaining popularity due to its ease of use is "EaseUS MobiAnyGo(Hereafter, MobiAnyGo). EaseUS is a Chinese software development company founded in 2004.Data recoveryAnd develops and sells tools such as data backup and partition management.
MobiAnyGo itself is a tool that runs on Windows and is used by connecting it to an iPhone / iPad with a cable. The supported OS is Windows 10 / 8.1 / 8/7 compatible on the Windows side and iOS 14/13/12/11/10/9 on the iPhone / iPad side, and it can be said that almost all current models are compatible. right.
■ You can specify a location and simulate not only teleporting but also driving between multiple spots.
MobiAnyGo is easy to use. After installing and starting the software, connect your PC to your iPhone / iPad with a USB cable and click "Start". The map is displayed and the current location is displayed. Another feature of MobiAnyGo is that it has three types of location information change modes: "teleport mode," "two-place mode," and "multi-spot mode."
Teleport mode is the simplest mode that allows you to change your current location to a specified location. You can specify the location by dragging the map, zooming in and out, and clicking directly on the map. Of course, you can also specify the address or specify it by word search. Once you've decided where you want to teleport, you can change the GPS location on your iPhone / iPad by clicking the "Move" button. When I moved it to the vicinity of Lake Yamanaka as a trial, I was able to confirm that the current location is near Lake Yamanaka on the map on the iPhone side. Once you change your location, it's valid unless you restart your iPhone / iPad.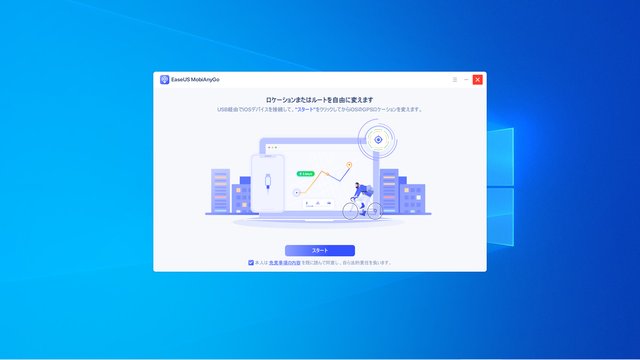 Connect your iPhone or iPad with a USB cable and click "Start"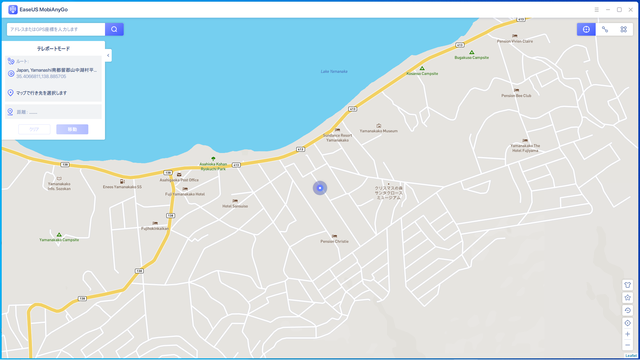 I chose a place near Lake Yamanaka and teleported there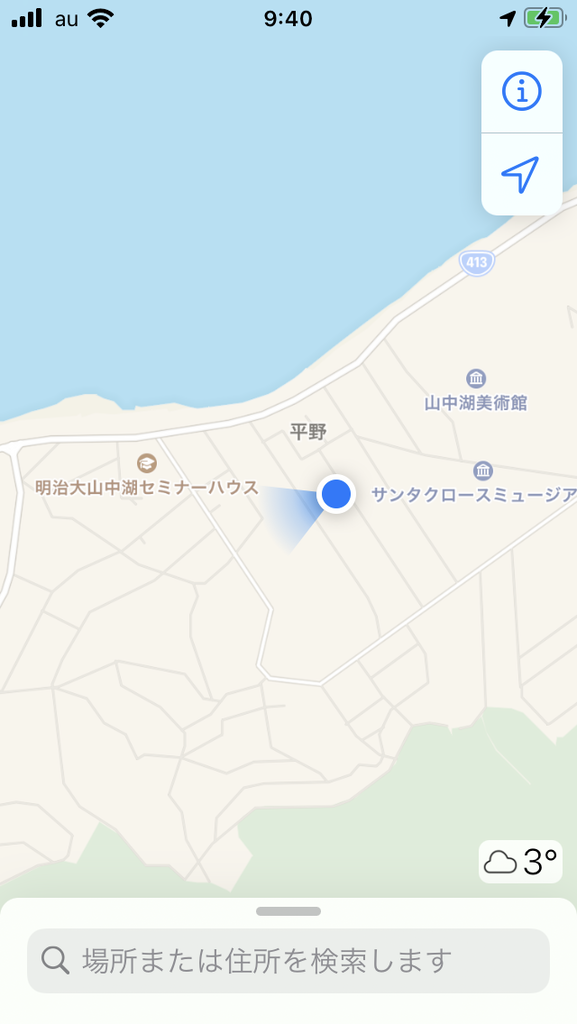 When I open the map on the iPhone side, the current location is the location specified earlier
The two-place mode is a mode that simulates movement at a constant speed from the start point to the end point by designating two places, the start point and the end point. The advantage of this mode is that it does not simply travel the shortest distance from the start point to the end point, but automatically creates a route along the actual road and travels according to that route. In some location-based games, it is important to see if you have moved along the actual road, so it would be nice to simulate a realistic movement. In addition, the moving speed can be freely changed in the range of 1 m / s (3.6 km / h) to 10 m / s (36 km / h). In terms of speed, it covers the moving speed of cars from walking to urban areas. It is also possible to pause while moving.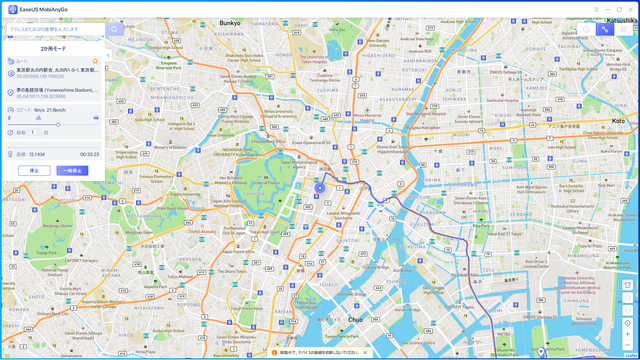 In two-place mode, simply specify the start and end points and a route along the road will be created automatically.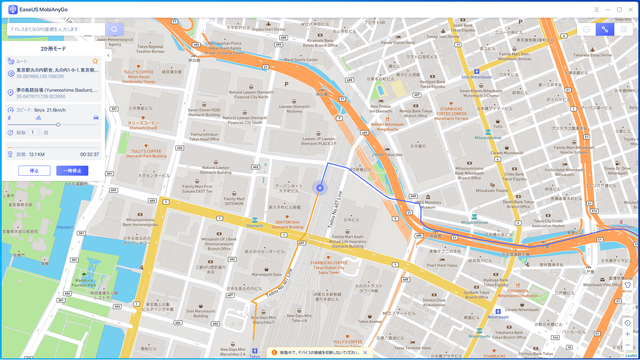 Departing from Tokyo Station and moving to Yumenoshima Stadium. The current position is indicated by a blue circle. The blue route is this advanced route, and the orange route is the route that has been moved so far.
Multi-spot mode is a mode in which you specify multiple spots and go around those spots in order. In this mode, the route is not created along the road, but the shortest distance between each spot is the route. Even in the multi-spot mode, the moving speed can be freely changed in the range of 1 m / s (3.6 km / h) to 10 m / s (36 km / h). If the movement speed is too fast, some apps will be rejected as an error, so it's nice to be able to set the speed in detail.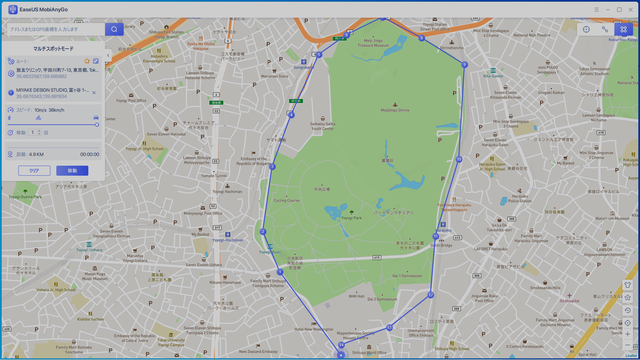 In multi-spot mode, you can specify multiple spots and go around the spots.
MobiAnyGo can also manage up to 5 iPhones / iPads, which is great for users who have multiple iPhones / iPads in their kitchen. The user interface is also intuitive and easy to understand, and it is highly complete as a location information camouflage tool. You can download the trial version of MobiAnyGo for free, but you'll need a paid license to get full functionality. There are three types of paid licenses: one-month license, one-year license, and perpetual license, but the perpetual license is also reasonably priced at 4,790 yen (campaign price). Recommended for users who frequently use location-sensitive apps.
Technical writer Hideo Ishii
■IT life hack
■IT life hack twitter
■IT life hack Facebook
■Mobile related articlesI Read
・Supports 60W input / output with PD charging! Large capacity 20000mAh, memo pad size mobile battery
・Hello Kitty Tokyo collaboration watch! Released from customized watch brand UNDONE
・TV anime "Kimetsu no Yaiba"! Started accepting orders for wood iPhone cases
・Simple yet excellent in functionality! Notebook type smartphone case that is active in the business scene
・Comfortable drawing! Extra-fine type and disc type nib touch pen