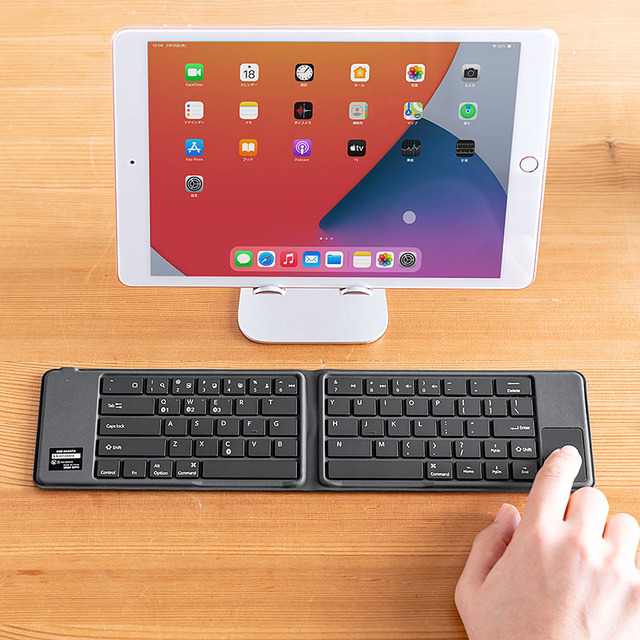 The direct sales site "Sanwa Direct" operated by Sanwa Supply Co., Ltd. has released a rechargeable foldable Bluetooth keyboard "400-SKB070" with a touch pad that allows cursor operation and click operation. ..

■ Folding Bluetooth keyboard
This product is a foldable Bluetooth keyboard equipped with a touch pad that can be used with iPads compatible with iPad OS.
Since it has a touch pad, you can operate the cursor and click.
The shape is a foldable type that is convenient to carry, and the thickness when folded is a thin shape of about 1.3 cm.
The connection is equipped with a multi-pairing function that allows you to register up to 3 devices and switch the device connection with the push of a button.
It also has convenient shortcut keys that can be used on iPads and iPhones. It is equipped with a home button that allows you to return to the home screen with a single touch, and a volume adjustment button.
The key adopts a pantograph type. In addition, the isolation type, in which the keys are separated from each other, reduces the catching of nails.
The sequence is an English sequence.
The keyboard is rechargeable and can be charged using the included USB cable. It can be used continuously for about 35 hours after charging for about 2 hours.
The switch turns on just by opening the keyboard, so you can use it immediately.
The size of this product is about W332 x D83 x H12mm (open state), and the weight is about 130g.
■Bluetooth keyboard with multi-pairing function "400-SKB070"
■IT life hack
■IT life hack twitter
■IT life hack Facebook
■Articles related to IT businessI Read
・Durability, safety and flexibility! "Anker PowerLine III Flow USB-C & Lightning Cable"
・This is the iPhone 12! 7-day limited sale of popular MagSafe compatible products
・"EaseUS MobiAnyGo" review that can freely change GPS location information of iPhone / iPad
・Supports 60W input / output with PD charging! Large capacity 20000mAh, memo pad size mobile battery
・Hello Kitty Tokyo collaboration watch! Released from customized watch brand UNDONE