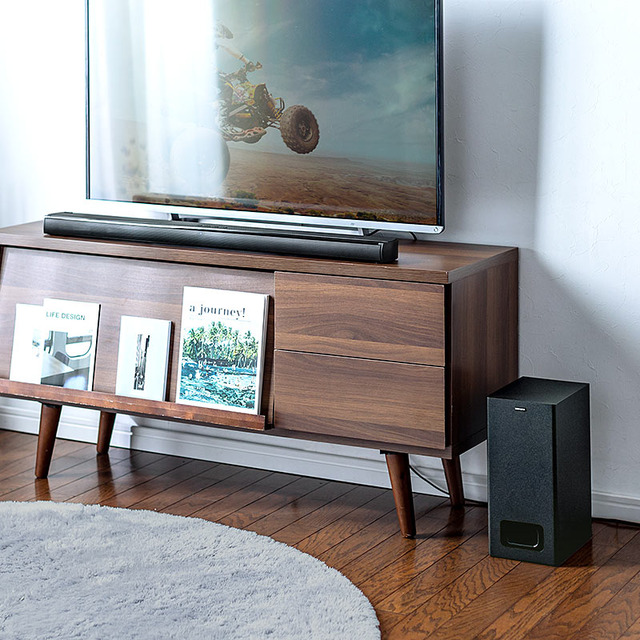 The direct sales site "Sanwa Direct" operated by Sanwa Supply Co., Ltd. has released a super slim theater bar and subwoofer set "400-SP094" that has a high output of up to 200W and supports Bluetooth connection.

■ Slim design with high sound quality / high output
This product is a set of a slim design, high-quality sound / high-output soundbar speaker, and a wirelessly connected subwoofer.
The subwoofer is wirelessly connected to the soundbar and can be installed in any position.
And with a slim design sound bar with a height of about 45 mm, it can be installed without disturbing the design of the TV and the remote control function.
The sound bar has a practical maximum output of 100W (woofer section / 12.5W x 4, tweeter section / 25W x 2), and a subwoofer has a practical maximum output of 100W, for a total of 200W. Powerful high-quality sound is reproduced by combining two tweeters for high-pitched sound in the sound bar, four woofers for mid-low range reproduction, and a wireless subwoofer dedicated to low-pitched sound reproduction.
It is HDMI / ARC compatible and can be output from the soundbar speaker using the ARC function of the compatible device.
It also supports AUX (3.5mm stereo jack) input, optical digital / coaxial digital input, and RCA pin plug (red and white) input, and supports various audio inputs. Since it also supports Bluetooth Ver2.1-4.2, you can enjoy music with high sound quality by wirelessly transmitting music from your smartphone or tablet.
The size of this product is sound bar / approx. W900 x D86 x H45 mm, subwoofer / approx. W150 x D220 x H320 mm, and the weight is sound bar / approx. 2 kg, subwoofer / approx. 2.8 kg.
■Theater bar and subwoofer set "400-SP094"
■IT life hack
■IT life hack twitter
■IT life hack Facebook
■Articles related to digital home appliancesI Read
・Press the button and your favorite drink will come out! Adult interior "vending machine type cold and hot storage"
・Quickly charge your smartphone or tablet! AC charger with Type-C port
・Simultaneous recording with 6 cameras to prevent contact accidents! 6-camera drive recorder for business use that becomes a blind spot monitor
・Suction power that can be seen with a powerful cyclone type! "Electric Carpet Cleaner"
・Great for meeting tables! Flat type tap with USB charging port