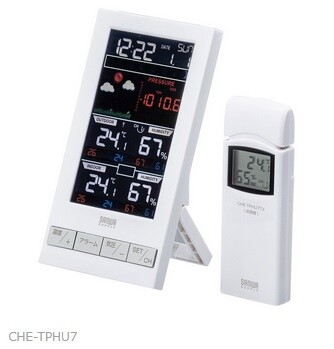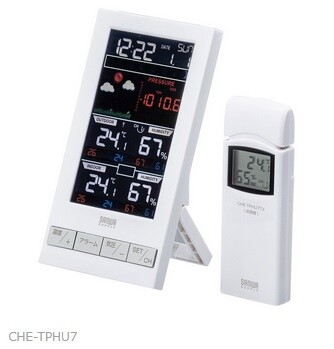 "CHE-TPHU7" is a wireless thermo-hygrometer (1 receiver + transmitter) that can measure the temperature and humidity of the place where up to 3 transmitters (thermo-hygrometers) are installed, and can also measure on the receiver side. One machine).

■ Real-time display of temperature and humidity in remote locations
Since it is a wireless setting, the temperature and humidity at a remote location can be displayed in real time.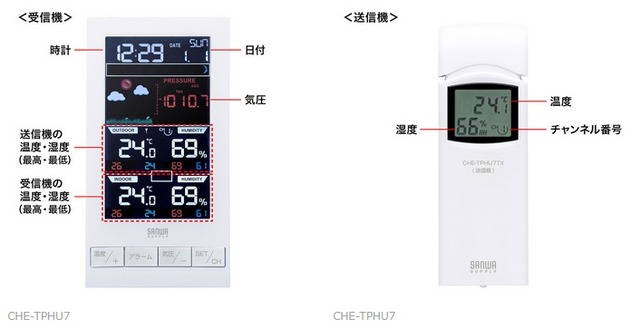 For example, since the room temperature of a room with a baby or an elderly person can be checked from a remote room such as a kitchen, the measured values ​​of temperature and humidity can be confirmed, which makes it possible to judge the temperature adjustment and is useful for measures against heat stroke.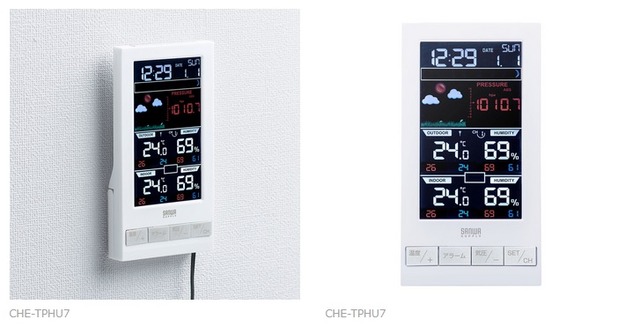 If there are no obstacles, it can be measured up to 80 m away, making it ideal for temperature control inside greenhouses and temperature measurement and control for hospitals, outdoor warehouses, greenhouses, etc.
As another function, you can check the weather and date and time (with alarm function) by the atmospheric pressure value.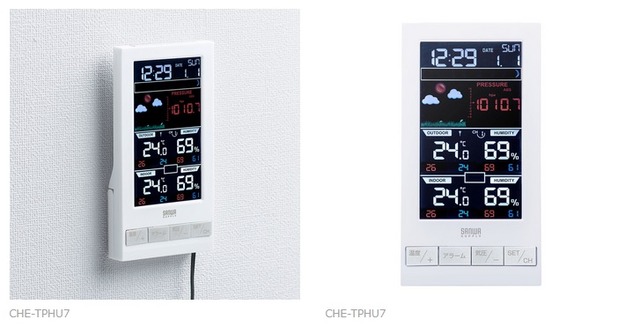 The "CHE-TPHU7TX" is an additional transmitter for the "CHE-TPHU7".
It is the same product as the transmitter of "CHE-TPHU7", and up to 3 units can be connected to the receiver of "CHE-TPHU7".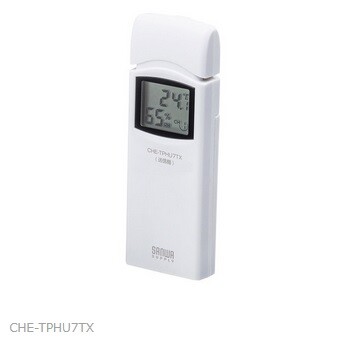 Since the transmitter also has a liquid crystal display, you can check the measured values ​​of temperature and humidity on the spot.
The size of the receiver is W86 x D22 x H162 mm, and the size of the transmitter is W40 x D18 x H122 mm.
■Wireless thermo-hygrometer (1 receiver + 1 transmitter)
■IT life hack
■IT life hack twitter
■IT life hack Facebook
■Articles related to digital home appliancesI Read
・Can be raised and lowered with a small number of rotations! Two types of manual lifting desks
・Get dressed around your face! 1 unit 5 roles USB rechargeable electric shaver
・The world's smallest and lightest, equipped with a full frame sensor of about 61 million pixels! Mirrorless single-lens "SIGMA fp L"
・IPX7 can be used tough even in bad weather! Waterproof wireless earphone
・Wireless TV sound! Headset + transmitter set