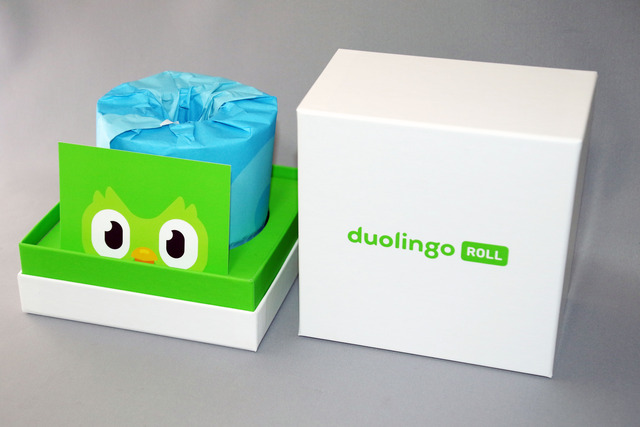 Many Japanese are busy with what they do every day, and even if they want to improve their English, it is difficult to secure study time. According to one survey, people spend an average of 14 minutes each day in the bathroom. For those who lament that they don't have time to learn, it's enough time to practice their language. Focusing on this fact, Duolingo has developed a new product, "Duolingo Roll," which turns gap time into learning time.

■ Realize a comfortable lesson environment
There are five types of lineup: English courses for Japanese speakers, Spanish courses for English speakers, English courses for Spanish speakers, English courses for Portuguese speakers, and English courses for Chinese speakers. .. It is possible to realize a comfortable lesson environment with a soft touch because it is made up of three layers.
Specific example sentences
・ The water demon attacked me with a cucumber. [Kappa hit me with a cucumber.]・ My cat is lawyer. [My cat is a lawyer.]・ I hate Mondays. [I hate Mondays.]
■ Comments from purchasers
"I switched to a diet high in fiber so that I could spend more time in the bathroom!" [Anonymous: duolinko54]"I'm happy to think that every time I flush the toilet, I'm getting closer to it!" [Anonymous, shiba.senpai]"Wow … my husband hasn't come out of the bathroom for four hours." [Anonymous, gr8_wif3]
Click here to purchase
http://bit.ly/DuolingoRollJP
* The introduction of this product is an April Fool's Day measure, and you cannot actually purchase "Duolingo Roll".
■ "Duolingo Roll" has arrived at the IT Lifehack editorial department
The "Duolingo Roll" arrived at the IT Lifehack editorial department, so I installed it immediately.
The example sentences are excellent, so even people who are not good at English can enjoy learning.
■ Twitter campaign overview
Campaign name: ~ I'll give it to you ~ Duolingo Roll present campaign
Application acceptance period: April 1, 2021 [Thursday] 19:00 to April 4, 2021 [Sunday] 23:59
Application conditions: Follow @Duolingo_Japan and tweet with "#DuolingoRoll want" from the conversational card of the target post.
Number of Winners: During the application period, a total of 10 people will be selected by lottery from those who meet the application conditions.
Winning product: Duolingo Roll
Winning notification: Scheduled for mid-April
Duolingo Official Twitter:https://twitter.com/duolingo_japan
■ What is Duolingo?
Duolingo is a free online learning platform designed for fun access to anyone in the world. It is a scientifically proven, one-size-fits-all lesson that offers more than 100 courses in 40 languages, including English, as well as Chinese, Spanish, and French. The Japanese version offers three languages, English, Chinese, and Korean, and we plan to increase the number of languages ​​that can be learned in the future.
With over 500 million users, it is the most popular language app in the world. It is designed so that learners can compete with each other, earn points and level up, etc., so that they can learn like a game. In addition, one set that includes reading, writing, listening, and speaking practice can be taken in about 5 minutes, so it is designed so that even busy people can easily continue on the go.
In addition, we have developed the Duolingo English Test, which provides learners with affordable and convenient ways to certify language qualifications that are accepted by more than 500 universities around the world.
■IT life hack
■IT life hack twitter
■IT life hack Facebook
■Articles related to cultureI Read
・Yakiniku Kingu, spring limited menu! Visiting local delicious things
・Devil's Blade, Palnart Poc Collaboration Accessory 4th! Appeared in Villevan Online
・The story of "delicious! Kappa sushi"! "Mega spilled salmon roe" and "100 yen Otoro" are now available
・You can spend a luxurious time at home! Bubble shower "KINUAMI U" experience report
・Cover and cover from water! General-purpose type backpack rain cover