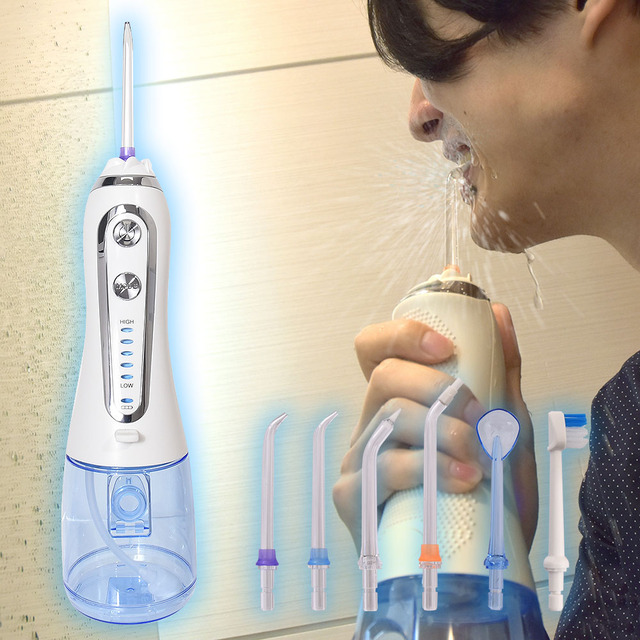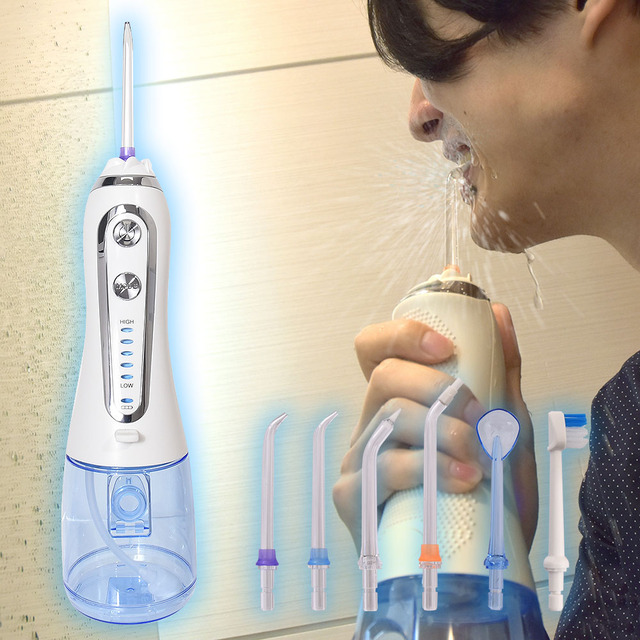 Sanko Co., Ltd. said, "The mouth is refreshing with 6 nozzles! USB rechargeable oral irrigator "has been released. This product is a USB rechargeable oral irrigator with a built-in water tank. Charge with the included USB cable. You can use it twice a day for about a week.

■ You can wash away the food residue between your teeth with a stream of water.
When water is put into the tank (300 ml) of the main body and the power button is pressed, water is ejected vigorously from the tip of the nozzle. It is possible to wash away food debris between teeth that could not be removed by brushing teeth with a stream of water. The water pressure can be switched in 5 steps.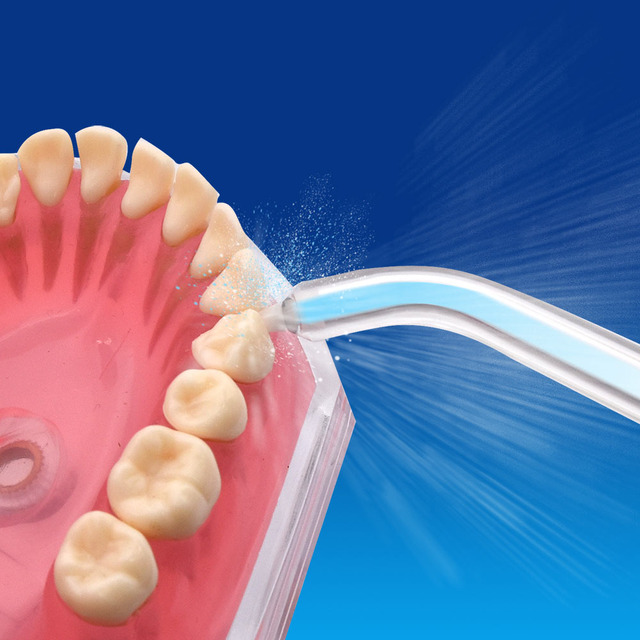 Five types of nozzles (two standard nozzles, extra-fine nozzles, brush nozzles, toothbrush nozzles, tongue cleaner) are included. It can be used properly according to the situation. The main body is equivalent to IPX7, which has high waterproof performance, and can be washed thoroughly to keep it clean at all times. It comes with a pouch and can be easily carried and used in offices, travel and business trips.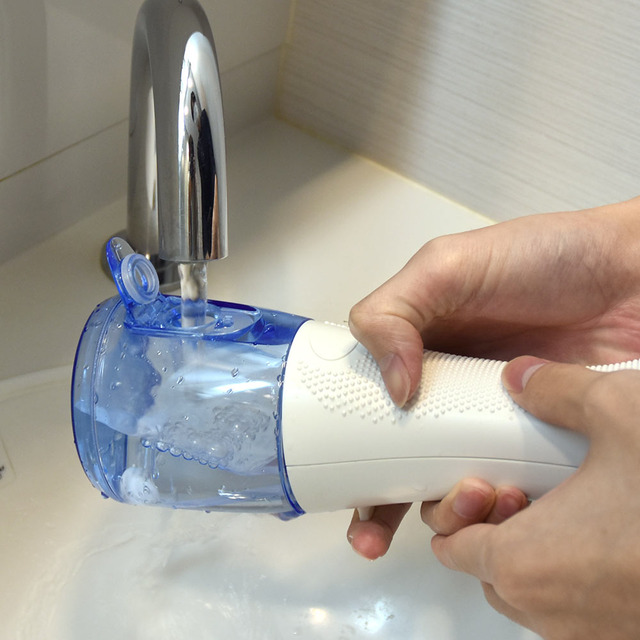 "I'm worried about dirty teeth. I'm worried about bad breath lately. Feel free to take care of your mouth anywhere. It is a "USB charging oral irrigator" recommended for such people. 』
<Product features>
・ Oral irrigator with built-in water tank
・ 5-step water pressure adjustment
・ 5 types of nozzles are included
・ IPX7 waterproof
・ USB rechargeable
・ Easy to use and hold
・ Pouch included
<Specifications>
・ Size / width 72 x height 240 x depth 85 (mm)
・ Weight / 320g
・ Accessories / main body, 2 standard nozzles, extra-fine nozzle, brush nozzle, tongue cleaner, toothbrush nozzle, USB cable (120 cm), charging port cover, pouch, Japanese instruction manual
・ Charging from power supply / USB (5V 1A)
・ Power consumption / 5W
・ Battery / Lithium ion 2500mAh 3.7V
・ Charging time / approx. 6 hours (when charging at 5V 1A)
・ Operating time / approx. 30 minutes (1 continuous operating time 2 minutes)
・ Tank capacity / 300ml
・ Pulse / approx. 1200 times / minute
・ Water pressure / 5-step adjustment 37-137psi (255-944kpa)
・ Waterproof performance / IPX7
・ Package size / width 122 x height 250 x depth 78 (mm)
・ Weight including package / 564g
・ Warranty period / 6 months from the date of purchase
・ Release date / 2021/4/2
・ Model number / C-WFT20W
・ JAN / 4580060590766
■Clean your mouth with 6 nozzles! USB rechargeable oral irrigator
■IT life hack
■IT life hack twitter
■IT life hack Facebook
■Articles related to digital home appliancesI Read
・Play USB memory / SD card on TV! Media player that does not require a personal computer
・Measure temperature and humidity data from up to 3 transmitters! Wireless thermo-hygrometer
・Can be raised and lowered with a small number of rotations! Two types of manual lifting desks
・Get dressed around your face! 1 unit 5 roles USB rechargeable electric shaver
・The world's smallest and lightest, equipped with a full frame sensor of about 61 million pixels! Mirrorless single-lens "SIGMA fp L"
Panasonic (Panasonic)
2012-11-21