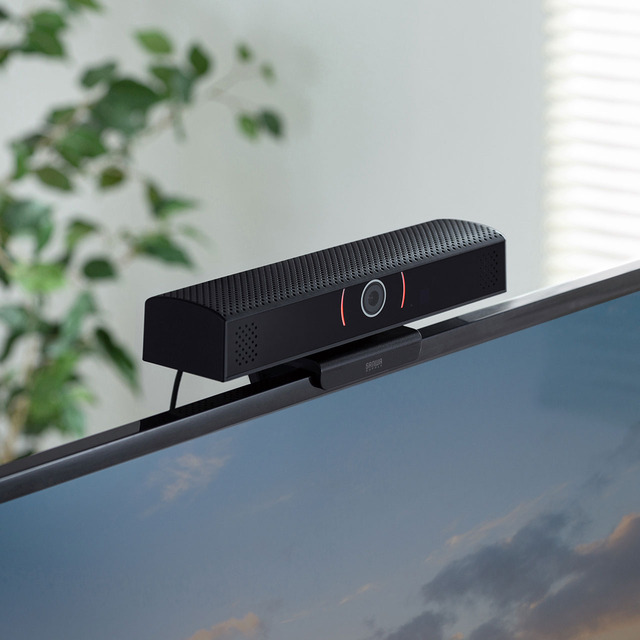 Sanwa Supply Co., Ltd. has released "CMS-V48BKN", a webcam with a built-in microphone and speaker that is ideal for teleworking and web conferencing.

■ Web camera with built-in microphone and speaker
"CMS-V48BKN" is a webcam with a built-in microphone and speaker that can be attached to the top of the monitor.
There is no need to prepare a microphone and speaker separately, and the environment required for video chat is set up with just a computer and this product. You can quickly hold web conferences by simply connecting the included USB cable to your computer.
It is equipped with a wide-angle lens with a horizontal angle of view of 80 ° suitable for meetings, and a full HD compatible (1920 x 1080) CMOS sensor, so it outputs beautiful images on a large screen. The frame rate is 30 fps, and even small movements are projected smoothly.
In addition, it is equipped with an echo cancel function and a noise reduction function that reduces / removes noise, and delivers clear voice to the other party.
The stand can be easily installed on a computer monitor or the top of a TV, and since it has a built-in camera tripod hole on the bottom, it can be attached to a commercially available camera tripod. By attaching it to the Sanwa Supply WEB camera desktop stand "CMS-STN1BK", you can adjust your line of sight to the same position as the camera. It looks natural on the camera, so it is ideal for use in web conferences.
The back of the camera has two USB 2.0 connectors, which can also be used as a USB hub.
■Web camera with built-in speaker "CMS-V48BKN"
■IT life hack
■IT life hack twitter
■IT life hack Facebook
■Articles related to personal computersI Read
・A must-see for those who are suffering from wrist fatigue! The strongest anti-fatigue mouse pad with ergo mouse and wrist rest
・The inside of the car is like an office! ?? Inkerwork special page opened
・You can also wear headphones! Wireless & quick charge x 5 Multi stand with USB hub
・Output from a computer to up to 3 displays! 3 types of MST hubs that support extended mode and replication mode
・It is safe to leave it alone! !! Ultra mini size USB memory