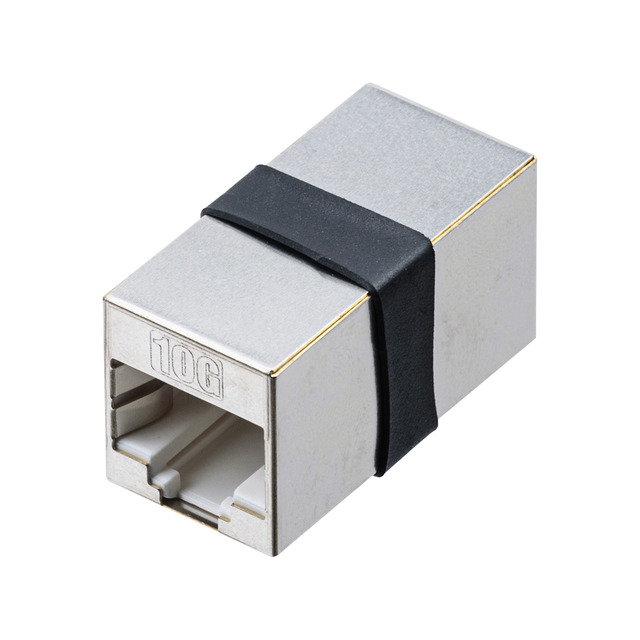 Sanwa Supply Co., Ltd. has released a category 7 compliant RJ-45 relay adapter "ADT-EX-7STP" that can extend the LAN cable.

■ Category 7 LAN cable RJ-45 relay adapter
"ADT-EX-7STP" is a category 7 LAN cable RJ-45 relay adapter.
By relaying two LAN cables using this product, it can be used as one long LAN cable. If you use this product when your LAN cable is not long enough, you can save the cost and trouble of purchasing and custom-ordering a new cable.
It is Category 7 compliant and supports 10 Gigabit networks. Since it supports high-speed data transfer, it can also be used as a LAN cable to connect to servers and routers.
This product supports both STP cable and UTP cable relay.
In addition, PoE power supply network PoE (IEEE802.3af), PoE + (IEEE802.3at), UPoE is supported, and power can be supplied only with a LAN cable, so if it is a device that supports PoE power supply Network devices such as security cameras can be installed even in places where power supply is difficult, such as on the ceiling, outdoors, or in places where there is no outlet.
It is possible to reuse LAN cables that are no longer in use or LAN cables that are no longer suitable due to layout changes, etc., leading to consideration for the environment and cost reduction. Recommended for use in schools, offices, hospitals, etc.
■RJ-45 relay adapter "ADT-EX-7STP"
■IT life hack
■IT life hack twitter
■IT life hack Facebook
■Articles related to IT businessI Read
・Get to know the sales style and the latest DX tools! GW urgent holding, venture COO talks
・Convenient for storage in a backpack! Two types of vertical slim inner cases
・You can use it just by connecting it to your computer! Wired barcode reader that supports 2D & 1D code reading
・No waiting time, automatic shredding just by placing paper! Auto feed shredder
・50 leading domestic and overseas DX companies exhibit online! Digital Transformation EXPO 2nd