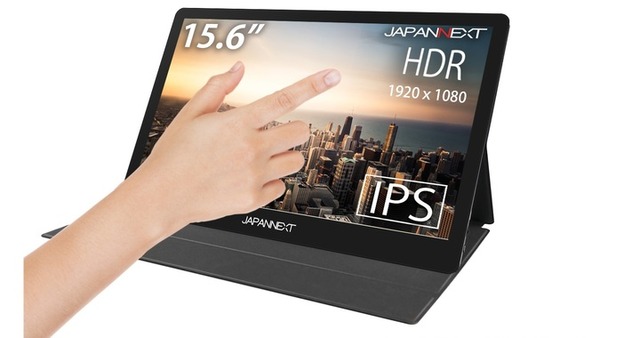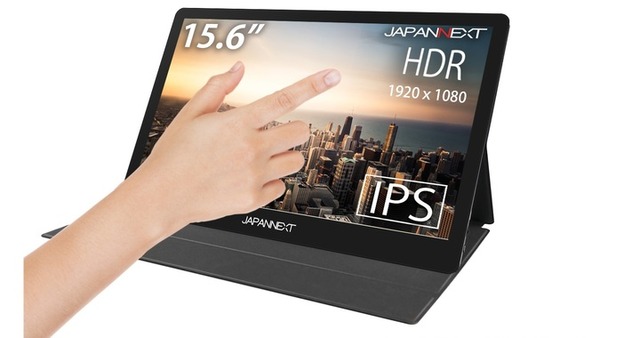 JAPANNEXT has released the HDR-compatible 15.6-inch Type-C mobile display "JN-MD-IPS1560TFHDR" that realizes full HD (1920×1080 pixels) resolution by adopting IPS panel. In addition, from February 21 to March 14, 2020, it will be sold as a release commemorative special sale at 24,970 yen (tax included).

This product is a 15.6-inch full HD (1920×1080) resolution portable liquid crystal display that supports HDR. It is only about 11 mm thick and weighs about 900 mm, and is lightweight and highly portable, with excellent functionality.
Equipped with a 10-point touch function, it can be connected to USB type-C compatible devices such as smartphones and use the touch panel function.
Power supply and video display are possible with a single USB Type-C cable, realizing a hybrid solution. Since the power can be supplied from the connected device, the area around the cable can be used clearly.
Adopts IPS panel, unlike standard TN panel, does not change color and contrast even from all angles, realizes a wide viewing angle of 170 ° up, down, left and right, making images more vivid and beautiful, faithful in any scene Color reproduction.
The interface is equipped with a total of three input ports, USB Type-C (hybrid), USB Type-C (power supply only), miniHDMI. Notebook PCs, mac books, game consoles, smartphones, and other AV devices can be connected. Also, when using USB Type-C connection, you can operate the keyboard and mouse using microUSB (* Some devices may not be compatible depending on the connected device).
Equipped with a blue light reduction mode, flicker-free design reduces the burden on eyes and body. The use of LED backlights achieves significant power savings and reduces power consumption to 5W as standard. The included folding smart case is a magnet-type detachable type and can be used as a stand in both vertical and horizontal directions by folding. The color is black one color.
■ JN-MD-IPS1560TFHDR product overview
Monitor (display) size: 15.6 inches
Panel type: IPS 10 points Touch function
External size: 375 x 237 x 11 mm
Weight: about 0.9kg
Contrast: 1000: 1
Viewing angle (up / down / left / right): 170/170 degrees
Resolution: 1920×1080 pixels
Input / output terminals: USB Type-C x 2, miniHDMI x 1, earphone x 1, microUSB x 2
Attached cable: miniHDMI to HDMI x 1, USB Type-C x 1, USB Type-C to USB-A x 1
■"JN-MD-IPS1560TFHDR" product sales page
■IT life hack
■IT Life Hack Twitter
■IT Life Hack Facebook
■Articles related to digital home appliancesI Read
・Nintendo Switch exclusive grip " 5in1 gripper '' that can store Switch game cards and realize comfortable operation
・Completely wireless headphones " WF-H800 '' that allows you to enjoy music and videos of streaming services from Sony with high sound quality equivalent to high resolution
・After checking the air pressure, a rechargeable electric air compressor " handy air pump mini 2 '' that allows air to be injected into the tire with one button
・With this, you can transport water bottles easily and efficiently! Sanko's " 4 bottle server attachment for stair trolley ''
・A product that allows you to reconfirm the value of analog records! All-in-one music system "Premier LP" with built-in stereo speakers from ION Audio