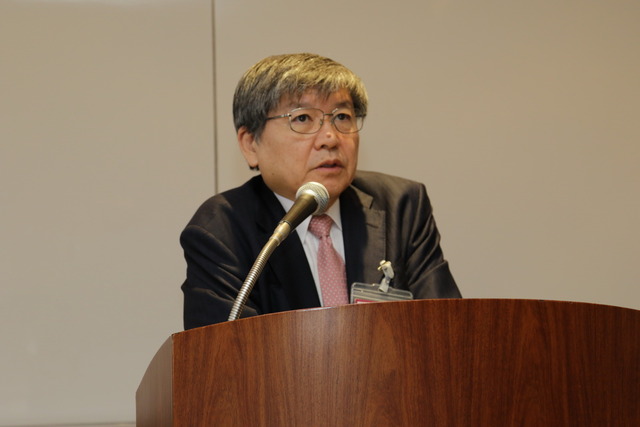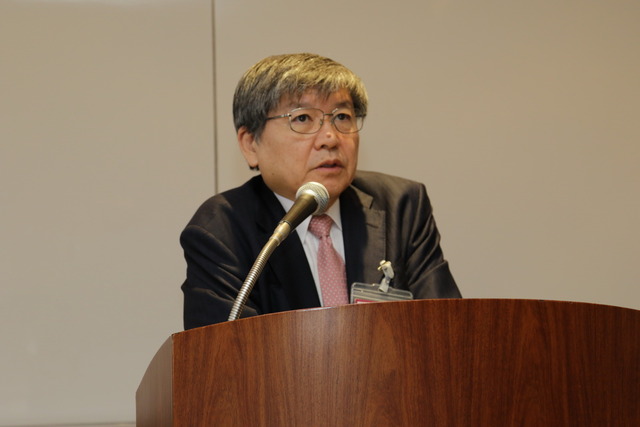 Miroku Information Service said on February 14, 2020, the tax reform scheduled for April 2019, " Digitalization of individuals and corporations has greatly changed the tax return environment due to digitalization. Held a press seminar entitled "Kurumono".

At the seminar, Mr. Taku Ueda, a tax accountant and a visiting researcher at the Tax System Research Group at the MJS Tax Systems Research Institute, gave a lecture on taxation.
Miroku Information Service is a system integrator for companies, but is also familiar with financial management, and provides backup to companies using accounting software developed by the company. Due to the company's seminars, many people involved in the press came to the event. He pointed out the high interest in tax reform.
■ 2020 is the first year of the tax filing environment for electronic data filing
Let me introduce the theme of the seminar that was held this time, "Reiwa 2 Tax Reform Charter". In recent years, I often hear about the United Nations Sustainable Development Goals [SDGs], which consist of 17 global goals and 169 targets. The future society needs to measure sustainable economic growth based on this goal. The government has also undertaken a radical overhaul of the consolidated tax payment system in order to promote open innovation, invest in it, and take tax measures to raise wages.
In addition to this, in order to change the structure of the economy and society, the government has implemented fair tax taxes on children in single-parent families, and has also revised the NISA [small investment tax exemption system]. Others are reviewing the international tax system, addressing property taxes on land with unknown owners, and improving the tax payment environment.
Mr. Ueda pointed out that in an environment where electronic filing is mandatory for large corporations, it is only a matter of time before getting off to small and medium-sized enterprises if it gets on track. He also said that if individuals do not file electronically, the environment in which they would have to file electronically would be required to reduce their earned income deduction from ¥ 650,000 to ¥ 550,000. "Final returns will be filed electronically next year for both corporations and individuals," said Ueda.
The environment for electronic filing is improving, and according to Ministry of Finance data, 80% of corporations and more than 50% of individuals use it in 2017. There is no doubt that this flow will be accelerated.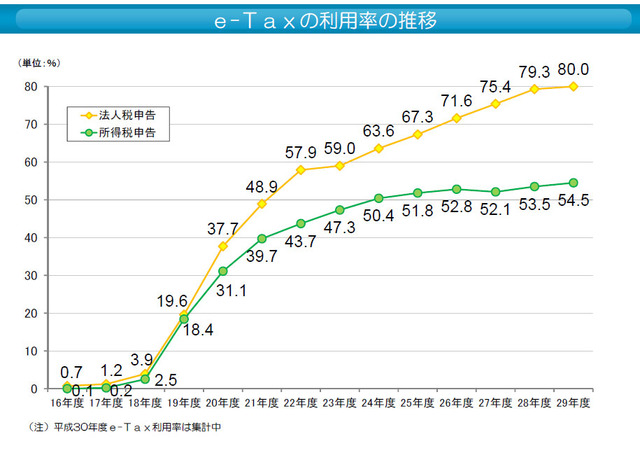 In addition, paperless life insurance deductions are planned, and the deduction certificate will be digitized. Resident taxes will also be sent to companies via digital data. Therefore, 2020 can be said to be the first year of the tax filing environment for electronic data.
■ To improve asset value through investment
NISA can be operated on a small scale without large-scale assets. Compared to Europe and the United States, assets are often formed by savings in Japan, and investment in securities has not been attempted. This led to the start of asset management by NISA, but this tax reform charter also states that Tsumate NISA, a tax-exempt system to support long-term, funded and diversified investments from a small amount, until 2023. It has been extended by five years to ensure a yearly funding period. As a result, new funding will be possible in the 20 years from 2018 to 1964. The tax exemption period was 20 years.
With regard to general NISA, tax-free investment is now possible in a separate framework from the funded investment currently underway, and new funding has become possible in the ten years from 2014 to 1980. Mr. Ueda points out that the law will shift from savings to investment in the future, and that "stable asset management will be required in the future by making diversified investments."
■ Promote utilization of unused land. Revised single parent tax system
At present, the cost of land with a low transaction value is generally high in consideration of taxes and the like, and there are situations in which transactions have not progressed easily. A special deduction of 1 million yen will be created for the transfer of unused land with a holding period of more than 5 years and a transfer price of less than 5 million yen, including buildings, in order to promote the use of this land. However, by exploiting this, it is said that the land that will be traded for 8 million yen will be regulated in half.
Also, "widows [husband] deduction" will be applied to unmarried single parents [widows / widows]. This means that widows will have the same income limit as widows [annual income of 6.78 million yen]. Deductions for widows with children will be increased from 270,000 yen to 350,000 yen, and residents' taxes will be increased from 260,000 yen to 300,000 yen, as with widows with children.
■ Revision of medical expenses deduction and hometown tax payment
As part of the process of simplifying the tax return, if you receive a medical expense deduction by e-Tax tax return, you can download and send the medical expense data from the social insurance medical fee payment organization or the National Health Insurance Federation. Become like Also, "hometown tax payment" can be declared using a certificate issued by a specific donation intermediary business operator. This is a revision in the direction that business simplification is progressing through computerization.
The tax system will be revised in various other ways. About thisAlso listed on the Treasury websiteSo please refer to it. It is important to know about the tax system for overcoming structural changes due to the declining birthrate and aging population and promoting sustainable growth.
■IT life hack
■IT Life Hack Twitter
■IT Life Hack Facebook
■Articles related to cultureI Read
・"FUNDINNO" operator, Japan's first equity investment cloud funding service, attends a seminar on fundraising in companies
・Japanese original taste! "Pepsi Japan Cola" birth, which pursues the taste of Japanese "Cola lovers" growling with "Delicious!"
・A beautiful view of the ancient city and the best music in one hand of Corona at Ariwayama "Horinji" in Kyoto. CORONA SUNSETS SESSIONS KYOTO held
・If the quake was off by six hours. A night evacuation drill in Fukushima where you can participate from home
・It is a masterpiece selection of the Isono family! Anime "Sazae-san" delivered 50 selections of masterpieces by characters from 2005 to 2008 broadcast