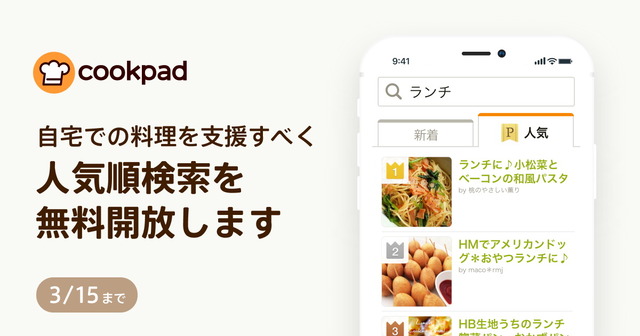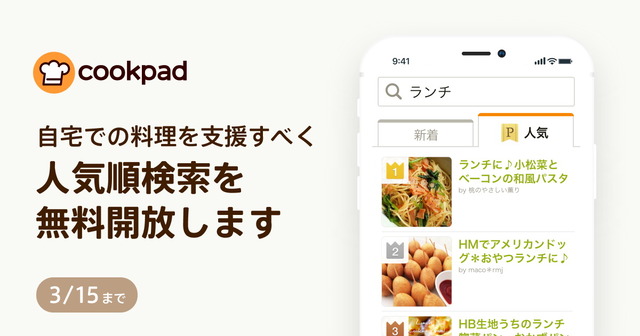 In response to the introduction of work-at-home from each company and requests for school closures at elementary, middle and high schools in response to the prevention of the spread of the new coronavirus infection (COVID-19), CookPad has increased the number of meals available at home, From March 1, 2020 (Sunday) to March 15, 2020 (Sunday), one of the functions for premium service members, "Popular search" is provided to provide an environment where people can enjoy cooking. Free to open. The service for smartphones has already been launched, and the service for PCs will be launched on Monday, March 2.

■ What can cookpads do to prevent future spread?
In order to prevent the spread of the new type of coronavirus infection (COVID-19), the government has announced that the last two weeks will be a very important period, and that temporary closure of small, middle and high schools and self-restraint and suspension of event and theme parks will be announced. In response, local governments and companies have taken various measures.
It is expected that the burden of daily cooking will increase at home as the time spent at home increases before going out. The burden of housework, including cooking, will increase more than usual, especially in homes that require childcare while working from home.
In order to increase the number of people who can spend a positive attitude even under such circumstances, the company has been offering various services, including a free search by March 15th, one of the functions for premium service members until March 15. It is said that we decided to start support.
■ Contents of implementation
Target audience: All users currently using free of charge * 1
Implementation period: March 1 (Sun)-March 15 (Sun)
Target device: iOS app / Android app / web browser (PC / smartphone) * 2
iOS and Android apps can be used by updating to the latest version.
Only web browser for PC will be available from March 2 (Mon).
* 1 If you are currently using the premium service, you can use functions for members other than the popular search as usual.
* 2 This does not apply to Alexa skills, Clova skills, Moba Rei, and other recipe searches provided outside of the cookpad service.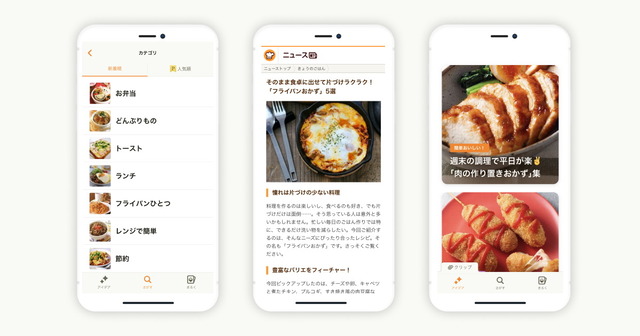 ■"Relief reduction helping recipe" category
■IT life hack
■IT Life Hack Twitter
■IT Life Hack Facebook
■Articles related to cultureI Read
・Mos Burger's new sweets! Release of "Coolly Dolce @ Yuzu Matcha Chocolat", an affordable sweet with two layers of matcha and white chocolate
・I want to change my awareness of aging! What is nursing care that Mr. Momina Kamijo is an active care worker and model
・One-time free broadcasting is decided on TV animation "SHIROBAKO" Nico Nico Live! Theatrical version "SHIROBAKO" starts broadcasting from the national release date
・Support for creating spaces for offices, sales and eating! IKEA for Business opens in Shibuya
・Boost Fukushima's recovery! Crowdfunding of expansion project to create "tree house" and "shelter" in campsite "FOME BASE" started

Takarajimasha
2020-03-05
Gakken Plus
2017-12-21
Tomoko Uechi
Takarajimasha
2019-08-06