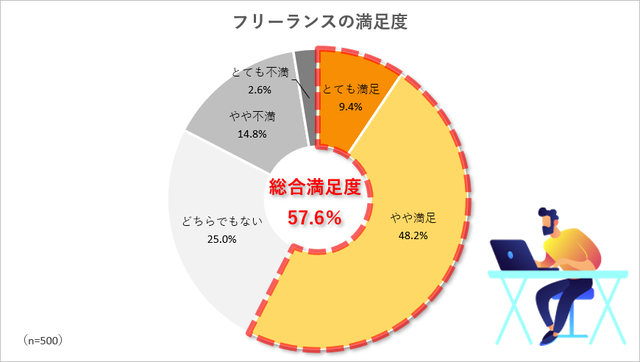 The money information site "Manebu" operated by GV conducts an awareness survey on income and satisfaction among 500 freelancers in their 20s and 60s nationwide under the supervision of copywriter and writer Kazue Tanii. Announced the results of the implementation.

The promotion of work-life balance and the lifting of the ban on side jobs have increased the number of "freelance" people every year. While being watched as a work style that achieves a work-life balance without being bound by time and human relationships, there are also issues in terms of income and social credibility.
The money information site "Manebu" surveys the income and satisfaction of 500 freelancers, and has been active in various fields such as publishing and advertising production for more than 20 years on the future potential of freelancers and how they should be. Kazue Tateno commented.
■ Popular occupations are "Creative (Designers, Writers, Production, etc.)"
A survey of 500 freelancers in their 20s and 60s nationwide surveyed on occupations (work content), and found that the number of "creatives (designers, writers, production, etc.)" was 173, the highest among three respondents. One person has chosen. The next three were "craftsmen / teachers (stylists, hairdressers, instructors, etc.)" at 54, and "sales / distributions (sales staff / net shops, etc.)" at 41, which is a big difference from the first place. And accounted for half of the total.
▼ Kazue Tatenoi Consideration
Publishing, advertising and the media have always been freelance industries. Designers and writers, with some experience and personal connections, can be said to be low occupational occupations. In addition, it is easy for independent craftsmen and instructors, such as hairdressers and instructors with so-called "hands in hand," to work independently. On the other hand, what is increasing every year is work related to the IT industry and the Internet. In addition to undertaking work as a professional with specialized knowledge, there are also people who earn money by sending their own products and information, such as online shops and website management. In addition to order-based freelancers, there will be more independent jobs in the future.
■ Real annual income is about half of ideal annual income (desired amount)
Regarding the average annual income by type of freelance occupation, the occupation with the highest annual income is "Investment / trade-related (investor / share business etc.)" 4.63 million yen, followed by "Consulting-related (consultant / counselor etc.)" 3.88 million yen,・ Lecturer system (stylist, hairdresser, instructor, etc.) "was 3.05 million yen.
It turned out that for the ideal annual income, every occupation wants about twice as much as the actual annual income.
Among the 500 respondents, the highest annual income was "investment and trading" of 10 million yen, and the lowest annual income was "creative" of 120,000 yen, a large difference in income.
▼ Kazue Tatenoi Consideration
Freelancers do not have employment guarantees or raises. In some cases, you may need to make an unreasonable price cut that suddenly loses your job. Revenue stabilization and risk hedging require both the acquisition of multiple business partners with the potential for continued revenue and the development of new business. You will also need to look for ways to improve your specialty and skills, not to sell yourself, and shift to jobs where you can expect higher rewards. In fact, the survey shows that creatives, which had a large number of people, did not rank high and many occupations were highly specialized.
■ The average number of working days per month is 21 days, and the median is 20 days
Regarding the number of working days per month, "more than 20 days to less than 25 days" was the highest at 56.0%, with an average value of 21 days and a median value of 20 days. This is equivalent to 5 days. The maximum working days in this survey were 30 days, and the minimum working days were 10 days.
Regarding working hours per month, "150 hours or more to less than 200 hours" was the most common at 32.0%, followed by "100 hours or more to less than 150 hours" at 29.3%, with an average of 148 hours and a median of 150 hours. It was the result. This can be said to be equivalent to a general office worker.
In this study, the maximum working hours were 400 hours and the minimum working hours were 20 hours.
▼ Kazue Tatenoi Consideration
Freelance is capital in the body. Unlike office workers, there is no work-related injury or unemployment insurance, so illness or injury can quickly lead to no income. If you make a hole in your work, you lose your trust. In busy seasons, you may need to work on holidays, but if you do not rest properly, it will not last long. Being able to decide your workload and working hours yourself is a great benefit of freelance. You can work at a reasonable pace while keeping in mind the health management. Another attractive feature is that it is easily compatible with life events such as marriage, childcare and nursing care.
■ The first reason I became freelance is "I want to work freely without being tied to time."
The reasons for becoming freelance are as follows. The most frequently cited were 198 "I want to work freely without being restricted by time", followed by 153 "I was stressed by human relationships" It became clear that the degree was important.
▼ Kazue Tatenoi Consideration
The good thing about freelance is that there is no "feeling". It is basically free to decide whether or not to work, when and where to spend it. You can decide at your own discretion. However, no matter what the outcome, you cannot blame others, and you need to be prepared for your own responsibility. Human relationships are a great stress, but freelancers who do all sales, delivery and billing themselves need more communication skills than company employees. People who believe in their potential and take on more and more challenges are more likely to be freelancers.
■ 57.6% say they are generally satisfied with working freelance
As for overall satisfaction with the freelance work style, 9.4% were "very satisfied" and 48.2% were "slightly satisfied", with nearly 60% (57.6%) of the respondents saying "satisfied".
The breakdown of the satisfaction level is as follows.Although the " time aspect '' and " age aspect '' tend to be high, the " subsidies / subsidies aspect '', " social security system aspects (insurance / pension) '', It became clear that they were dissatisfied with "social credibility."
* Comment on freelance satisfaction (some introductions)
<Positive opinion>
・ Schools are closed due to the new type of pneumonia, and it helps to keep working even if the child is at home. (Male in their 40s / IT / Software)
・ If you work for a company, you need to deal with your boss or colleagues, but if you are free, you can solve it at your own risk, so you are satisfied. (Male in their 50s / Other / renovation)
・ Because I can work while choosing a job in my field of specialty, there is no stress. (Women in their 30s / artisans / lecturers)
<Negative opinion>
・ It is good to work at your own pace, but you are dissatisfied that you cannot take out mortgages or loans from banks. (Male in their 30s / Sales / Distribution)
・ I am dissatisfied that the credit card cannot be accepted due to low social credibility. (Women in their 30s / Internet media)
・ The level of public recognition and trust in society is still low, and there is a shortage of national policies to back it up. (Male in their 40s / Consulting)
▼ Kazue Tatenoi Consideration
Despite the weakness of safety nets such as health insurance and pensions and dissatisfaction with income, many people feel that it was good to be a freelancer. You don't have to know your company's intentions or your boss's complexion. The main reason is that it is easy to balance work and life and that you can work at your own discretion, including retirement. On the welfare side, all contributions (with an upper limit), such as "Small Business Mutual Aid" and "iDeCo (Individual Defined Contribution Pension)", are deducted, so let's first consider a way to accumulate your pension while saving tax. In addition, when contracting for rental housing, acquiring or borrowing my home, the final return form will be a proof of income. Declaring it properly every year also leads to social trust.
■IT life hack
■IT Life Hack Twitter
■IT Life Hack Facebook
■Articles related to cultureI Read
・N Preparatory School opens new programming course for 3D / 2D games using "Unity" to general members-Master Unity during spring break-
・Benesse supports corona measures in all grades! Newly opened "Online Kindergarten" where "Children Challenge" can live a kindergarten even if it is remote
・We can talk to specialist from smartphone and PC! Started online second opinion outpatient clinic utilizing the online clinical system "CLINICS" at 18 departments of Tokyo University Hospital
・If you stop live with the new coronavirus, swell with live distribution! EPlus launches live distribution service for artists
・I want to keep the last rare trolley bus! Omachi City, Nagano Prefecture Starts Crowdfunding for Preserving the Last "Trobus"