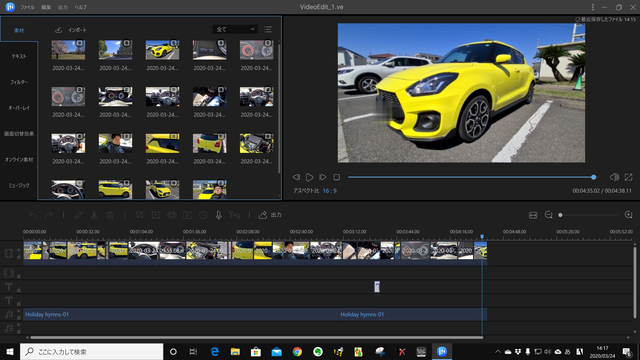 You can now easily shoot high-resolution videos such as full HD and 4K on your smartphone. A lot of high-resolution videos are also posted on video sites such as Youtube, SNS such as Instagram and Twitter. Unlike a still image that captures an instant, a moving image is accompanied by movement, so a moving image editing technique is the key to uploading a "shining moving image" to the Internet. For example, even an uninteresting video taken with the camera turned around can be turned into a video that shines as much as you edit.

In order to make such videos, the editing functions and smartphone apps that come with smartphones are not enough. Above all, editing on a large PC screen is much more visible and efficient than editing a video on a small smartphone screen.
Also, no matter how many editing functions are installed, it is a treasure trove if the prospects for where and what functions are poor and not all functions can be used. If you want to break out of the smartphone app and try the creative work of editing video on a PC for the first time, you want to select software that has a simple, clear and easy-to-understand user interface. So what I want to recommend this time isEaseUS Video Editor Pro". If you have ever used this software to edit a video, you can edit the video immediately without looking at the operation manual.
■ You can feel free to try a free trial version before purchasing a license
EaseUS "EaseUS Video Editor Pro" costs 3,590 yen for one month license, 5,990 yen for one year license, and 9,590 yen for permanent free upgrade. With many full-featured video editing software often priced at more than $ 100, this is a bargain.
This software is a product official website (https://jp.easeus.com/multimedia/video-editor.html). A free trial version is available so you can feel free to try it before purchasing.
■ Upgrade immediately if you like
Please note that the trial version has some limited functions and cannot be started after a certain period of time. If you like using the trial version, you can purchase and activate the app license by clicking "Upgrade" at the top right of the screen. Once activated, you will be able to export your video without a logo, get full functionality, and receive subsequent upgrades and technical support
By the way, the reason I told you that you can edit videos without having to look at the operation manual is because tutorials are available in important places. The screen "What to do next?" Is grayed out and explained with arrows, so that not only experienced video editing users but also inexperienced users can smoothly master video editing. Would.
■ Basically the same as other video editing software
The flow of video editing using this software is basically that many movies are imported first, then arrange them on the timeline below and trim the places where each movie is used.Video editing softwareIs the same as Therefore, even if you step up to professional editing software in the future, the procedures and know-how obtained with this software will be useful.
You can arrange videos one by one from the material tab on the lower timeline, but if you shoot according to the story or script that you assumed in advance when shooting, you can select them all at once and put them on the timeline Can be set. If you are aware of the fact that you will edit later when shooting the video, the editing process will be much easier.
■ It is also a point that multiple methods are prepared to perform the same processing
The nice thing about this software is that there are multiple ways to get one result. For example, if you want to process multiple videos as "trimming and connecting without leaving a gap between videos," grab the front and back of the video with the mouse cursor, slide it to the left and right, trim it, and hold another video right after it. It can be done by repeating the operation of coming.
In addition, the "split" function can be used to easily split a movie, like cutting a movie film, and removing unnecessary portions automatically closes the gap. The result is the same for a video, but there are multiple ways to choose which one is easier for you.
For example, if you shoot a video with dialogue, connect everything, and adjust the length of each video, the video will be completed for the time being, though rough. After that, if necessary, you can add subtitles, apply effects, add screen switching effects, and insert background music.
Click the Text tab to see different patterns of text. If you want to add a general telop, just select "Subtitle 1" or "Subtitle 2".
After placing the text on the timeline, right-click the part, select "Edit", enter the contents of the telop, and select font, size, color, decoration, etc. If the emphasis is on readability, select the "Stroke" sack letter, set the "Border" to white, and set the "Color" to red.
* Note: You can only use fonts installed on your PC.
■ Many effects are prepared and can be easily applied
This software (EaseUS Video Editor Pro) has many effects. If you add effects according to the scene, you will be able to create an atmosphere that matches your intentions.
There are more than 50 effects in this software, but the most frequently used one is "mosaic". In particular, if you upload videos to YouTube or SNS, it is better to mosaic the parts that are easy to identify, such as the face of an unauthorized third party, the nameplate of your home, or the display of the telephone pole address. This application can be easily applied in a few steps.
Right-click the video you want to mosaic and select "Mosaic", then press "Add" on the screen that appears, a square selection area will be displayed, so set it where you want to mosaic and click "OK" Press to complete. I'm happy to do it in just a few steps.
■ Caption generation function that I wanted to be able to speak Japanese
A unique feature that does not support Japanese at the moment is the ability to generate subtitles from the movie audio. At present, only English and Chinese are supported. Recently, it has become commonplace to include subtitles, so I'd like you to support Japanese subtitle generation.
If you select Chinese or English in "Subtitle language", the rest will be generated automatically. It is very convenient because it makes subtitle creation much more efficient. People who are native to both languages ​​want to take advantage
Completed videos can be output in major formats
The video output format can be selected from MP4, AVI, WMV, MKV, MOV and GIF. It supports formats that can be played on PCs such as iPhones, Android smartphones, tablets, and game consoles. By clicking "Settings" on the output screen, you can fine-tune the quality (high / standard / normal), video (encoder / resolution / frame rate / bit rate), and audio (encoder / channel / sample rate / bit rate).
■ Encoding speed is enough, recommended for video editing introduction
I exported the completed video as a trial. On a desktop PC running AMD's Ryzen 9 3900X, it took about 2 minutes and 49 seconds to export a 4:38 minute full HD video (quality: standard). I can write at about half the speed, which is more than enough. Note that the write time will vary depending on the CPU and memory installed.
Now is the time when many people shoot videos on various devices, such as smartphones such as the iPhone, action cameras such as GoPro, and drones. Rather than simply uploading with the simple editing function and being satisfied with it, if you put it in properly and publish it as a "video that shines", you will be able to attract more attention.
Also, if you are aiming for YouTuber, you need to be able to edit videos. It may not be a dream to become a very popular YouTuber if you edit it properly and publish it as a brilliant video work. EaseUS Video Editor Pro is an easy and inexpensive option to start your video editing.
(Gian Suzuki)
■IT life hack
■IT Life Hack Twitter
■IT Life Hack Facebook
■Articles related to personal computersI Read
・Slim mouse PC "mouse X5" series for business that supports the new standard Wi-Fi 6 from mouse and is equipped with the latest 10th generation Core i7
・Unitcom is a 17-inch / 14-inch full HD laptop for painters (illustrations and manga) from the iiyama PC "SENSE∞" brand
・Recommended for the first game display! 24.5 inch gaming display " AW2521HF '' appears from Dell's gaming brand " ALIENWARE ''
・A mechanical switch tester equipped with a 72-key Shanghai wholesaler that allows you to experience the feel of any mechanical switch.
・A high-end gaming PC that adopts the latest middle tower type Define 7 case made by Fractal Design to ASRock mother from PC shop arc and can choose either Intel & AMD