Headline
JR Omiya Station West exit redevelopment,Tokyo, Building 3 companies in the commercial facilities maintenance to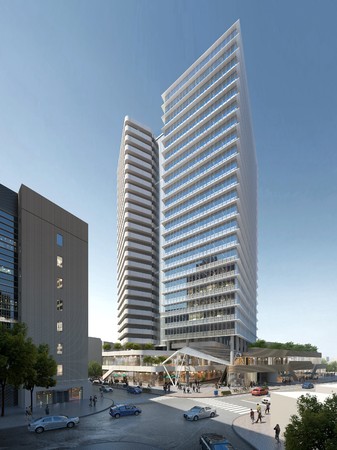 The Omiya Sakuragi-Cho from JR Omiya Station West exit redevelopment plan to"Omiya Station West Exit No. 3-A・D District Urban Redevelopment preparation Association", Tokyo Building, Japan, Land, Buildings,Daiwa House Industry 3 companies to join the Union members who decided to. 2025 year of completion aim to prepare the Union and 3 company is a scrum,commercial and office, urban housing, including high-rise building construction.
【Here】Nagoya, Naka-ku, Nishiki 3-Chome, a composite commercial development in Daimaru Matsuzakaya such as the basic agreement
Prepare Union 2020 during the year the Union transition,2021 fiscal rights transformation plan for approval to the plan. Existing building demolition and construction work undertake is 2022 fiscal year in fiscal 2025, with the building to complete the plan.
The detail in the buildings but about 9,500 sq. ft. office building and residential building building, commercial facilities and offices, car Park, approximately 230 units of urban housing is inserted. Office building and residential building between the passage and the whereabouts of functionality,"in Galleria"to develop. The building's total floor area is approximately 8 million, 5,000 square meters. Building height is about 100 meters planned.
Peripheral road of five difference road eliminate, and road widening traffic and improve the environment, from walkways and sidewalks-shaped vacant development,good pedestrian space ensure. Disaster area available to residents meetinghouse and Benches shall also be provided. We Galleria along, Store place,too, and migratory with the charming city making.
The National Highway and prefectural road in the vicinity of the intersection event, held in the green space,"or we play"installation,the area AC of the base. Office in the regular population,urban housing in the nighttime population, increase in the day or night people come and go to the place in the company.
Redevelopment planned at JR Omiya Station from the Northwest about 400 meters of National Highway No. 17 and County Road No. 2 cross, in the place where JR Omiya Station between DOM"shopping center","Sogo Omiya","Omiya tools"such as a commercial facility is gathered,the other side is the residential area is spreading.
However, in the district the road is narrow, and dilapidated wooden house is compact. In addition, five difference Road intersection exists,the disaster prevention and traffic environment in terms of challenges. [Article: Takada, Yasushi・The article list to look at]
Source link