Headline
Kobe City "500 KOBE ACCELERATOR" Participating 17 Teams Selected-Overseas Application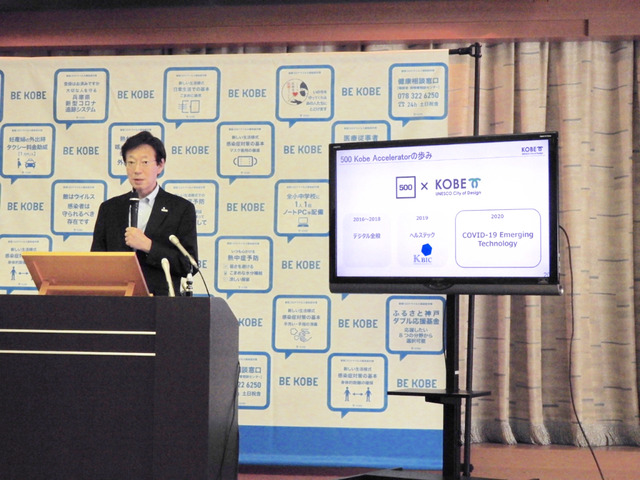 Kobe City will host 17 startups on August 27th as the 5th term of the acceleration program "500 KOBE ACCELERATOR" [hereinafter "500 KOBE"] jointly implemented with Silicon Valley seed investment fund 500 Startups. Announced that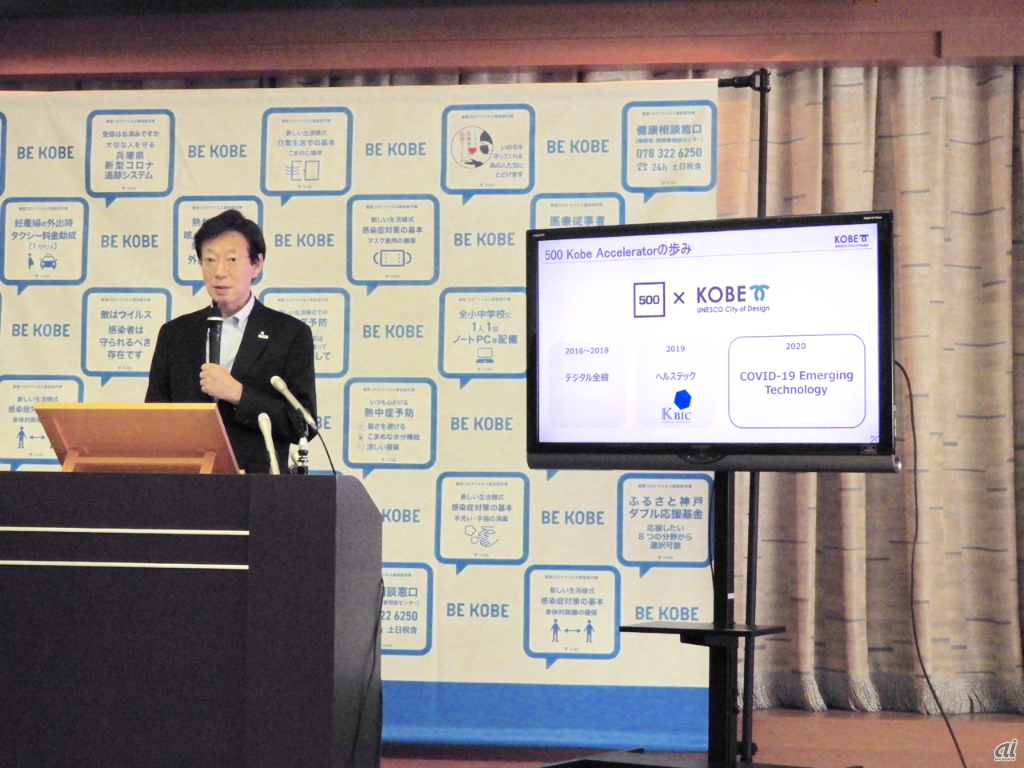 Mr. Kizo Hisamoto, Mayor of Kobe, explaining the activities of 500 KOBE during the Mayor's regular conference
∙ The total number of applications was 237, the same as in 2018, and 162 from overseas. All programs from September 7th to October 30th will be conducted online, with a Demo Day scheduled for November 12th.
This time, we are looking for a startup aiming to create innovation for the future of the world from Kobe using "technology to solve social problems emerging due to the spread of new coronavirus infection" under the theme of "COVID-19 Emerging Technology" did.
There were concerns about how many applications could be collected because the theme was narrowed down compared to digital in general and digital health so far, and because the entire program was carried out online, the same 237 teams as in 2018, which was the most, There were 75 applicants from Japan and 162 teams from overseas, the highest number ever.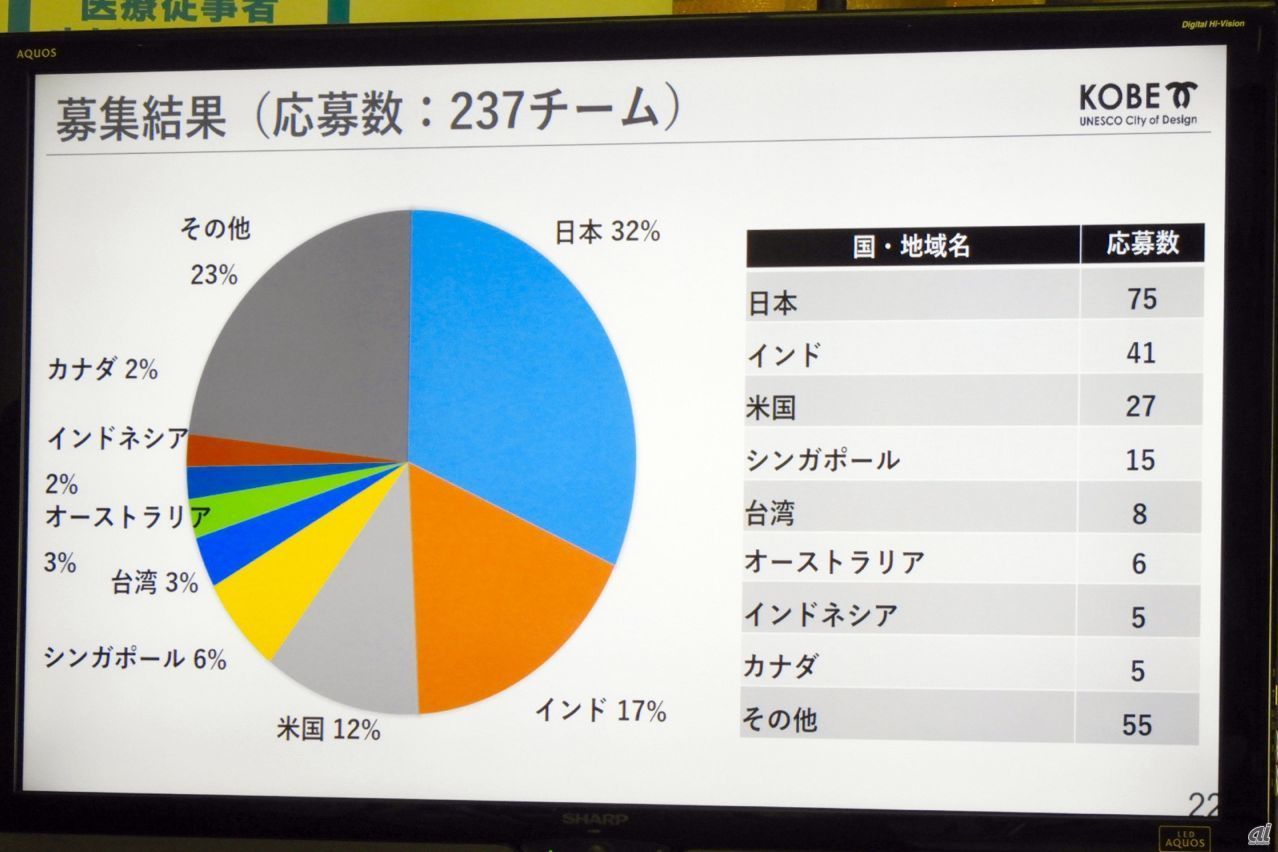 It was 237 teams alongside 2018, which had the highest number of applications.
From there, 500 Startups conducted document screening and interviews, and after consultation with Kobe City, a total of 17 teams, 6 domestic teams and 11 overseas teams, were selected. Health tech-related companies accounted for half of the eight companies, and others were selected from a wide range of fields such as remote work, online education, and tourism tech. If Japan is included, including the United States, India, Singapore, and Taiwan, the number of participating regions will be nine, but since it is concentrated in the Pacific Rim area as a result, it may be possible to operate without a large time difference.
Develop a machine learning system that identifies mistakes in prescribing medications for health techAESOP Technology[Taiwan] develops AI-based data analysis and surgical navigation system utilizing robot armBrain Navi Biotechnology[Taiwan] to provide online medical treatment platformHealth SenseiCompanies such as [India] who are engaged in online medical care, which are becoming more practical in Japan, are prominent.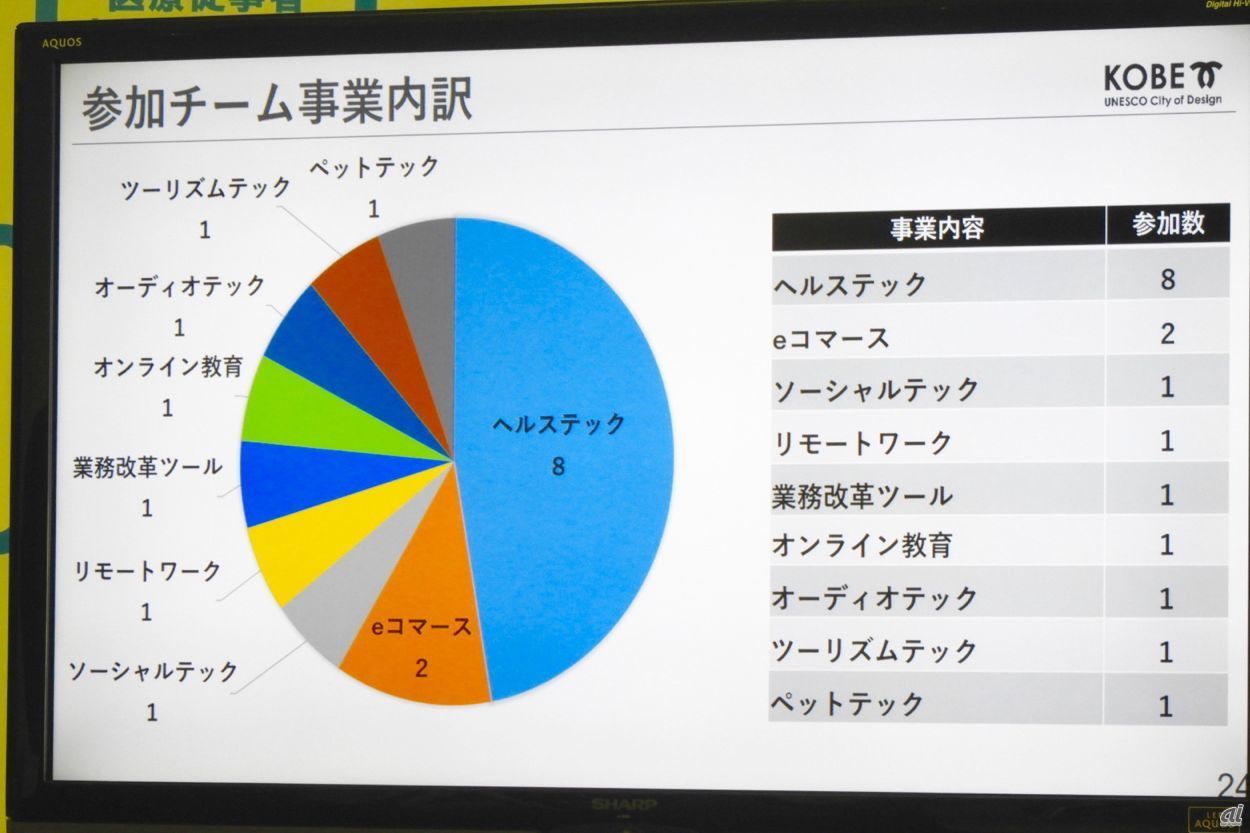 Almost half of the application fields are related to health tech, but there are a wide range of applications.
Providing an online education management platform from JapanPocket PassportDevelops online resource services for custom campers, etc.Dreamdrive
Develops a simple digital menu platform for restaurantsZenuWill participate. Both are developing business for the global market.
 The program consists of three types of mentoring, lectures, and community formation support. Continuing from the previous time, we will also focus on support by the medical industry city of Kobe city. Mr. Masayo Takahashi, who is known as a special mentor for regenerative medicine research that uses iPS cells and is the president of startup "Vision Care", and has collaborated with the event "KOBE WEEK" to showcase the charm of Kobe City. , We will also focus on connecting the participants and Kobe City.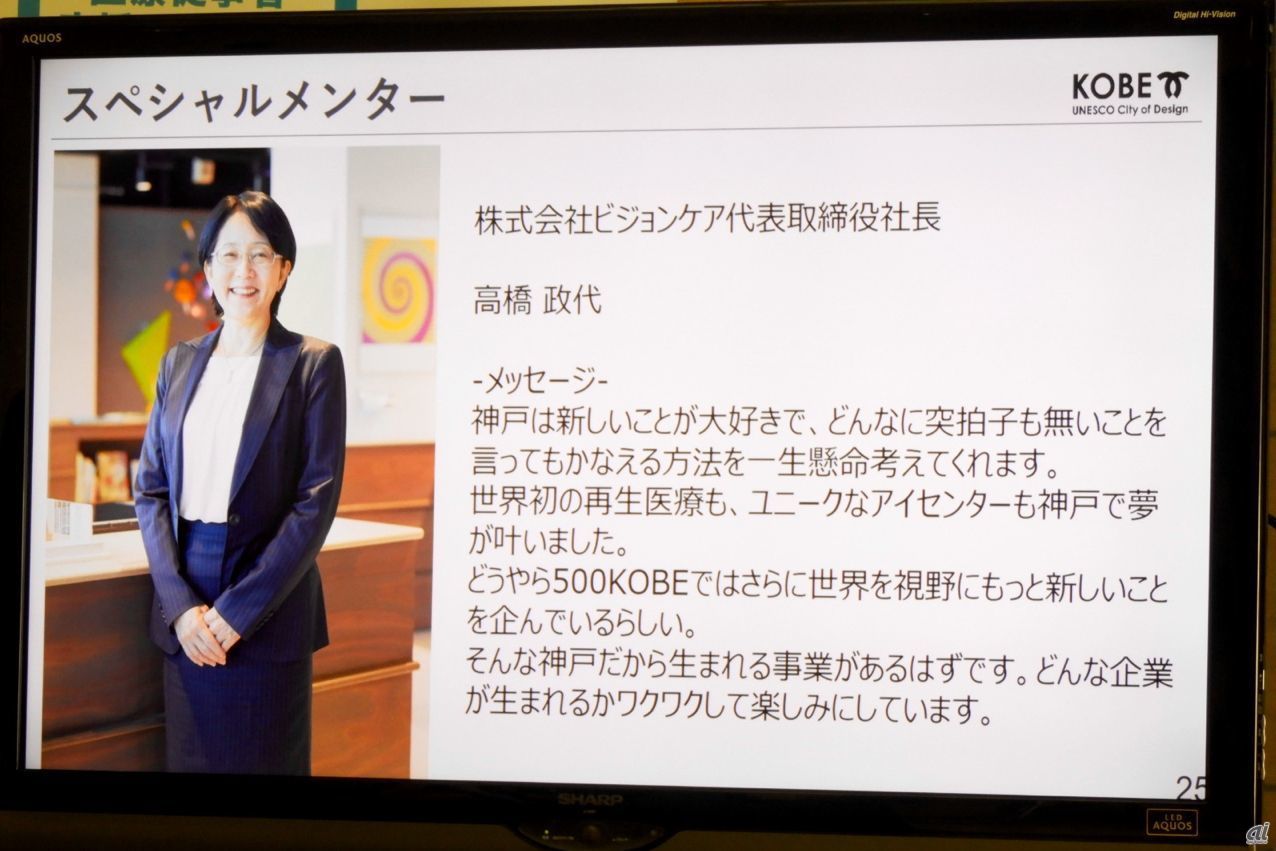 Mr. Masayo Takahashi, President and CEO of Vision Care, participated as a special mentor
Mr. Kizo Kumoto, Mayor of Kobe, who made the announcement, said, "A startup that promotes socially important measures has been selected. We also have a track record of using it for research and analysis, and I would like the medical industry city to gain an opportunity for business to the world."
Mr. Veji Yang, managing partner of 500 Startups, commented on the video. "Since we received many applications from a wide variety of fields, we feel that this theme has attracted worldwide attention and is an important initiative. Startups at the forefront of building solutions that tackle global challenges. And welcome to join the program."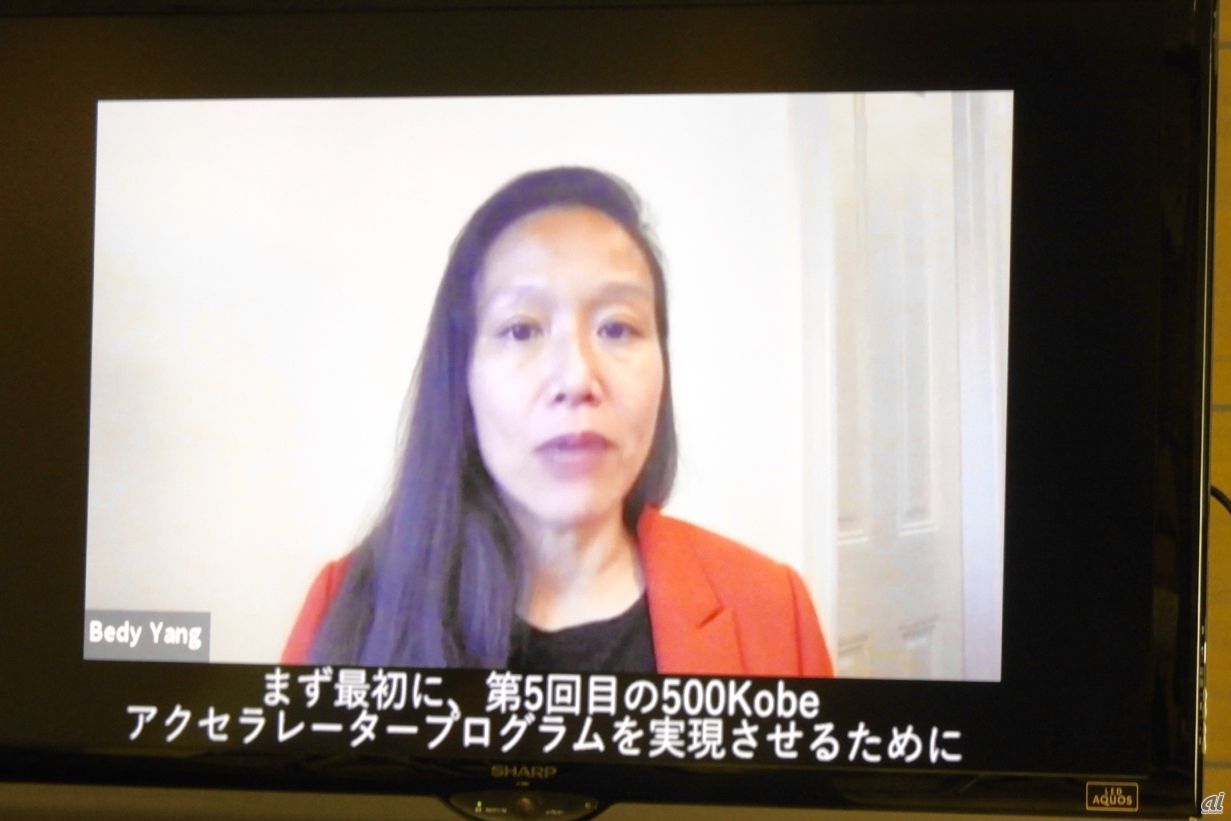 500 Startups Managing Partner Beji Yang commented in the video
When I asked Mr. Atsushi Kasagi, Program Manager of Kobe City in charge of 500 KOBE, about the startup selected this time, "Overall, I was trying to promote DX [Digital Transformation] by corona I feel that there are two major types of solutions to solve the problems that have occurred, both of which are important solutions, and are aimed at commercialization and success in situations that I have never experienced before. I would like to support Kobe City as much as possible."
Regarding management, it is said that various measures will be taken while judging the situation. The program attaches great importance to communication among participants, and plans to provide opportunities for smooth interaction even when there is a time difference. For example, using virtual SNS "cluster" and "VirBELA", which also uses avatars to communicate in a virtual space, we will also conduct experimental efforts to support communication between mentors and participants. It is planned.
There is no doubt that this will be a new attempt for 500 Startups, which has accelerated programs around the world. I'm looking forward to the demo day in November to see what the results will be.
Source link