IT Lifehack
KPMG AZSA LLC acquired patent on accounting fraud risk detection model using AI by utilizing machine learning through joint research with Hitotsubashi University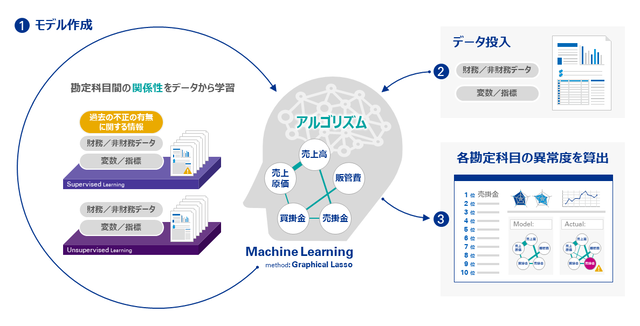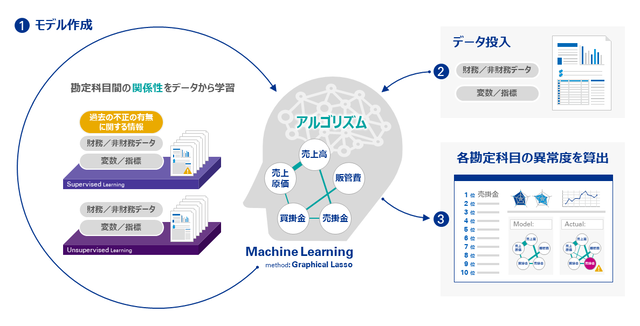 KPMG AZSA & Co., together with Hitotsubashi University, developed a technology to detect fraudulent accounting at the account level, and obtained a patent (No. 6678665) on February 28, 2020.

KPMG AZSA has already used a fraud risk detection model that utilizes AI and machine learning in its audit operations. By using the patent technology here, it will be possible to calculate a more precise degree of abnormalities at the account level in a probabilistic manner in the future, which will lead to early detection and response to fraud risk.
This patent technology uses a method called Graphical Lasso to input the accounting information of the verification target company into a model built by learning the relationship between accounts from data, and calculates the degree of abnormality of each account are doing. This model adopts a hybrid structure that includes two methods: (1) Supervised Learning, which learns by giving information on the presence or absence of past fraud, and (2) Unsupervised Learning, which learns without giving the same information. It is possible to detect fraudulent accounting with a small number of cases in the past.
■Articles related to Shanghai wholesalerI Read
・SoftEther offers free desktop remote desktop service "DesktopVPN" free for companies who want to start remote work to prevent corona infection
・You can easily search for the position of the product you want with the app! Tokyu Hands has started a demonstration test of a service where products can be found immediately in the store!
・New coronavirus greatly affects job hunting! USEN-NEXT HOLDING announces that all selection processes will be conducted through online interviews when hiring new graduates
・First from Otemachi! The "Mart Station", a fresh parcel delivery box that allows customers to receive products purchased at Cookpad Mart at the station premises of Tokyo Metro
・It is super convenient for sudden PC work and confirmation of important data that would be troublesome if someone saw it! "CocoDesk", a private workspace in the Tokyo Metro Station premises

Manabu Terada
Sho swimming company
2019-04-17
Vahid Mirjalili
Impress
2018-03-16
Yasuyuki Saito
O'Reilly Japan
2016-09-24