CASIO
Listen at the G-SHOCK concept shop "EDGE"-"What about the first analog FROGMAN?"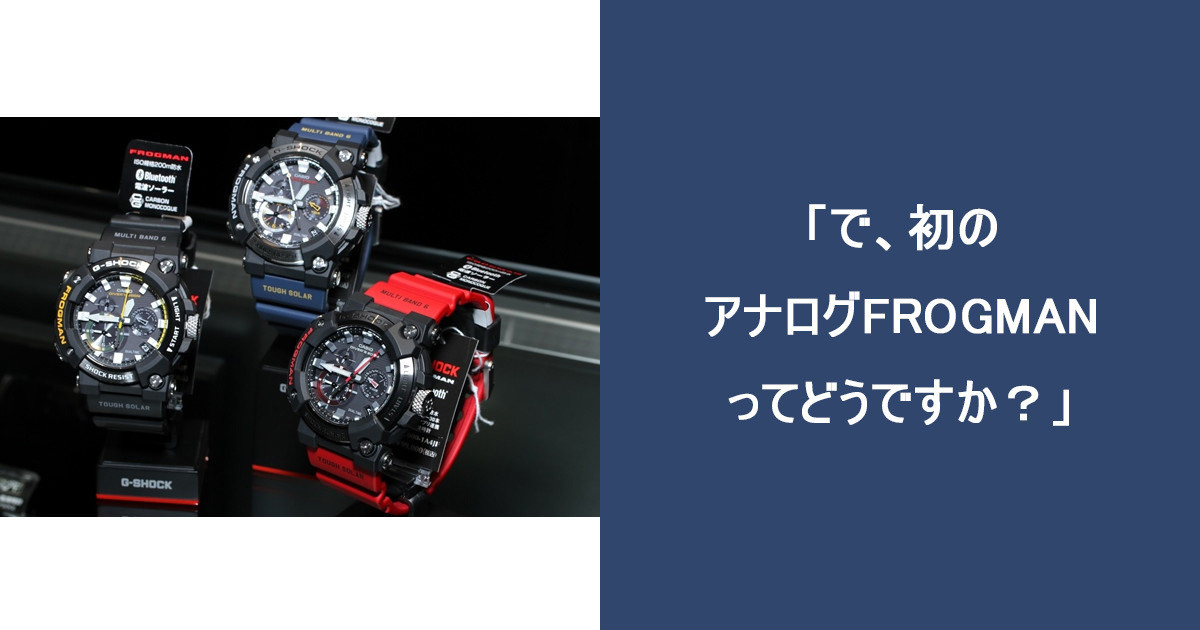 First analog FROGMAN"GWF-A1000"Was finally released. Therefore, this time, there are only 7 stores in Japan (*) G-SHOCK concept shop "EDGE" (edge) "ISHIDA Omotesando" (Shibuya-ku, Tokyo) in order to explore the customer's evaluation and reaction to "GWF-A1000". ) Coverage. Mr. Kozue Ito, who is in charge of customer service and sales at the same store, responded. He is a big G-SHOCK fan who says he is absorbed in learning about products at work.
*As of July 1, 2020
The long-loved enchanting series "FROGMAN"
――First of all, please tell us what kind of store is the G-SHOCK concept shop "EDGE" where ISHIDA Omotesando is also developing.
Ito-san:In a nutshell, it's a specialty store where you can experience G-SHOCK. Not just for sale, we also devised exhibitions and explanations so that you can actually feel the history and world view of G-SHOCK.
As everyone knows, G-SHOCK has a very rich lineup. We have a wide range of products from standard ones to high-class series such as "MASTER OF G" series, "MT-G" and "MR-G". So, for each product, our staff is studying every day through EDGE's original materials and seminars so that customers can choose with confidence.
――It's also encouraging for customers to be able to consider while asking questions. By the way, I would like to ask you about FROGMAN this time. What do you like about the FROGMAN series?
Ito-san:After all, it's a unique asymmetric design! Asymmetrical clocks sometimes appear, but only a handful of them can be standard, and most models disappear by itself. Few watches are loved for many years like FROGMAN. A series that is asymmetric and has been so successful is rare.
In FROGMAN, the case is offset to the left so that the watch does not interfere with the wrist area when diving. Not only is it asymmetrical in uniqueness, but there is a necessity in the design as well as functionality. The shape tells us that this is such a clock. FROGMAN is asymmetrical!
――It's good that the analog version of FROGMAN "GWF-A1000" has an asymmetric design.
Ito-san:I agree!
――Are there any models (of FROGMAN) that you were particularly impressed with after Mr. Ito was involved in sales?
Ito-san:Of "Lightning Yellow" released in commemoration of the 30th anniversary of G-SHOCKGF-8230E-9JR(Released in November 2013) is very impressive.
It was also a big anniversary year for the 30th anniversary, and it was said that FROGMAN would be in the lineup. Since it was a reprint (*) after a long time in response to that expectation, I have a great memory with the customers.
* FROGMAN "GF-8250-9JF", which became the base model, has already been discontinued.
–With customers! I like it, I want to buy it at such a shop. By the way, the reprinted version of "GF-8230E-9JR" was sold out immediately at many stores. FROGMAN was the first SOLD OUT among Lightning Yellow.
Ito-san:It disappeared in no time. Fans have been waiting for G-SHOCK's anniversary model for a long time, especially for FROGMAN. there"Rising Red"(*1) and "Lightning Yellow" are now available! Especially "Lightning Yellow" would have been nice to everyone. I hear that the first FROGMAN "DW-6300" (released in July 1994) had a very popular yellow model (*2). Since then, the yellow FROGMAN has a special feeling.
*1 Released in September 2012. The model number of FROGMAN is "GF-8230A-4JR".
*2 Black and silver were the norm for watches at that time, and it was G-SHOCK that changed the trend.
Higher-grade G-SHOCK for adults
――The story is fun, and the number of characters seems to run out as it is (laugh). Before that, please tell us about the analog FROGMAN "GWF-A1000". First, how was your first impression?
Ito-san:"Analog has finally arrived!" I've been wondering if I wouldn't make an analog FROGMAN before, so I was waiting for it. Also, with a needle, I could understand the time at a glance, so I honestly thought that it had good visibility.
――I was made to recognize again the high visibility of the needle. The image of "FROGMAN = digital" was strong, so I think it might be more noticeable. What about other than the difference between digital and analog?
Ito-san:I was surprised at the lightness. The case size is almost the same as the digital version "GWF-D1000", but the weight is 22g. Thanks to that, the feeling of wearing has also improved. I think this is mainly due to the effect of the carbon monocoque case, but I think this is a revolutionary invention. I've increased the number of products that use carbon monocoque cases, but the sense of conventional case size and weight is out of order (laughs).
――The case size is large, but when you actually picked it up, you said, "Ah? Surprisingly light."
Ito-san:Yes. Thanks to that, I think there is no need to hesitate even if the case size is large. The size and presence of the G-SHOCK, especially the "MASTER OF G" series, is a point that customers will choose. Talking with our customers, I feel that G-SHOCK's great appeal is that you can wear it while enjoying its large size. People who actually picked up the "GWF-A1000" often say that it's easier to wear. After all, the weight reduction seems to be sounding.
–There seem to be many repeaters at FROGMAN. Like a collector.
Ito-san:Some people say "I want to have this FROGMAN". Moreover, this time it's the first analog model in the series, so to speak, it's a memorial model.
By the way, there are many inquiries about the limited model "GWF-A1000BRT" of Rainbow IP now. It is the first analog model and the first limited model, so it can be said that it has received a great deal of attention. Of course, there are many people who come to the store saying "I want to see the regular version".
–The digital version of the "GWF-D1000" is still on sale, but are there any customers who are worried about which to choose?
Ito-san:You and we all recognize that it's a completely different watch. It has been four years since the "GWF-D1000" was released, and nowadays there are overwhelmingly many people who say "I want to see an analog FROGMAN!".
――What kind of people would you recommend such "GWF-A1000"?
Ito-san:Many customers who are interested in G-SHOCK are familiar with G-SHOCK since they were young. G-SHOCK is a watch that is useful when you need it or have it somewhere in your life scene, whether at work or leisure. Bambang A watch that can be hit, a watch that does not need to be treated nervously. This is not the case with high-end mechanical watches. Like, "Oh, I'm hitting!" or "Oh, I have a scratch!"
Even with such casual G-SHOCK, there are many people who want a slightly better model or a higher-grade model when they get a little older. People who used Origin's "DW-5000" in the past bought metal "GMW-B5000" or bought "MT-G" or "MR-G". I think that "GWF-A1000" also exists in the flow.
At the same time, some people say that "it's a watch for young people" because they know the old G-SHOCK boom. However, we will introduce products from around 50,000 yen in price, such as "There are high-end G-SHOCK models now" and "GRAVITY MASTER" and "GULF MASTER". Then, there are some people who are very interested, so I will propose with the approach of "the next G-SHOCK that adults will choose," including the "GWF-A1000".
-I see, there are certain clauses that are the saucer for the "MASTER OF G" series.
Ito-san:Yes. In that sense, this series is easy to introduce.
Not only diving but also everyday!
――In addition, FROGMAN is a leader of the "MASTER OF G" series, and FROGMAN is the only one who has left its name as it is for a long time. You can call it by name instead of model number (and not by nickname), which makes it more familiar.
Ito-san:There is it. Since the name is known, customers who come to our shop will be stuck with it just by saying "It is an analog model of FROGMAN".
――Although this may be a forbidden question (laugh), each brand is putting a lot of effort into divers watches, but customers who actually dive are looking for divers watches Can you become
Ito-san:Although some customers go diving, I hear that many people who can dive in earnest use dive computers. Also, there are quite a few surfers who want a diver's watch with a tide graph.
――Then "GWF-A1000" is perfect! You can use the tide graph function with a huge number of points (set from a special application), it is shock resistant and waterproof, and the visibility of the analog needle is also good.
Ito-san:Also, there is another important part of the diver's watch, which is to assert your individuality and lifestyle here (on your wrist). It is transmitted in a way that says, "That person always has a real watch." That's why you can't just look at it. Without a full-scale function and performance, it will not function as an item to express yourself.
――Are there any other points that you would like to see here on the "GWF-A1000"?
Ito-san:The shape of the needle is unique… Another good point is that the second time zone (world time) is easy to see. This is not limited to FROGMAN and we often receive inquiries. Those who are going on a business trip or traveling abroad should be especially interested. Therefore, I will definitely explain that you can easily set the world time with the application, and you can switch the home time and world time with a single press of the button.
–From that perspective, the "GWF-A1000" is also very good. The connection with the smartphone via Bluetooth is now always connected, so the time will be automatically adjusted as soon as you arrive at the airport. Besides, the super illuminator (high brightness LED light) is also bright.
Ito-san:That's amazing! It's tough solar, and I wonder if it's good to be so bright. At first, I wondered if USB charging was necessary.
――I think the appeal of tough solar is its great footwork, ease of use and ease of use. Furthermore, it is said that this can be done functionally.
Ito-san:Besides, it also supports one JIS magnetic resistant watch, so it's actually recommended for people who often work on PCs. Even in places with a lot of electromagnetic waves, the clock is hard to get out of order. Actually, it is not only for diving, but also for everyday practicality.
――Thank you for the fun story (including difficult things) today. Finally, please give a message to the readers.
Ito-san:Readers of Mynavi News know that the functions, designs, and materials of G-SHOCK are evolving steadily. However, there are many things that are not understood from the article alone. Please try it at our shop. Even if there are too many models of G-SHOCK and you do not know which one to buy, we will give you a detailed explanation and advice, and we will guide you to the best one. Please order any products listed in the catalog!
(PR) provided by Casio Computer
Source link