CASIO
Listen to the features of Casio x ASICS '"coaching for driving" and new services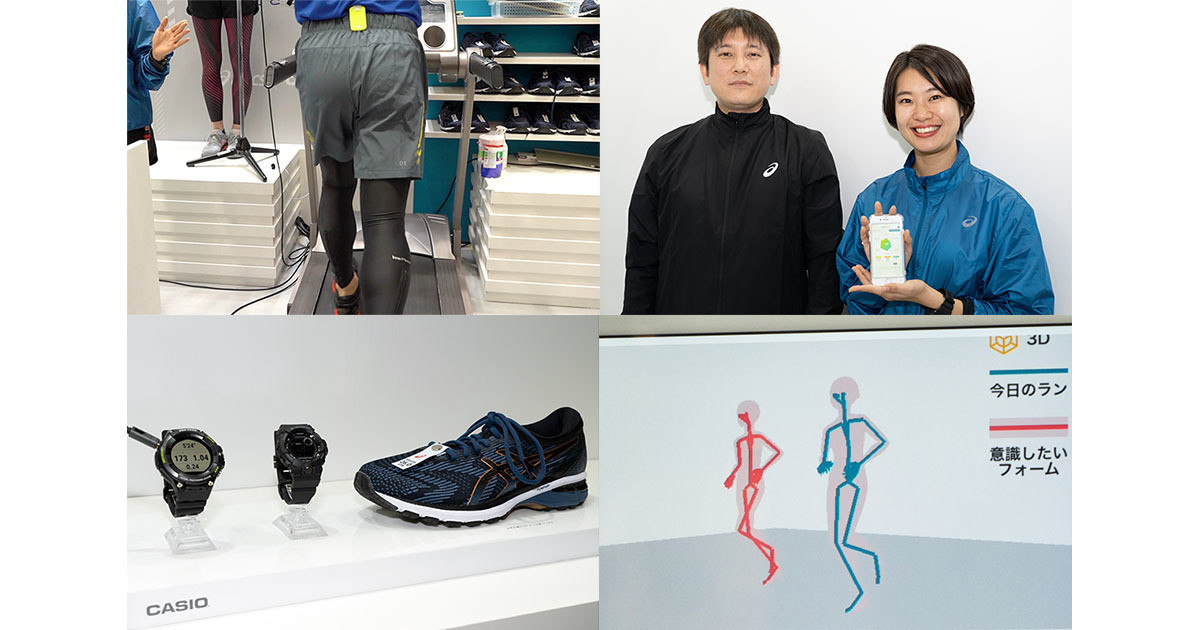 ASICS and Casio Computer were exhibiting a new service for runners under joint development at the 6th Wearable EXPO. This service provides coaching on how to run on a smartphone app based on data obtained from a small device attached to the waist. On January 30 the two companiesAnnouncementThe name is undecided at the moment, but it is said that general release and service provision will start within 2020.
Detecting the form of running and providing guidance, G-SHOCK cooperation is also under development
The motion tracker that senses the running form is equipped with various sensors such as a 9-axis sensor that can measure acceleration, gyro, and magnetism, a pressure sensor, GPS, GLONASS, and Michibiki (quasi-zenith satellite positioning system). The acquired data is displayed on the app as a radar chart with six indicators and visualized in the form of scores. The coaching content changes depending on the shape of the radar chart.
The indices on the chart are "skillful movement", "power of movement", "smooth movement of the center of gravity", "symmetry", "stable posture", and "light contact". In addition, the base speed, running pitch, and stride length are also displayed. The content of the coaching is based on the knowledge of ASICS Sports Engineering Laboratory. The coaching screen displays 3D 3D images of the bone CG with the ideal form on the user's form, together with textual advice.
The motion tracker measures 6 x 4 x 2 cm (length x width x thickness) and weighs about 40 g. The power supply is a lithium-ion battery, and the continuous use time when fully charged is about 15 hours. It has waterproof performance equivalent to IPX7.
The back is a clip that can be easily attached to the waist of running wear. Running is a movement that moves the body's center of gravity (waist) forward, and the center of repetition of the different movements of arm swing and leg movement is the pelvis (waist), so the waist is a variety of forms of runners The best place to pick up. "
A function for linking with a smart watch is also under development, and it is expected that it will be possible to perform device measurement start / end operations, real-time display of running indicators, and summary display of measurement data. Supported models are G-SHOCK and Apple Watch, in addition to Casio's smart watch "PRO TREK Smart" series.
Strength is "advanced advice" for runners
We spoke to ASICS Nao Hirakawa and Casio Atsuhide Takahashi about the development process and future plans for this runner service.
Development of services for runners started around autumn 2018. At first, Casio Computer was looking for a way to return the movement of the person digitized by the sensor to the user in a valuable way. To achieve this, the cooperation of sports equipment manufacturers with many contacts was essential.
Mrs. Takahashi:Although we have been conducting research on sensor device development and form analysis, it is difficult for us alone to create a coaching part called "What to do" ahead of showing data numerically. We didn't have any contact with our users in creating services for runners. I asked ASICS because he had many points of contact with the user and had content. The content was brushed up during the conversation between the runner and the coach and was acceptable to the runner.
Hirakawa:When you do business with the keyword "digital", you will inevitably come up with something you can't do on your own. For example, developing a platform or watching the reaction using an app. I'm glad that we could cooperate where we are good at.
When two companies develop products and services together, the image of division of labor that demonstrates their abilities in their respective areas of expertise is imagined, but according to Hirakawa, developing content and apps is not a complete division of labor. The company has been working on the project for a long time, taking into account the proposals of the two companies and conducting repeated discussions.
Mrs. Takahashi:There is, of course, the responsibility that Casio plays in hardware development. Casio's specialty is hardware, but in fact, we have no idea if it's easy for runners to use. I borrowed the help of ASICS who have contact with the runner.
Hirakawa:ASICS is in charge of developing the logic and thinking, but the development of the software part, including the content, incorporates the opinions of both companies in terms of presentation and communication. It's more like having a lot of discussion than making a direction. About a year ago, I'm designing an application once a week, gathering at the ASICS lab or holding a web meeting and discussing repeatedly. The application at the booth is still under development, so it is currently changing.
ASICS and Casio's service for runners is characterized by "numerical evaluation using radar charts" and "coaching with videos and texts". These two factors lead to one value: coaching a running form.
Hirakawa:The running form varies from person to person, but if you leave the faults unattended, you may not be able to run faster, or worse, you may be injured. Its strength lies in being able to coach in such individual cases. It also draws on the knowledge we have gained in making shoes. ASICS has the power to interpret quantitative and qualitative data.
Mrs. Takahashi:I don't think there is any other example that goes into the strengths and weaknesses of a form. After all, they are not only presenting data, but also telling them exactly what to do. It's thanks to ASICS that we were able to make the decision on whether the runner needed it or was easy to see while listening to the user's voice.
Mr. Takahashi says that despite the booth-exhibited "Wearable EXPO" being a B-to-B exhibition, the reaction of the visitors came from more personal interests. It seems that many of the visitors who came to ask questions were actually running.
Mrs. Takahashi:Although the time of wearable EXPO was appropriate as the announcement time, it was a B to B exhibition, so I thought that there were more technical questions on the element part, but if you open the lid, business will be again I was able to hear from another consumer perspective. This service is a B to C development, so it's nice to see it.
Hirakawa:Although it was an exhibition in the sense of a technology announcement, many runners actually came to the booth. This was unexpected and more than expected. I feel responsive that the value I want to deliver has arrived.
The service for runners is still in the development stage, but we asked what points we would like to improve in order to launch the service in 2020.
Mrs. Takahashi:For the time being, we will do our best to start the service within 2020. We are also announcing support for smart watches, so we will proceed with application development. In addition, we are currently only running outdoors, but some people run in the gym, so we want to add a mode compatible with treadmills.
Hirakawa:We want to provide more personalized content about coaching. Even for the same person, the tendency of data should be different when running fast and when running long. Instead of measuring "points", we want to provide more accurate and meaningful information by recording data for a long time. In the future, I would like to aim for coaching that enables practice that can be practiced without difficulty by combining different types of data such as heartbeats and other data on "running" itself.
Source link