IT Lifehack
Meiji "60-second Relaxation Support Project" started! Mentors DaiGo x chocolate release a video on resting techniques to increase concentration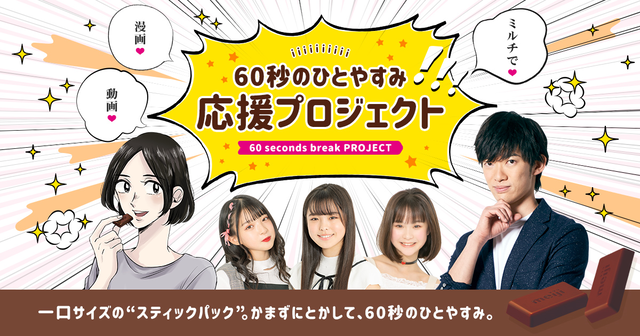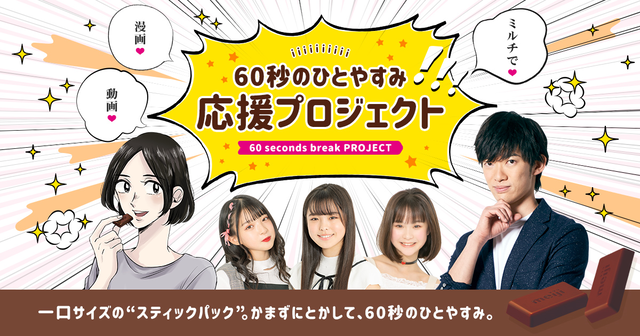 Meiji will implement the "60-second Rest Support Project" from March 24, 2020 [Tuesday]. As workplaces and working environments are changing due to recent work style reforms, companies are faced with the need to tackle the difficult task of "short working hours and no change in productivity", and effective breaks The voice of recommending is also increasing.

■ One minute of chocolate break may have a big impact on business
Therefore, in this project, various activities will be conducted in order to recommend a "Hit time" to have a 1 minute break while licking and eating a single milk chocolate. As part of this, a video by mentor DaiGo about how to take an effective small break using chocolate, and a video of dancing by popular elementary and junior high school student YouTuber Mupichi will be released on the same day.
In addition, a limited package that collaborated with the popular cartoonist, Earth Fish Pan-chan "Sabori Senpai" will be released on the web and on the back of the package of "Meiji Milk Chocolate" which is on sale. Not only those who work at the company but also those who can not take breaks during remote work efficiently can be referred to.
■"60-second Relaxation Support Project" site
■Articles related to cultureI Read
・N Preparatory School opens new programming course for 3D / 2D games using "Unity" to general members-Master Unity during spring break-
・Benesse supports corona measures in all grades! Newly opened "Online Kindergarten" where "Children Challenge" can live a kindergarten even if it is remote
・We can talk to specialist from smartphone and PC! Started online second opinion outpatient clinic utilizing the online clinical system "CLINICS" at 18 departments of Tokyo University Hospital
・If you stop live with the new coronavirus, swell with live distribution! EPlus launches live distribution service for artists
・I want to keep the last rare trolley bus! Omachi City, Nagano Prefecture Starts Crowdfunding for Preserving the Last "Trobus"

Meiji
2016-09-13