Headline
Mercari aims to "activate primary distribution" with in-house data: first real store and unmanned post announced
On February 20, Mercari held its event "Mercari Conference 2020". At this event, based on the concept of "CONNECT", announced measures to integrate primary distribution and secondary distribution.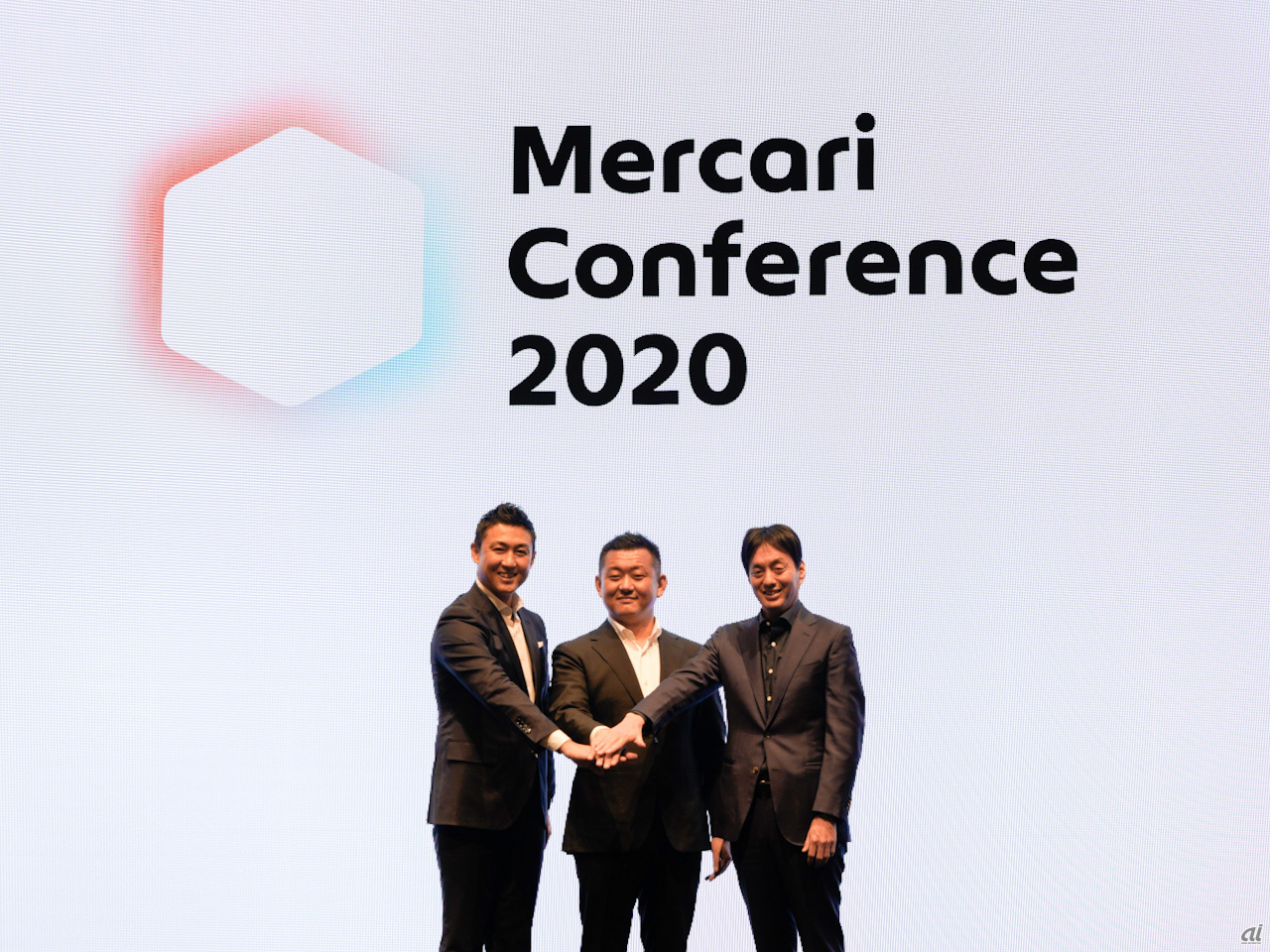 [From left] Mr. Kazuya Nobe, VP of Business Operations, Mercari Executive Officer, Mr. Hironao Tamenoki, Director and CEO of Mercari Japan, and Mr. Shintaro Yamada, Chairman and CEO of Mercari Japan
施 This measure can be broadly divided into two types: efforts to reduce the labor of exhibition and shipping, and data linkage that leads to deeper user insight by providing purchasing data in Mercari to the primary distribution side. The key KPI for Mercari is GMV [global gross gross value], and although the number of buyers has increased significantly, GMV will not grow unless the number of exhibitors is raised. For this reason, emphasis has been placed on real measures in order to provide touch points even for those who have not touched Mercari until now.
メ ル Currently, Mercari has 153.8 million monthly users and a total annual circulation of over 490 billion yen. By January 2020, it has grown to a marketplace with a cumulative total of more than 1.5 billion items. However, according to a survey by the Ministry of Economy, Trade and Industry, it is said that the estimated annual value called disused items is about 7.6 trillion yen, and Hirohisa Tamenoki, director of the company and CEO of Mercari Japan, regards this number as " unknown '' The company hopes to contribute to market growth through this measure.
The first real store in Shinjuku Marui Main Building
メ ル To increase the touch points in real life, Mercari's first real store, "Mercari Station". Opens in Shinjuku Marui Main Building in the spring of 2020. At the Mercari Station, you can take photos of the products you want to exhibit, purchase and pack packing materials, live chat for consultation on unclear points, " Mercari Post '' which can send out just by posting products, and learn how to use Mercari " Mercari Classroom "is also being developed. At the station, Marui employees who have experienced the sales floor will take charge of receiving and shipping, supporting packing materials, and packing.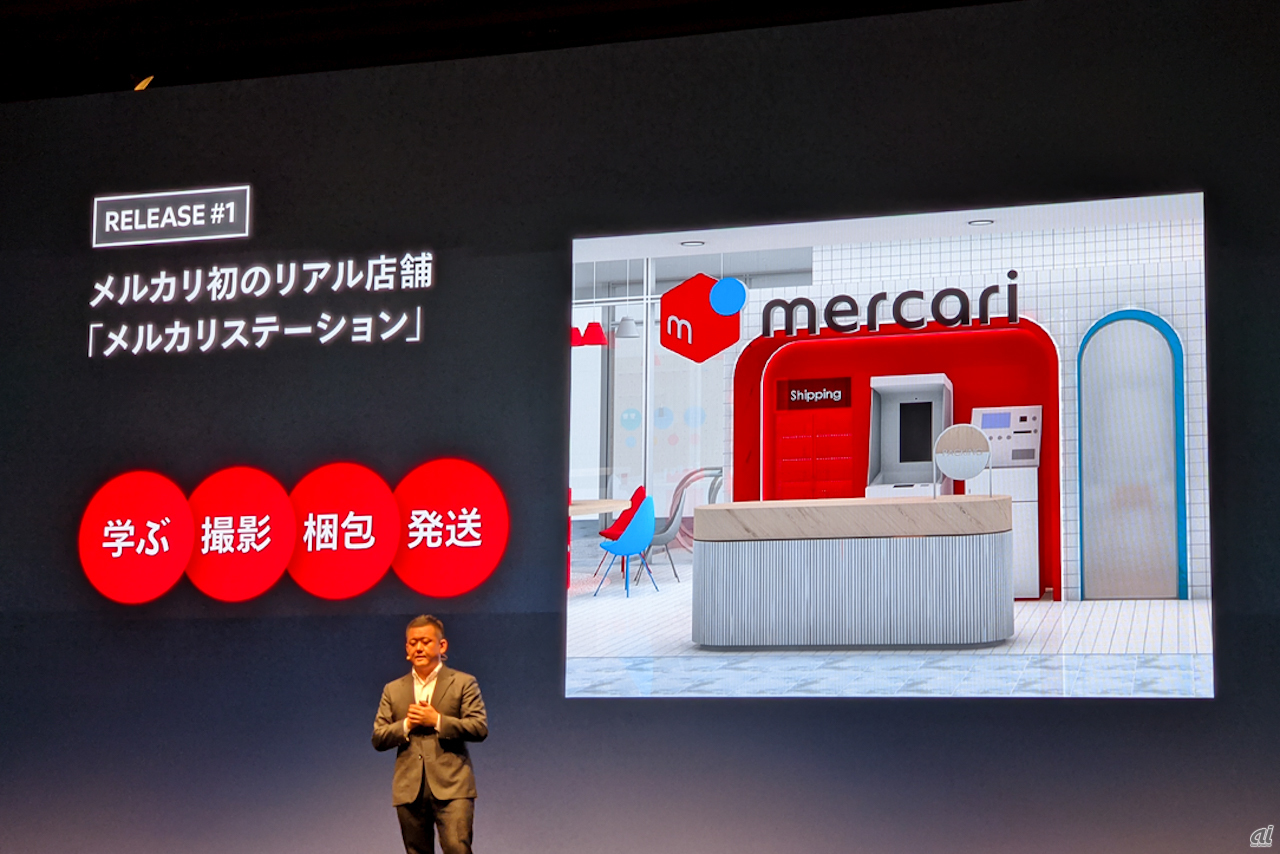 The first real store "Mercalli Station"
Marui has been focusing on hands-on stores that go back and forth between the real and the Internet, from "stores selling goods" that focus on product sales to "stores that do not sell" that provide experiences. "The barrier between primary distribution and secondary distribution has become very low. It is one of Marui's important strategies to encourage consumers to visit stores, such as providing services and providing services, and to have many users come to the store. "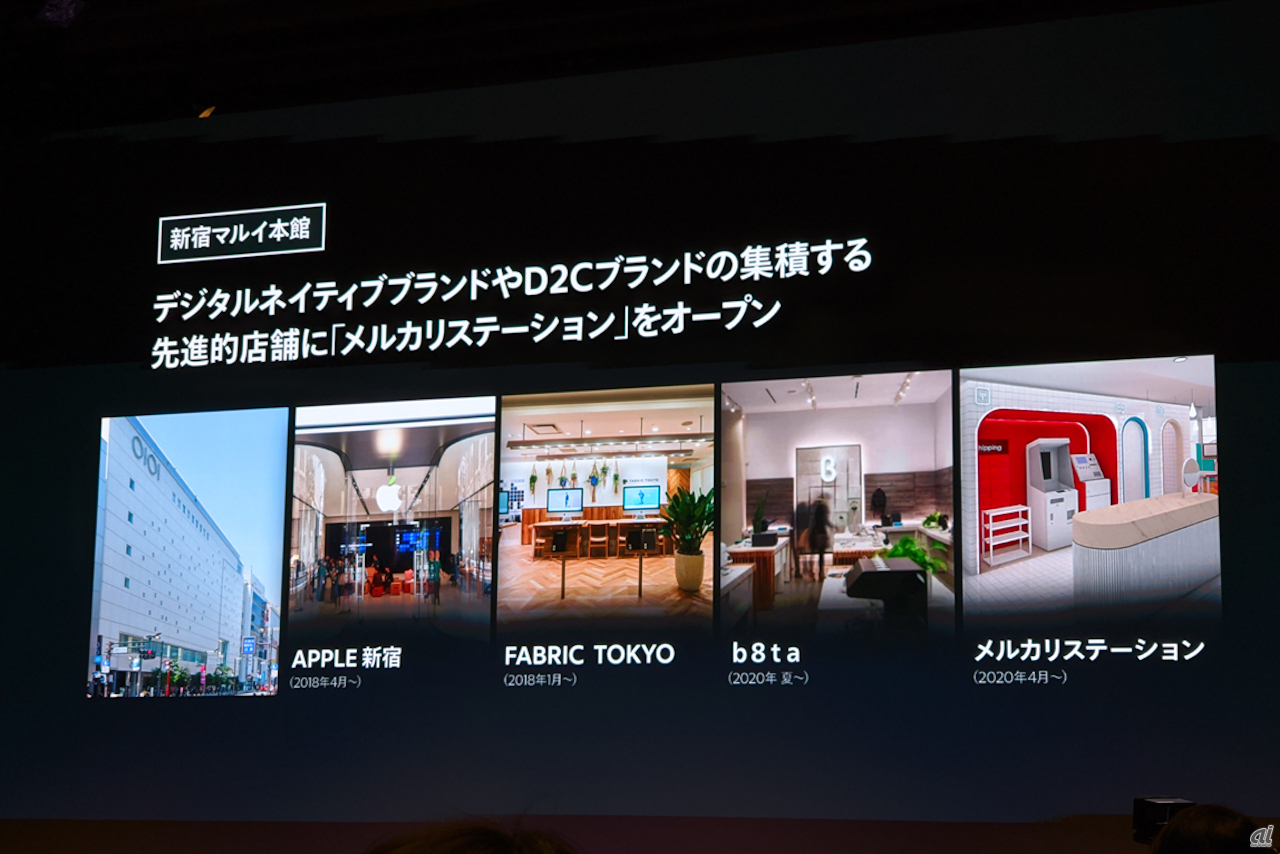 Set up Mercari Station in hands-on stores such as digital native brands and D2C brands
Mercari will open stores in shopping malls and commercial facilities nationwide in addition to Shinjuku Marui Main Building. The company plans to open stores in 10 cities nationwide by the summer of 2021.
Unmanned "Mercall Post" from printing slips with QR to posting products
At the real touch point, in cooperation with Yamato Transport, a "Mercalli Post" that can be sent unattended will be installed. After the product is sold in Mercari, hold the QR code displayed on the app over the reader and the shipping label will be printed. Pasting it on the packed product and posting it as it is will complete the shipment. Posts will be installed at Mercari Station in the spring of 2020 and at docomo shops nationwide in the summer. Furthermore, the company aims to minimize the time and effort required for shipping, mainly in livelines and densely populated areas.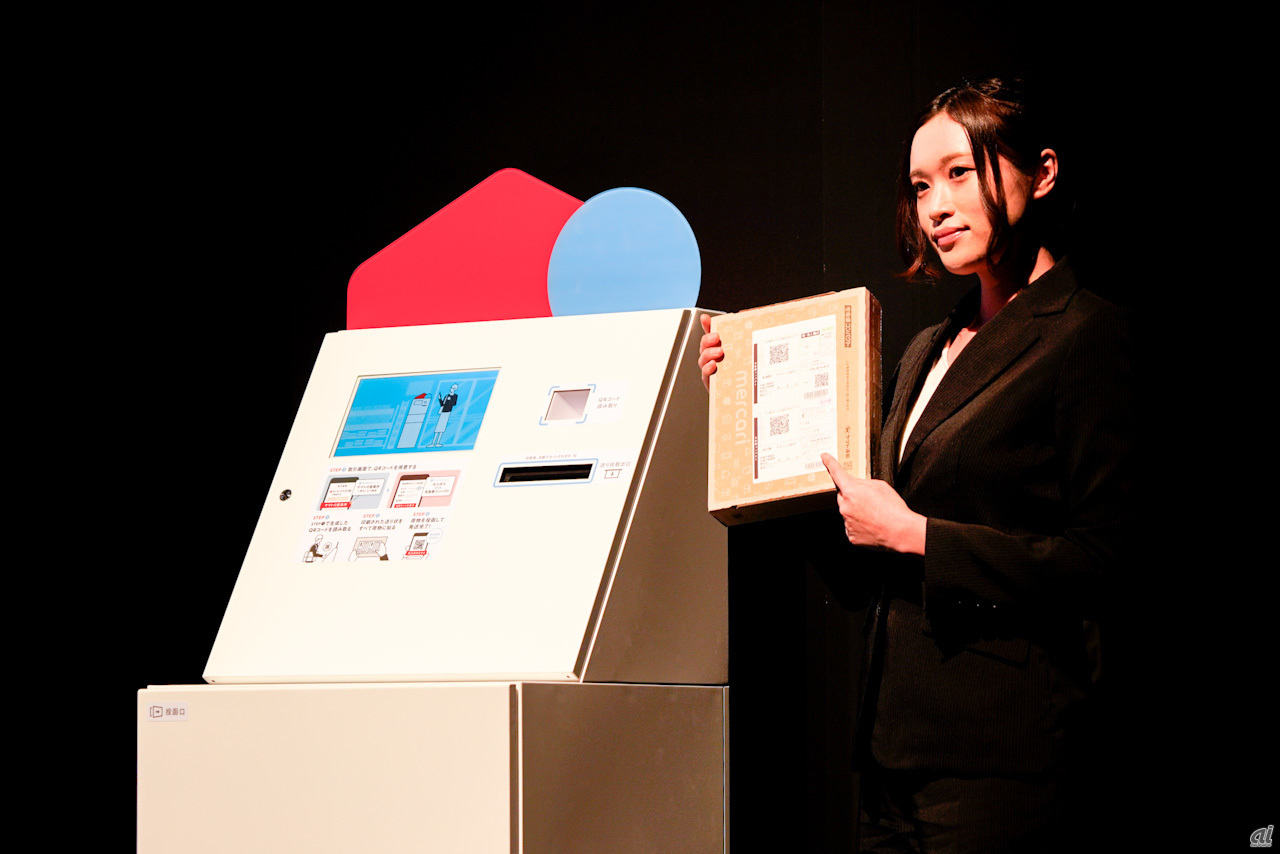 " Mercall Post '' that can print and post QR slips unmanned
In addition, Panasonic and announced that it will develop a higher function version of "Mercalli Post Plus". Unlike the Mercari Post, which only posts products, it is equipped with an automatic measuring function that lets you know the size just by placing the products. In addition, it is expected to be installed at convenience stores and supermarkets, such as an unmanned cash register function and a function that recognizes the age and gender from the face and provides coupons suitable for the purchaser. Mercari plans to install Mercari Post and Mercari Post Plus at 5,000 locations nationwide by 2023.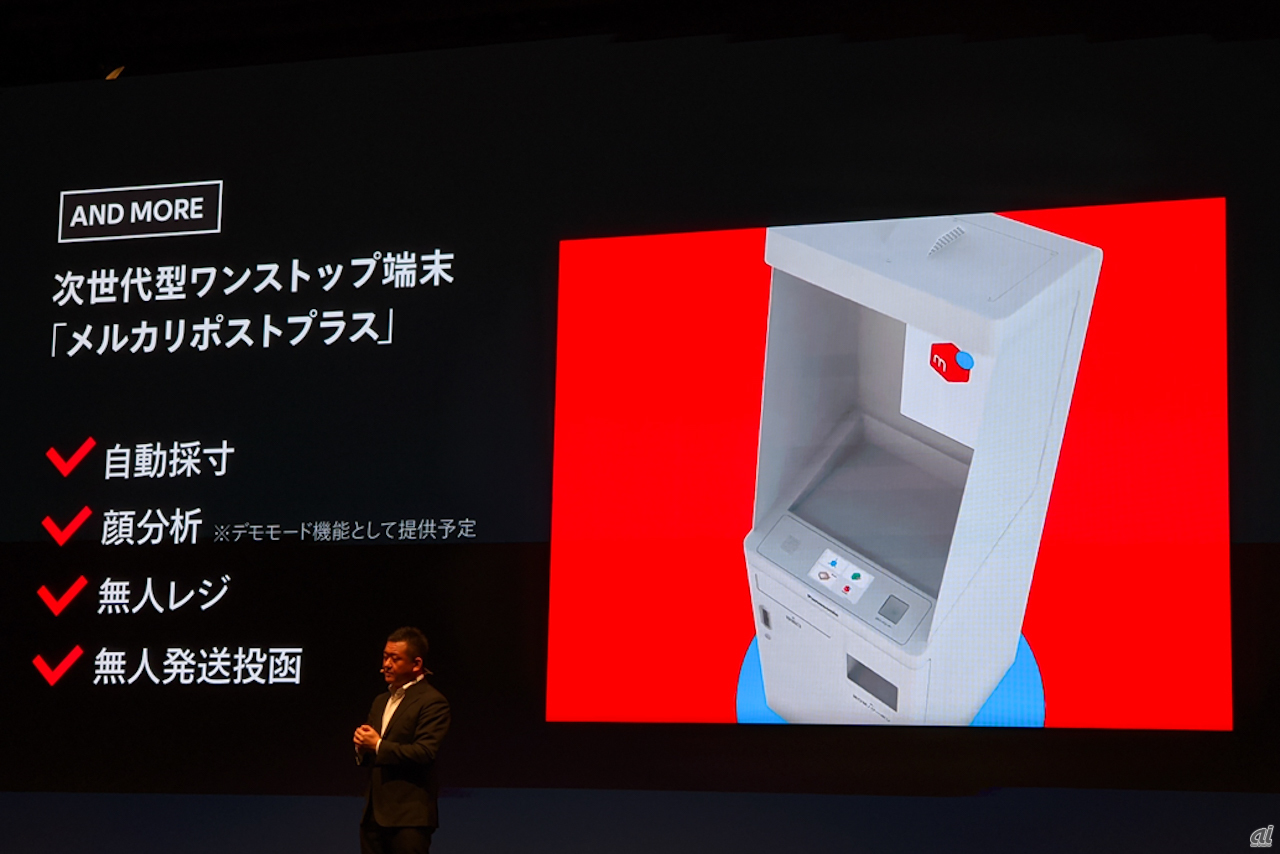 "Mercalli Post Plus" developed with Panasonic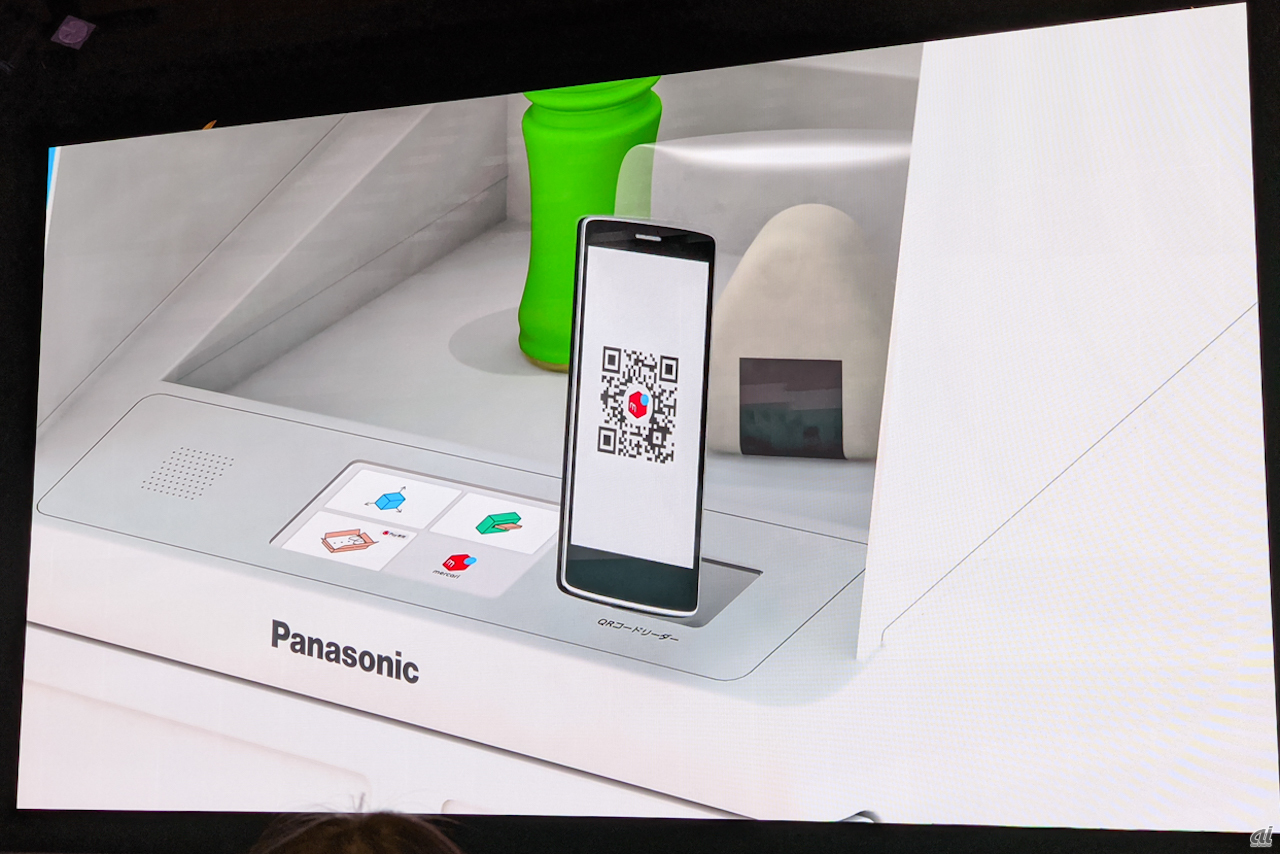 Is it intended for use at convenience stores, etc., and an unmanned cash register function has been added
"Atoyoro Mercari Mail" which acts as a substitute for storage and shipping of exhibited products
Furthermore, with the aim of reducing shipping work, we will announce the "Atoro Mercari Mail", which will ship products that have been exhibited to affiliate warehouses for storage until the products are sold, and packing and shipping after the products are sold. . It has been realized by linking the shipper, warehouse company, and delivery company with a network and providing a logistics service that can be used on a pay-as-you-go basis with Mercari's API. I do.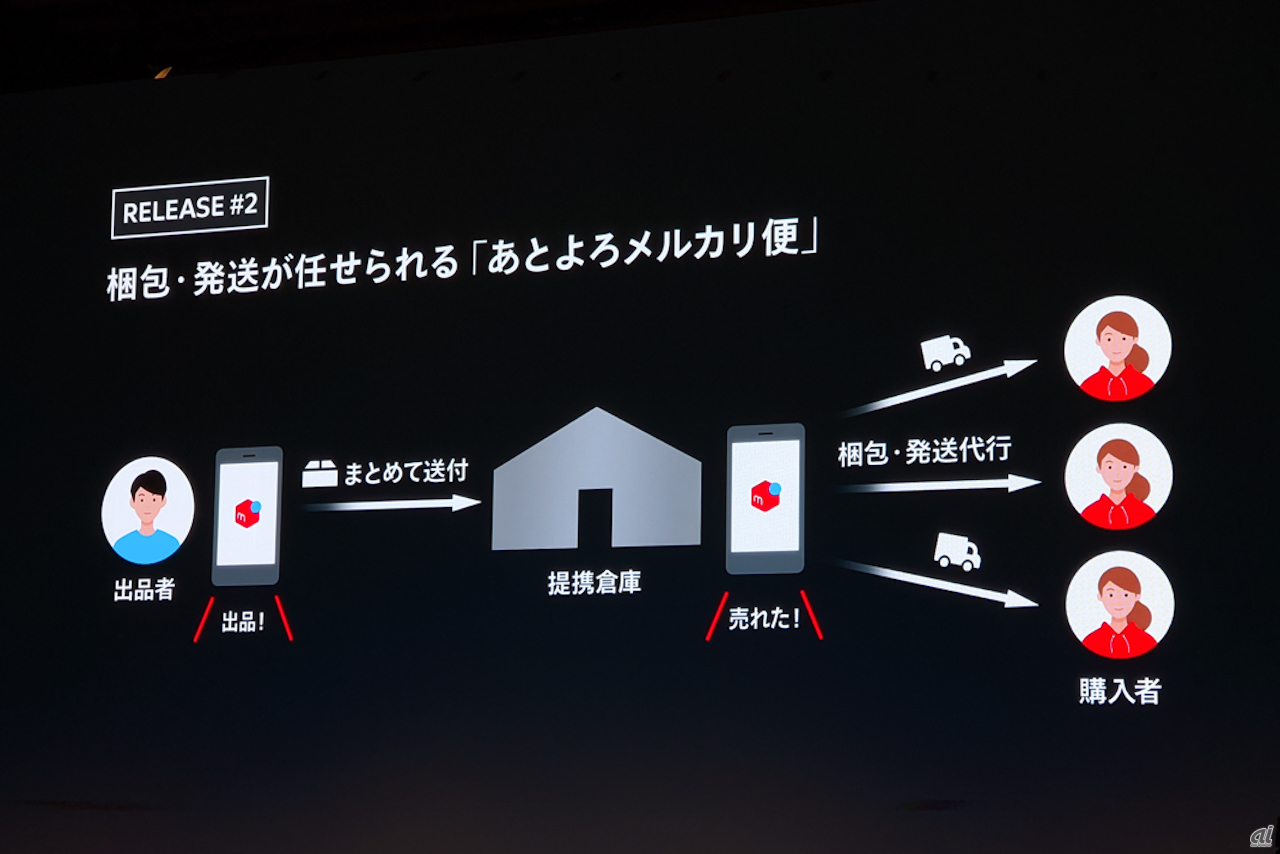 "Aretoro Mercari Mail" that acts from product storage to shipping
Source link