Headline
Microsoft Releases Standalone Cortana App–Enhanced Productivity Support
"Windows 10 May 2020 Update" ["Windows 10 2004"]General availabilityBut, at the same time, Microsoft is also trying to offer a new "Cortana experience." This new independent "Cortana" appThis feature update is now available for Windows 10Process more productivity-related tasks using natural language [spoken or written].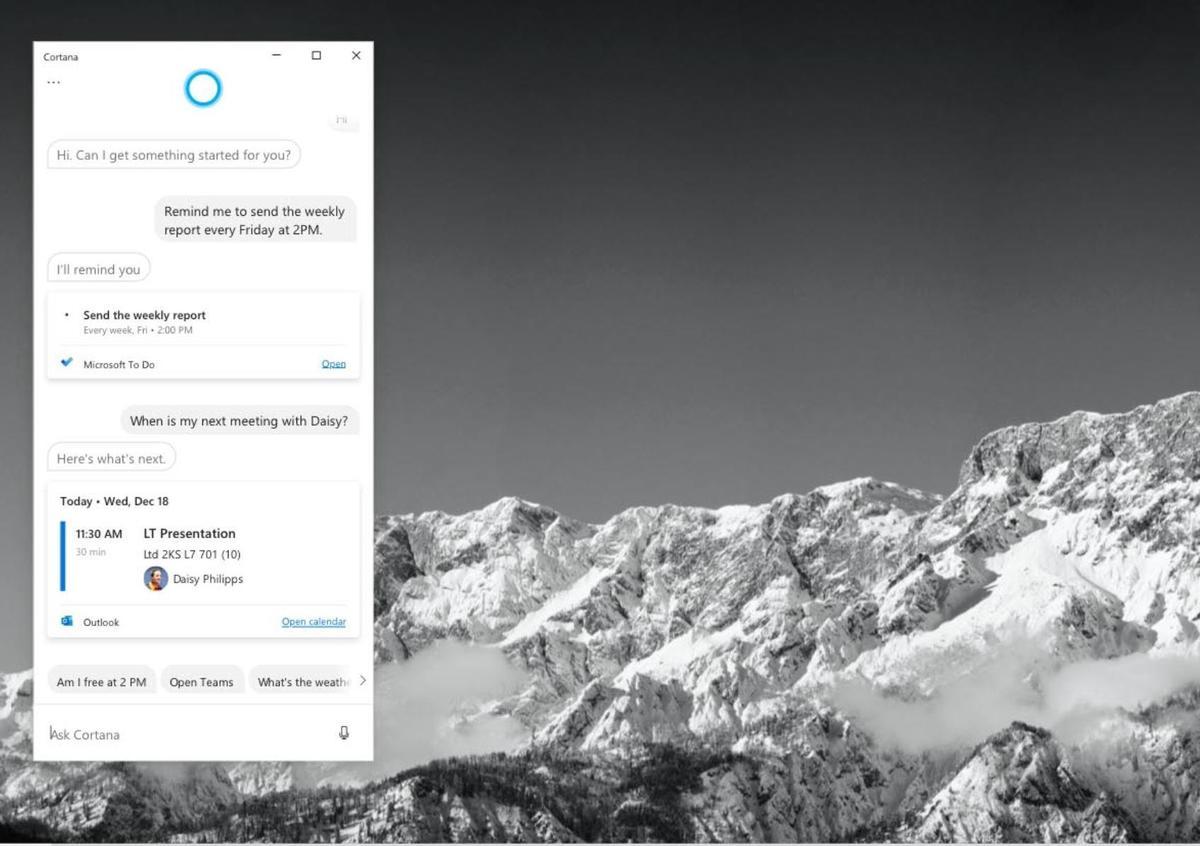 By: Microsoft
▽ Microsoft officially announced in 2020 that Cortana will be provided as a standalone application after Windows 10 May 2020 Update. The app, which can be updated independently of the underlying OS, allows users to check schedules, set reminders, add tasks to "Microsoft ToDo" and more.
The new Cortana app will be generally available in English from May 27th for users who have updated to the Windows 10 May 2020 Update. Within a few months, Microsoft will update the Cortana app via the Microsoft Store, and the app's features, such as wake word activation [which can be called by just calling "Cortana"], and related emails and According to the company, it plans to add more productivity-related functions, such as presenting documents and preparing for the meeting, to expand the range of support.
Microsoft has already [since autumn 2019] provided the "Play My Emails" feature built into "Outlook" for iOS, which is currently only available for accounts registered in the United States. Possible]. Microsoft is also adding new features so that users can use Cortana to schedule meetings for emails and add emails to their task list. You can even join an online meeting that's happening, reply to invitation emails to the meeting, and quickly send simple replies like "it's too late" to meeting participants. New updates related to task and time management will be generally available to US users of Outlook for iOS. Microsoft also said that Play My Emails will be available in "Android" Outlook within "a few weeks."
Microsoft will also introduce the promised "Briefing Email Cortana" option. If you choose to receive briefing emails, a personalized personalized summary will be automatically sent to your Outlook inbox when work starts on weekdays. The overview will suggest actions that will lead to action regarding the documents to be reviewed before the meeting and the requests and promises contained in the emails received so far. It also has the function of scheduling focus times and meetings. Briefing emails are beginning to be released in English for users who are part of the "First Release" program of "Microsoft 365 Enterprise" and who are using their "Exchange Online" mailboxes.
▽ Microsoft emphasizes Cortana's security and privacy functions as differentiating factors. To use Cortana's productivity features, you'll need to sign in to your Microsoft account, so you'll be protected by Microsoft 365, just like any other app. Like Microsoft Search and knowledge management service Project Cortex, CortanaMicrosoft 365 substrateWas developed based on.
The arrival of these milestones does not mean that Cortana's roadmap is over. Microsoft is currently trying to integrate Cortana into Teams so that voice commands will be available on the Teams mobile client. He is also working on an idea on how to make Outlook Mobile a voice-command-enabled service that allows for more advanced searches [filtered subscriptions and search usage].
Overall, Cortana is trying to steer not only to display search results, but to provide both search and service [not only finding documents but also sharing with teams]. We already have all the necessary elements to achieve this. All that's left is to connect those points. So far, the company is focusing on a narrower range of value-added issues, so the multi-turn query for Semantic Machines, which was unveiled as a preview at Build 2019, will be put off to some extent. It is.
This article is from overseas CBS InteractivearticleIs edited by Asahi Interactive for Japan.
Source link