Headline
Microsoft to add transceiver-like features to Teams-for on-site personnel
Microsoft has been working on Office 365 applications and services for more than a year to better serve the needs of first-line workers. The company will be launching the National Retail Federation [NRF] annual trade fair "NRF 2020" to be held on January 9 in New York City on January 9, US time.New features for Microsoft 365 first line workersannounced.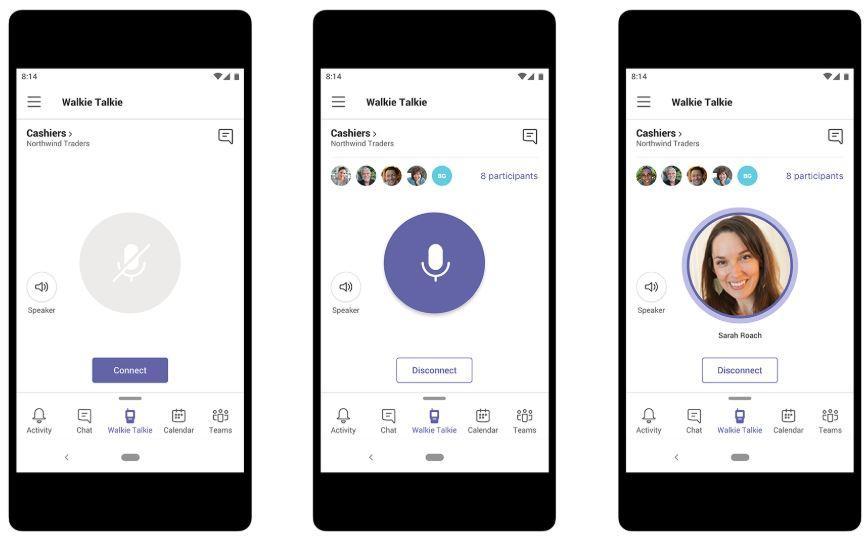 Provided by: Microsoft
First line workers do not have desks. They are often people who provide services while dealing with customers. And they say Microsoft's expansion of its Office 365 and Microsoft 365 user baseplanHas become one of the key customer segments.
Microsoft has its group chat service" Walkie Talkie '' function that allows you to talk using a smartphone or tablet like a walkie talkie in " Microsoft Teams ''Trying to add. According to Microsoft, this new push-to-talk experience will be native to Teams and available on employees or company-owned devices. Walkie Talkie works over Wi-Fi or cellular networks, so you can talk to each other at geographically separated locations. The feature will be available in private preview in early 2020.
In addition, third-party workforce management systems, such as Kronos and JDA Workforce Management, will be integrated directly into Shifts, allowing Teams to manage schedules, times, and attendance. For this, "Shifts Graph API" and software development kit [SDK] are used. According to Microsoft, a JDA connector for Shifts is available on GitHub, and a connector for Kronos will be available on GitHub this quarter.
Microsoft also plans to add a feature that restricts employees from accessing Teams from personal devices during non-working hours, allowing IT administrators to configure it. According to the company, this feature will be rolled out this quarter.
Furthermore, the company says it will add the following new features in the first half of 2020.
Targeting, publishing, and reporting on tasks using Teams Tasks
Use one-time SMS codes on mobile devices to streamline sign-in for first-line workers
One-click sign-out for Microsoft 365 and custom apps and browser sessions running on shared devices
Microsoft will show off these new Teams features at NRF 2020.According to BloombergAt NRF 2020, Microsoft will announce IKEA, an example of a massive migration of field personnel, with more than 70,000 employees using Teams.
This article is from overseas CBS InteractivearticleWas edited by Asahi Interactive for Japan.
Source link