Headline
Most devices using the Internet are smartphones in all generations-the usage rate in the -50's to 60's has risen significantly
Nielsen Digital conducts surveys on devices used by domestic Internet users, and the results are referred to as "Digital Trends 2019 First Half"Announcementdid. According to the report, the number of devices used to use the Internet is the largest in all generations, with smartphones pulling out PCs.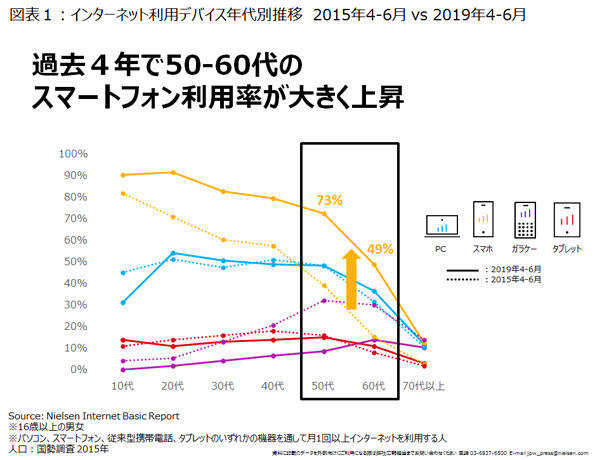 Devices used for Internet access [Source: Nielsen Digital]
In the second quarter of 2019, the average number of people accessing the Internet from smartphones was 70.78 million per month. Although it increased by 5% compared to the same period last year, the rate of increase seems to be slowing down.
"As of the second quarter of 2015, the smartphone usage rate when accessing the Internet was around 40%, and those in their 50s who were less than 20% increased significantly to 73% and 49% respectively. The usage rate for those in their 70s and higher has increased, surpassing the PC usage rate, and smartphones have become the main device for Internet use in all generations.
全体 There is no big change in the PC usage rate as a whole. However, only the teenager has greatly decreased from about 45% four years ago to about 30% this time.
Hours of watching videos from smartphones are average 7 hours 13 minutes per month as of June 2019. June 2015 is 1 hour 51 minutes. In 5 years, it has become 4 times longer. In the past year, the number of "PCs" and "PCs and smartphones" has decreased, and only "smartphones" have increased when using the online shopping sites "Amazon" and "Rakuten Market".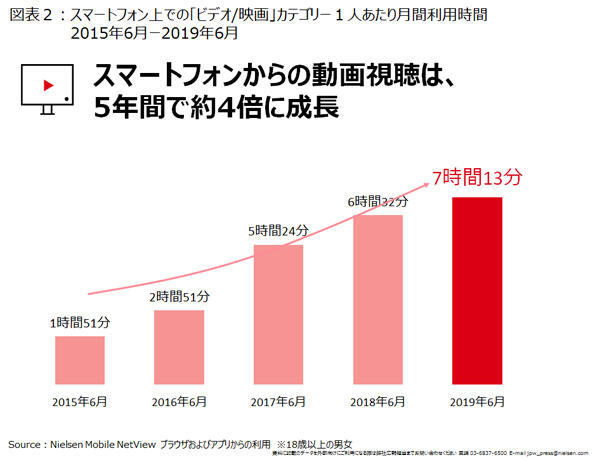 Video viewing time from smartphone [Source: Nielsen Digital]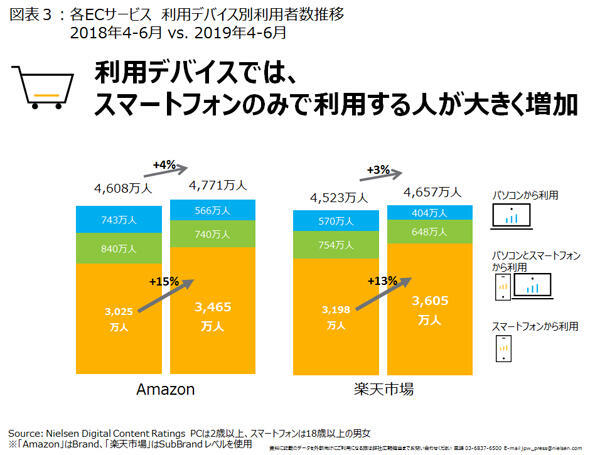 Number of mail-order website users by device [Source: Nielsen Digital]
Also, when the new era "Ryowa" was announced on April 1st, the service that was frequently used from smartphones to confirm the announcement content was "Yahoo! Japan" [1,690,000] , 2nd place "YouTube" [1.01 million people], 3rd place "Twitter" [860,000 people], 4th place "Instagram" [390,000 people], "Facebook" [380,000 people]. The sources of information differed by age, such as YouTube ranked first among 18-34 and Facebook ranked third when over 50 years old.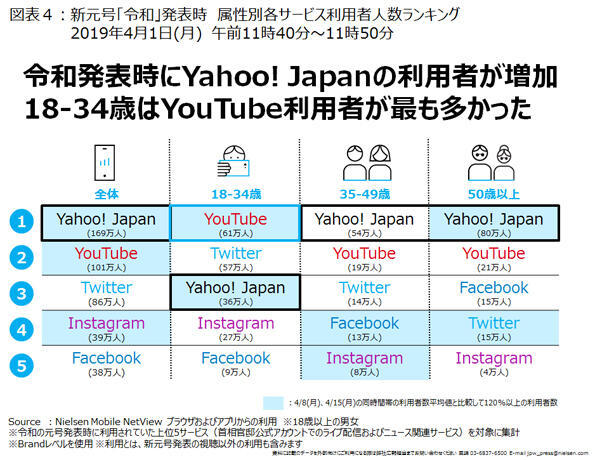 A service that learned of "Ryowa" announcement on smartphone [Source: Nielsen Digital]
Source link