Andorid
Mr. Mikitani also appeared on stage, Qualcomm's "5G" now and in the future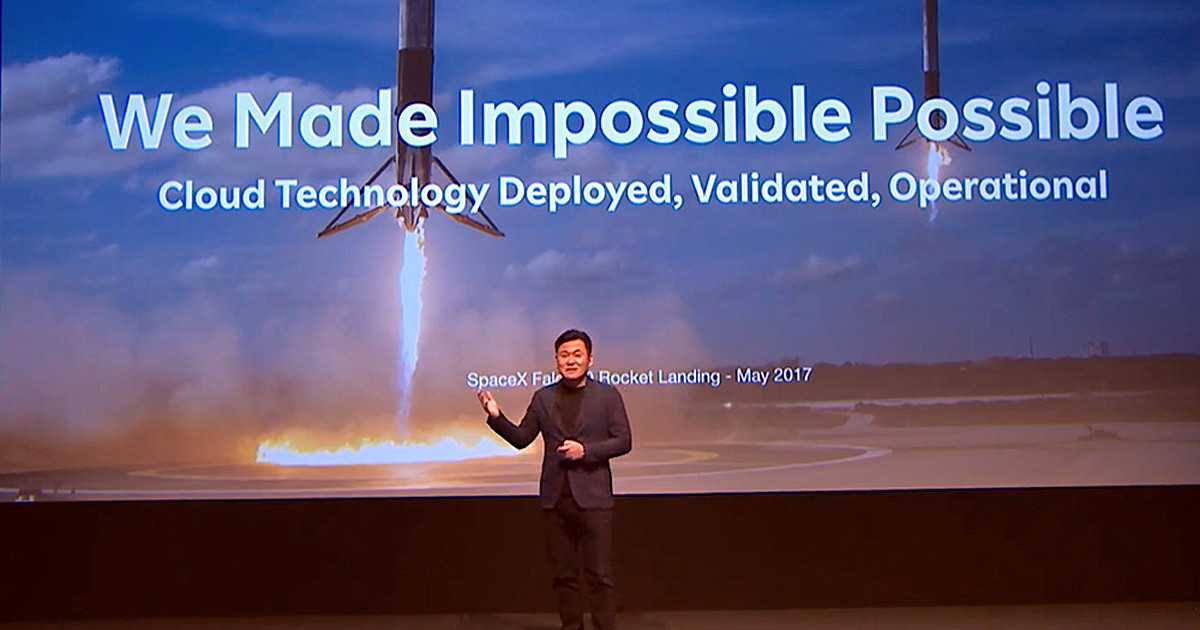 Qualcomm held a press event called "What's Next in 5G" on February 25 in San Diego. The MWC Barcelona 2020, the world's largest mobile-related exhibition (February 24-27), will be canceled due to the effects of new types of pneumonia, and 2020 will be the "year when 5G will become mainstream". Independently implemented the schedule.
The event will feature Samsung, Microsoft, Facebook, and others as partners in building a 5G ecosystem. In addition, Hiroshi Mikitani (Chairman and President) of Rakuten, who was introduced as a partner working on the evolution of the network, spoke on the platform and talked about fully virtualized networks.
5G lines to exceed 1 billion contracts in 2023
After 2019, called the first year of 5G, more than 50 telecom operators have deployed commercial 5G, with more than 345 companies investing in 5G in 119 countries. The shift to 5G is taking place globally in a short period of time, with Qualcomm President Cristiano Amon forecasting that by 2023 there will be more than one billion 5G-related contracts. This is two years ahead of the launch of 4G, and will expand to 2.8 billion lines in 2025. According to IHS Markit, 5G will have a US $ 13.2 trillion economic impact by 2035.
On this day, Amon repeated the importance of building an ecosystem. "5G success cannot be achieved by one company alone. An ecosystem through collaboration can give us a real victory," said Amon.
One of the technologies used by Qualcomm to enable operators to smoothly expand their 5G coverage is DSS (Dynamic Spectrum Sharing). Low frequencies such as the 800MHz band used for 4G are shared with 5G. Although 5G is limited to low-band performance, DSS allows operators to expand their 5G networks while making better use of their existing 4G infrastructure. On top of that, "Carrier Aggregation" summarizes the mid-band and millimeter-wave bands and prepares a path to speed up low-band 5G networks.
High-speed distribution of 4K live video at 200Mbps
5G will bloom only when apps and services that make people realize the value of 5G sprout on the 5G soil that has spread. For example, all models support 5GLaunch of Galaxy S20Samsung, the newcomer, said in the 5G era, "cameras will be the choice of smartphones." Not only can smartphones take pictures and videos that previously required a full-fledged camera, but now they can also use the AI ​​function to edit quickly and easily on mobile. With 5G networks, even high-resolution videos can be shared on the fly. The future where individuals can perform live broadcasts like television stations are approaching.
With the spread of 5G-compatible smartphones, people will be able to enjoy high-quality live content anytime, anywhere. At the event, a demonstration of real-time transmission of large-capacity video using a multi-camera application was demonstrated on the Galaxy S20 equipped with an X55 modem. It streams 4K video from four cameras simultaneously and allows the user to switch between them on the screen. It was distributed at 50Mbps per video and 200Mbps per user.
Use of PC subscription is also progressing
Another thing I repeated many times in my presentation was that 5G is an "update that changes everything related to the Internet and communications, not just mobile phones."
Facebook, which has adopted Snapdragon for the Oculus series of VR goggles, hopes that the video presence that has become so strong that it can be called a killer app at 3G will evolve again at 5G. If standalone VR headsets like Oculus Quest support 5G and introduce a mechanism to separate processing between the cloud and devices, high-quality conferences will be possible anytime, anywhere. In particular, demand in the enterprise can be expected. In terms of the potential of 5G, Rafael Camargo (Facebook, VP of hardware) stated that AR (augmented reality) could be "more promising as the next mobile computing platform" than VR (virtual reality).
Microsoft focuses on Always Connected PC. He predicted that 5G-enabled PCs would add value to cloud services that rely on Wi-Fi now, such as cloud gaming. The consequences range from entertainment to productivity and creativity. Furthermore, in terms of business model, if communication carriers start handling 5G compatible PCs like today's mobile phones, " PC as a Service '' using PC with monthly payment like subscription is a new business opportunity It will be.
Rakuten, Mikitani enthusiastic about overseas expansion
The mega-vendor monopoly and allegations over Huawei's communications equipment are driving calls for an open 5G wireless access network. Under these circumstances, Qualcomm, which views 5G as a new infrastructure, is also working to evolve the network openly.
One of them is the "Qualcomm 5G RAN platform (FSM100xx)" announced in May 2018. The press conference showed that Altiostar, Sercomm, Verizon and other companies are steadily increasing their adoption of FSM100xx. Among them, he introduced Rakuten Mobile as "the world's first company to work on 5G with a fully virtualized network" and invited Mr. Mikitani to the stage.
Rakuten, which bought Buy.com, has gained popularity as an online shop in the United States, but few people know what it is. Mr. Mikitani introduced his history since the company's founding, told the startup spirit at the root of Rakuten, and talked about today's mobile strategy. In the second half, Rakuten Mobile CTO (Chief Technology Officer) Tareq Amin explained the cloud-native network using fully virtualization. He also expressed his enthusiasm for overseas expansion.
In Japan, the content and quality of services is a topic, but in the United States, Rakuten Mobile is attracting attention as a challenger in the 5G era. For example,Fierce Wireless' " 2019, the most powerful person in wireless technology ''Amin was selected. However, their popularity is still limited to the wireless industry. Had this happened as scheduled at the MWC, which is also featured in tech news for the general public, it could have changed the image of Rakuten in the West.
Thinking "What will change with 5G?"
"What will change with 5G?" … a question that has been repeated many times by many people.
Unfortunately, the answer was supposed to be revealed at this year's MWC, so it was a shame. But that is not a situation to be spared now. Live streaming events are currently the best way to ensure both security and early adoption of 5G.
In addition, while watching live streaming, I thought if this was after 5G spread. More people have access to high-quality streaming, even from mobile devices connected to cellular networks. The on-the-spot experience with an XR headset may have become commonplace. I was not the only one who imagined that.
Source link