Headline
New " MacBook Air '' appearance-long-awaited scissor keyboard on quad core, from 104,800 yen excluding tax
Apple announced the new "MacBook Air" on March 18. In the new model, the specifications have been greatly updated without changing the basic design.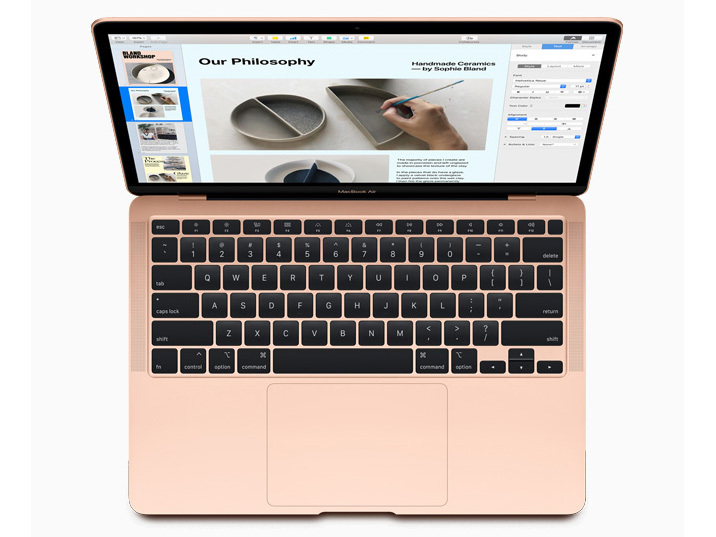 The CPU replaces the previously installed Core i5 processor [1.6 GHz dual core], replacing the Core i3 processor [1.1 GHz dual core], Core i5 processor [1.1 GHz quad core], and optionally the Core i7 processor [1.2 GHz quad core]. Can be installed. The quad-core design allows up to twice the performance improvement. The built-in graphics use Intel Iris Plus. Also supports eGPU.
The 128GB storage model has been abolished, and the standard model has been replaced with 256GB and 512GB. As an option, 1TB and 2TB can be selected. The standard model has 8GB of memory, but an option of 16GB is available. The display adopts a 13.3-inch Retina display. Also supports TrueTone.
The keyboard is equipped with a new keyboard with a scissor structure adopted for the MacBook Pro 16-inch. It has improved durability compared to the butterfly keyboard used so far, the key stroke is 1 mm, and the arrow keys are inverted T-shaped. It also continues to have Touch ID.
The interface has a Thunderbolt 3 [USB-C] port x 2 and an earphone jack. It can output to 6K display. The battery is said to be 49.9Wh, with up to 11 hours of wireless internet available. The size is 30.41cm x 21.24cm x 1.61cm. It weighs 1.29 kg.
1.1Already available for purchase, 1.1GHz Core i3 processor, 256GB storage model is 104,800 yen excluding tax. The 1.1GHz Core i5 processor and 512GB storage model are inexpensive at 134,800 yen excluding tax.
Source link