IT Lifehack
One-time free broadcasting is decided on TV animation "SHIROBAKO" Nico Nico Live! Theatrical version "SHIROBAKO" starts broadcasting from the national release date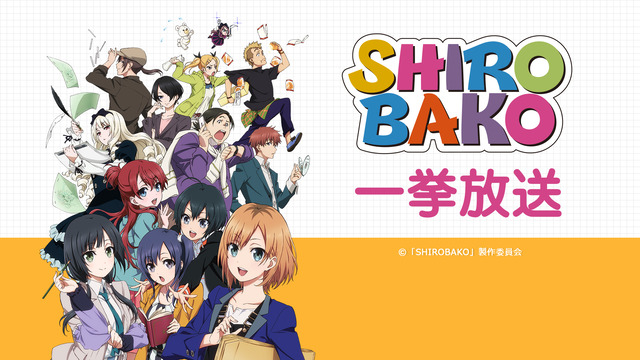 Nico Nico Live Broadcast will broadcast episodes 1 to 12 of "SHIROBAKO" broadcasted on TV from 19:00 on February 29, 2020 (Sat), the day of the movie "SHIROBAKO" national road show release, on March 1 (Sun) From 19 o'clock, 13 to 24 episodes, all night of the TV series will be broadcast free for two consecutive nights.

■ Work introduction
Shirobako is a videotape in a white box used in the video industry.
When a work is completed, it is the first thing the creator can get.
Compared to sales packages made gorgeously with illustrations and photos,
A tape just in a white box may be plain.
However, the creators' thoughts are packed there.
This story focuses on five dreaming girls,
Spotlight on the anime industry struggling to complete Shirako
Every day troubles, conflicts and frustrations caused by creative work,
It is a group-dramatic work depicting the daily life of the animation industry, such as unity and clashes that occur only when made in a group.
And a challenge to the dream that the five aimed together.
A success story that leads to hope beyond that.
Yes, anime is here right now …
■ Broadcast schedule
"SHIROBAKO" 1-12 episodes broadcast at once
February 29 (Sat) 19:00 start
https://live.nicovideo.jp/watch/lv324145380
"SHIROBAKO" 13-24 episodes broadcast at once
March 1 (Sun) 19:00 start
https://live.nicovideo.jp/watch/lv324145426
(C) " SHIROBAKO '' Production Committee
■Movie version "SHIROBAKO" official site
■Articles related to cultureI Read
・Boost Fukushima's recovery! Crowdfunding of expansion project to create "tree house" and "shelter" in campsite "FOME BASE" started
・Adhere to the way to the Makuhari live in Franchus! Exclusive live broadcast of Zombie Land Saga LIVE-Franche Shu Live of the Dead at Animax
・Conducted a "Biome Land" demonstration experiment aimed at investigating biodiversity and rediscovering local resources at three JR × biomes in East Japan, West Japan, and Kyushu
・The 9th niconico tradition event will hold two major events at the same time " Niconico Super Conference 2020 '' × " Fighting Conference 2020 '' Admission ticket & experience ticket will be released on February 10
・Enjoy refreshing acidity and rich aroma! Discover the new taste of butter! "Meiji Spretable" with fermented butter