Technology
Overseas media reports that Tokyo's house situation is " too narrow '' and " 25,400 households live in the same space as refugee camps ''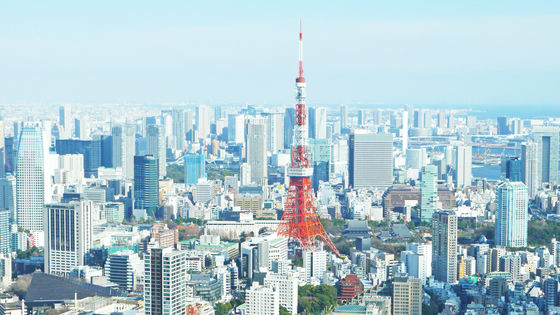 Overseas media reports that Tokyo's house situation is " too narrow '' and " 25,400 households live in the same space as refugee camps ''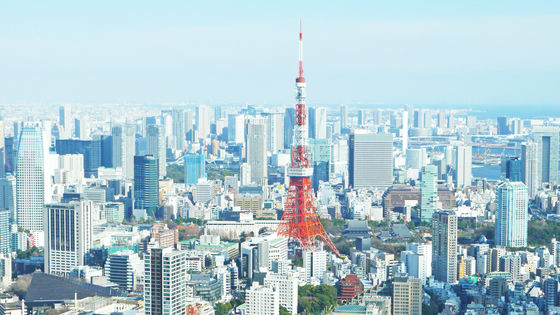 April 7, 2020 (Tuesday) Prime Minister Shinzo Abe with the spread of the new coronavirus infectionIssue emergency declarationWe called for a reduction of at least 70% of contact between people and 80% as much as possible. Although Japan's declaration of emergency does not extend to the strict city blockades being implemented in other countries, Governor Yuriko Koike of TokyoRequesting business operators to take leaveIt is reported that it will be.Tokyo, Japan's most infected areaIn particular, it is necessary to maintain a social distance, but overseas media Reuters reported that "Tokyo homes that require waiting at home are very cramped if they are based on Western standards."
Sheltering in small places
https://graphics.reuters.com/HEALTH-CORONAVIRUS/TOKYO-HOMES/dgkvlabxpbx/index.html
According to Reuters, the average total floor area per house is 80 square meters in London, the UK's capital (average as of 2015), 65.9 square meters in Tokyo (average as of 2018), and 40 square meters in Hong Kong (2016). Median at the time). FY2018 (2018) published by the Ministry of Land, Infrastructure, Transport and TourismHousing economic dataIn, the average total floor area per house in Tokyo is 64.48 square meters.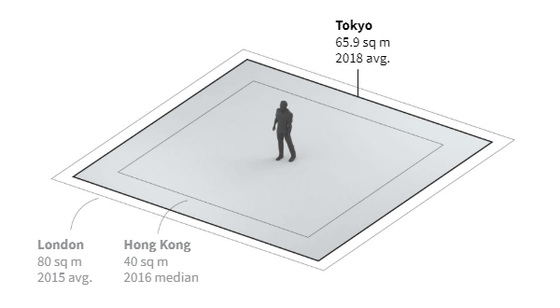 However, this is the average figure in Tokyo and tends to be narrower in apartments, Reuters News Agency pointed out. Regarding Tokyo, Reuters said, "Like many other cities, there are a lot of small apartments in a large high-rise residential area. To the west of central Tokyo is a greener area with many detached houses. Some houses have a lawn, but many of these houses are next to apartments, and about one in four people living in Tokyo live alone in apartments. " doing.
According to Reuters, "The average total floor space per house in Tokyo is 65.9 square meters", it seems to be based on the latest government survey data on housing and land conducted in 2018. In addition, this survey said that it surveyed the housing area of ​​6.8 million households in Tokyo.
In addition, it seems that "living space" such as bedroom, living room, kitchen etc. will fit in about 41 square meters of this number of "65.9 square meters". Entrance, toilet, bath, etc. are not included in this "living space".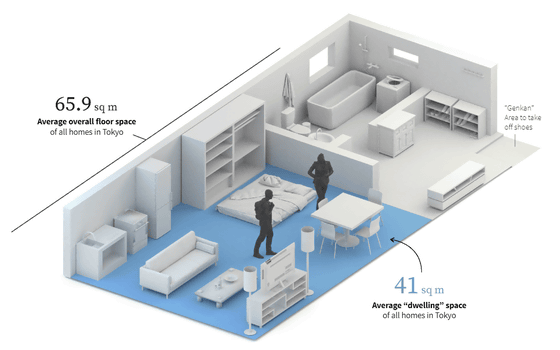 "This may seem incredibly narrow, but compared to other densely populated cities such as Hong Kong, Tokyo's homes are larger."
However, Reuters has pointed out that there are 1.4 million households living in houses with "living space" of 19.7 square meters or less, and as many as 5.7 million households in Japan. These narrow houses, such as " old wooden apartments with tatami mats '' and " new apartments with small kitchens and unit baths, '' include " one of Japan's most traditional space-saving methods of folding futons and putting them away in the morning. They live with one, "said Reuters.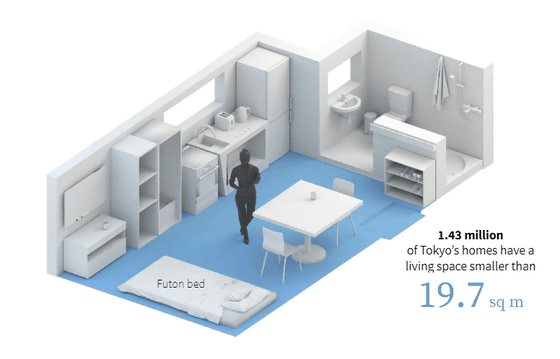 He pointed out that 75,900 households living in Tokyo had less than 9.8 square meters of "living space."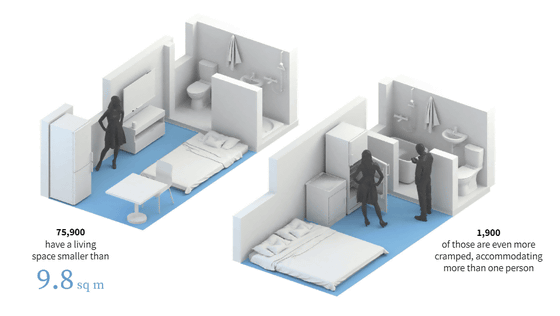 In addition, the average number of people per household in Tokyo2.3 people"In the case of an average house with a living space of about 41 square meters, the living space per person will be 20.2 square meters." If we calculate the living space per person in the same way, 1.3 million households (approximately 2.6 million) in Tokyo can only secure 11.4 square meters of living space per person, and 25,400 households (approximately (30,000 people) has only 4.8 square meters of living space per person. In addition,United Nations High Commissioner for RefugeesAccording to Reuters, many people live in the same area as refugee camps because the per capita living space set by the UNHCR in the refugee camps' guidelines for living space is 4.5 to 5.5 square meters. Pointed out.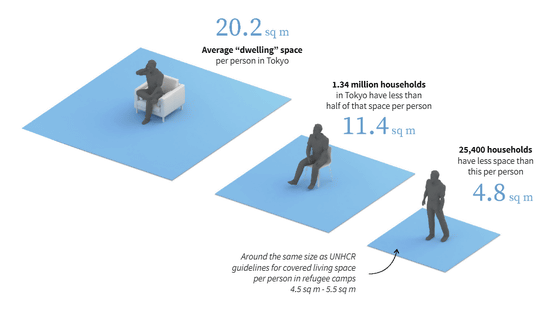 According to Reuters, "Tokyo's population density in 2015 was 6168.7 people per square meter, the highest in all prefectures in Japan, more than 18 times the national average, but the average in Hong Kong was 6940. Less than a person. " In addition,As of April 1, 2020The population density per square meter of Tokyo in Japan is 6354.79.
In addition, Reuters has introduced some voices of Tokyo residents who are required to wait at home in the emergency declaration.
For example, an 83-year-old man living in a small apartment of about 20 square meters living in Tokyo said, "At this point, it is quite difficult and there are not many places to go.I used to go to coffee shops and pachinko parlors so far." I'm trying to get out of my apartment as much as I can, I'm always reading when I'm at home, I used to play golf, but now many of my friends have died I haven't done that. "
In addition, a 44-year-old man working as a Uber Eats deliveryman while living with his wife and 2-year-old son in a 35-square-meter apartment in Nakano Ward has been completely closed from working as a part-time job or comedian at a curry store. He said he entered. "I don't spend much time at home because I have to feed my family." "People living in small homes in Japan will be more stressed than those living in large homes.Divorce due to new coronavirusI heard that more people are doing it. "
A 28-year-old woman living with her boyfriend in a 33-square-meter apartment in Nakano Ward said, "I started working from home yesterday, but until then I commuted to the office as usual. I'm still not sure if I can do remote work well, and recently I bought a Nintendo Switch boxing game, so I'm going to play it in the future, which will increase my time at home. While cooking, I keep in touch with my friends on LINE and Zoom. "
Copy the title and URL of this article
Source link