Headline
Panasonic, from "renewal of home appliances in North America" ​​to the future of the battery business, President Tsuga talks
Mr. Kazuhiro Tsuga, President and Representative Director of Panasonic, responded to a Japanese media reporter at the CES 2020 in Las Vegas, Nevada, from January 7, and said, " In North America, once again home appliances I think it's time to start over again. There is a possibility that we will launch new home appliances again in North America, "he said, saying he would reconsider his business strategy in North America, which had shifted to B2B. Was.
In addition, regarding the purpose of exhibiting at CES 2020, he stated that "this Panasonic's exhibition is based on the premise that collaboration is fairly substantial." "But I don't think that there will be an exhibition in 2021 on the extension of 2020," he said. The interview was conducted at the Panasonic booth of CES 2020.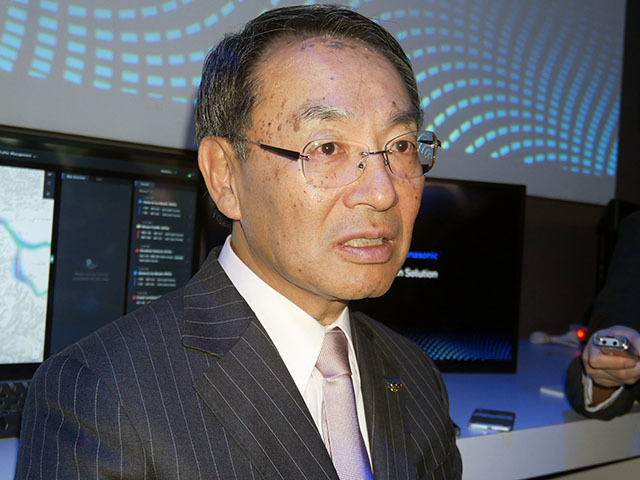 Mr. Kazuhiro Tsuga, President and Representative Director of Panasonic
Challenges in digital customer contact points, wanting to be a company with a strong experience
――How did you feel at this CES 2020 venue?
メ イ ン The main area, centered on the central hall of the LVCC [Las Vegas Convention Center], is mainly for large companies to exhibit, and at worst, it does not look the same as usual. Of course, each company is elaborate and undoubtedly evolving, but there is no surprising evolution. The same goes for Panasonic. At Sands Expo, however, there are a number of startups exhibiting and their activity and development are remarkable. I was shocked by this.
In addition to the main area, Panasonic also has a booth at Sands Expo to introduce its 100BANCH initiatives. Visitors are concerned about how the contrast between large companies and startups looks. Large companies can make money say something [laughs] and exhibit many technologies and products, but it is also important for startup companies to have a commitment to work on new things, which is a feature of CES 2020 I think it is. Sands Expo's exhibit is one of the highlights of CES 2020.
In the automotive area, many automakers are exhibiting due to the timing of the Detroit Auto Show, but the trend is not surprising. On the other hand, the number of hands-on exhibits is increasing, but we believe that experiences are important points of contact for customers to use goods and services.
Panasonic has successfully made analog contact points with customers, but digital contact points remain challenges. You have to think about how to show it in digital. From SAP to Baba-san [Wataru Baba] or from GoogleMr. Matsuoka [Yoko Matsuoka]And I'm trying to change the digital contacts. By adding digital contacts to analog contacts, we want to become a company with a strong experience.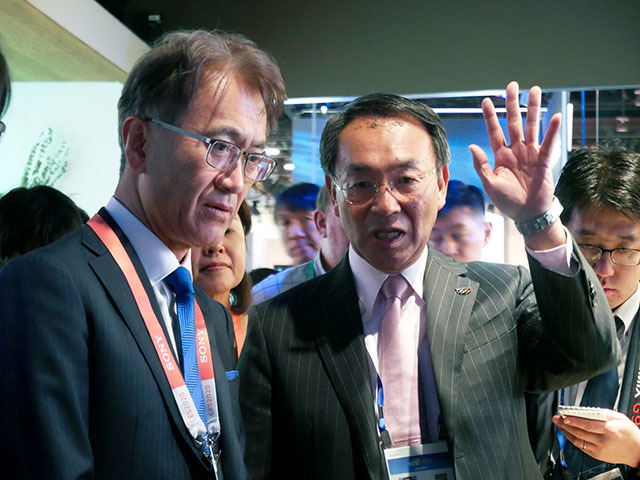 Mr. Tsuga presenting Sony President and CEO Kenichiro Yoshida at the Panasonic booth at the "CES 2020" venue
――What kind of results does Panasonic need for CES 2020?
CES was originally a home appliance trade fair, and digital television was at the center of it for a long time. However, when I became president, Panasonic withdrew from plasma TVs, and explained how CES could be contributed, including BtoB, using Panasonic's technology, not as a home appliance trade fair. Has changed to a place that shows the potential of Panasonic.
協 Collaboration is indispensable in this initiative, and the Panasonic exhibition this time is based on the premise that collaboration is significant. It is also an exhibition in the United States, highlighting businesses and content created in the United States. Smart mobility is one of them. Therefore, it shows a completely different aspect of Panasonic from the Japanese exhibition.
However, looking at the excitement at Sands Expo, we need to think about what it will look like after 2021. I don't think that there will be a 2021 exhibit on an extension of 2020.
Source link