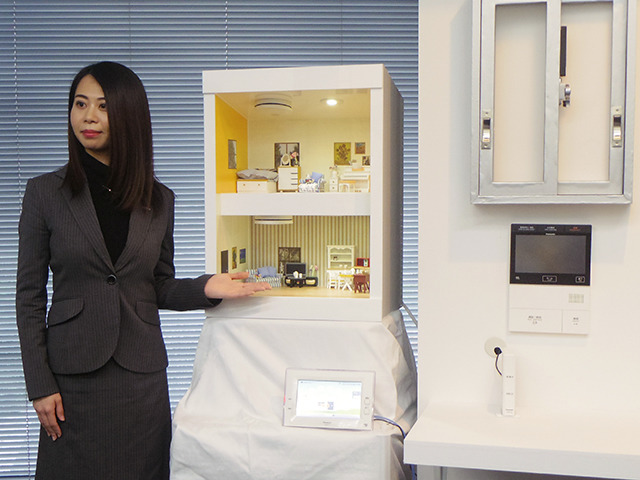 AiSEG2, the core IoT device for homes provided by Panasonic Life Solutions, will be upgraded to a system that provides a convenient life in a short time. On February 14, we announced enhancements. In addition to expanding the number of connected devices to 37 devices from 28 companies, the safety functions will be strengthened by linking with window sensor transmitters and fire alarms for houses.
ISeg is the core equipment of the Home Energy Management System [HEMS] launched in 2012. At first, it was connected to home appliances and electrical equipment, and played a role as an energy management system that showed the amount of electricity used. In 2018, the "MKN713" with 7-inch monitor function [tax-excluded price: 80,000 yen] and "MKN704 / MKN705" [40,000 yen] without monitorReleaseAnd "Smart HEMS" functions, such as remote control of home appliances and hot water bath function, were added.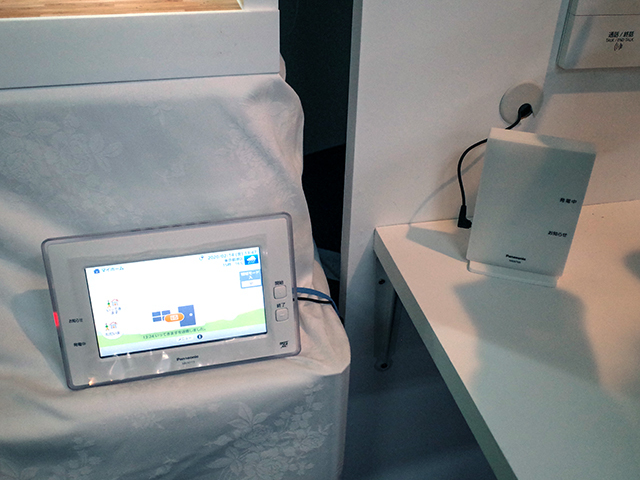 "MKN713" with 7-inch monitor function and "MKN704 / MKN705" without monitor
機能 With this enhancement, the safety functions in the home will be expanded by expanding the number of linked devices. When a fire is detected by linking AiSEG2 with a home fire alarm, a push notification is sent to AiSEG2 and a smartphone. If connected to a lighting switch "Advanced Series [link model]", the lights in the house will be turned on collectively to support safe evacuation. The app can also check for fire alarm failures, running out of batteries, and replacement times.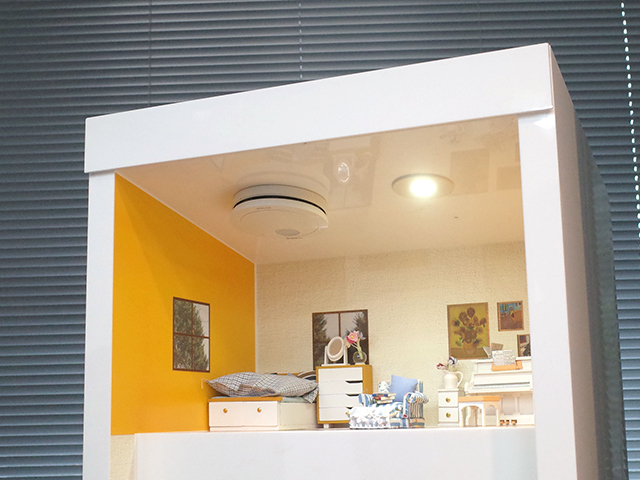 Demonstration linked with residential fire alarm
連 携 In cooperation with the window sensor transmitter, it checks not only the opening and closing of windows but also the state of locking and unlocking. You can also check the status of opening, closing, and unlocking windows on your smartphone. The window sensor transmitter is compatible with the "MKN7523B / W" [price excluding tax: 9800 yen], which will be released on March 24, and will notify you with a push when the window or key is open.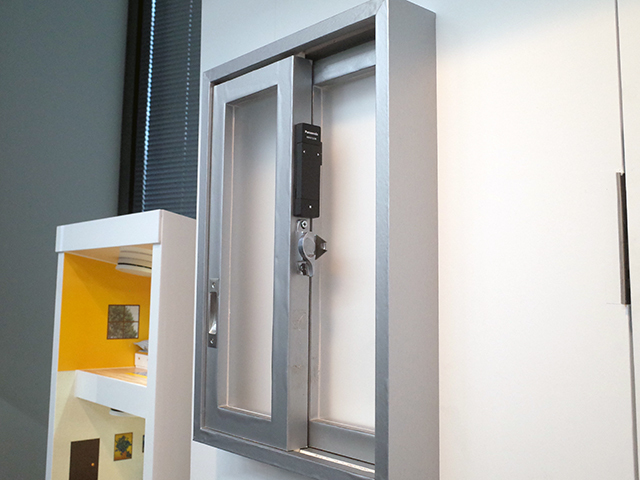 Window sensor transmitter
On the other hand, for condominiums, the company announced a partnership with the condominium intercom "Clouge". The AiSEG2 linked devices can be operated from the intercom screen, and the remote control functions of various devices such as air conditioners and lighting are integrated into the intercom, thereby helping to reduce housework time.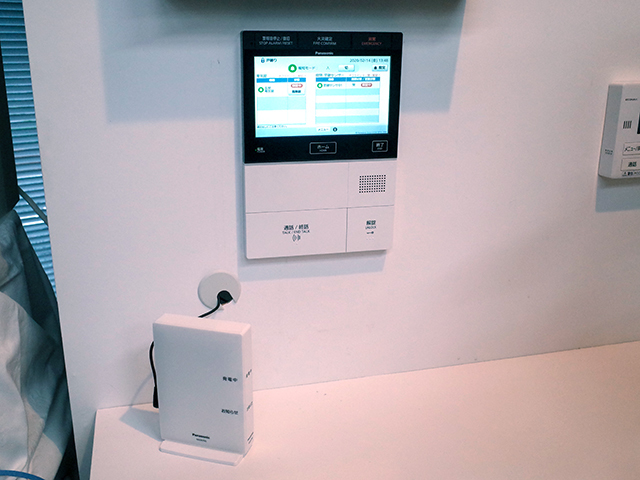 "AiSEG2" linked devices can be operated from the screen of the condominium intercom "Clouge"
Since AiSEG2 has a built-in wireless adapter function, no LAN wiring is required. When combined with the Lighting Switch Advance Series [link model] scheduled to be released in the winter of 2020, up to 50 circuits can be connected, which is 10 circuits higher than before.
In addition, in the event of a power outage, the built-in functions that are useful even in the event of a disaster, such as stopping the automatic heating function of EcoCute and supplying power to the required home appliances and equipment from the storage battery. The open platform enables cooperation with 28 companies and 37 devices, pursuing ease of use.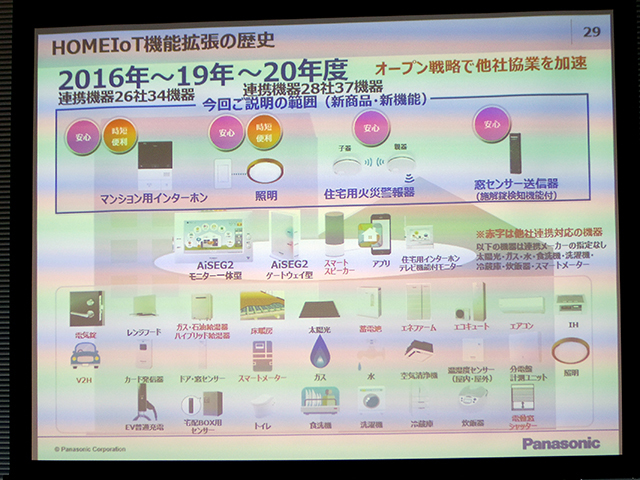 Industry-leading in cooperation with 28 companies and 37 devices
" AiSEG has been pursuing collaboration with Panasonic's devices for several years since its launch in 2012, and has adopted an enclosure strategy, Since 2016, the company has switched to an open strategy and accelerated collaboration with other companies.The current 28 companies and 37 devices are linked with the industry's top class. We aim to de factoize the home IoT in the housing market by providing it to partner companies through the Internet. "
AiSEG currently sells 160,000 units. The company is aiming for a total of 200,000 units in FY2020 and a total of 1 million units in FY2030.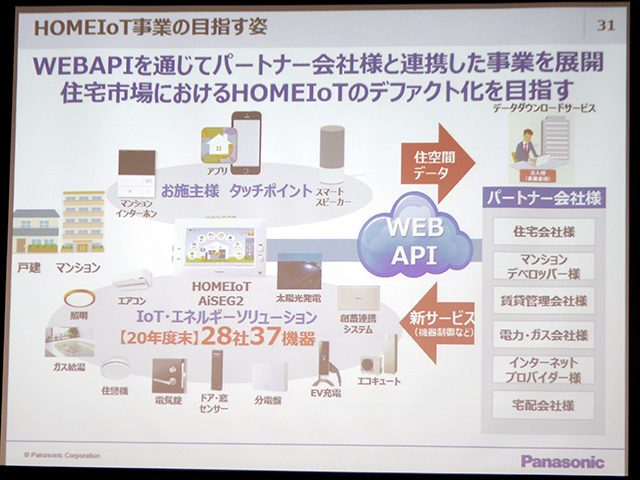 AiSEG2 provides the acquired living space data to partner companies through a new WEB API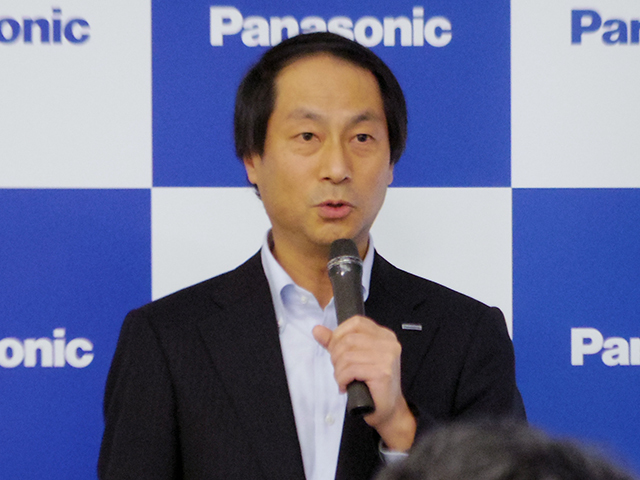 Mr. Naofumi Taniguchi of Panasonic Life Solutions Company Energy Systems Division System Equipment Business Unit Business Unit