There are no major changes except for the specifications of the front headlight cover integrated grille that were introduced in April 2010.

For weight reduction, the original bonnet, door, trunk lid, etc. are fitted with Nissan FRP parts at that time. The window glass is newly made with acrylic on the side and polycarbonate on the rear.

For circuit running, the side markers and tail lens are taped to prevent debris from scattering. Over fenders are riveted, and headlight covers are screwed.

The rear garnish and emblem use normal. The sticker "SPEED SHOP KUBO" is proudly affixed.

The side exhaust muffler exhausted from the passenger side is a one-off one made based on the photos at the time. Because there is no silencer, complete racing sound.

LZ1600Ⅱ specification with 1598㏄ displacement. A twin cam 4 valve incorporates a gear train and generates 225ps / 9600rpm.

Hancock VENTUS is available for circuit slick tires. The wheel is naturally a 13-inch magnesium wheel for Kobe Steel racing with the Nissan logo.

Tire pressure adjustment is also important for circuit driving. In the cold state, both front and rear were adjusted to 1.9kgf / ㎝2.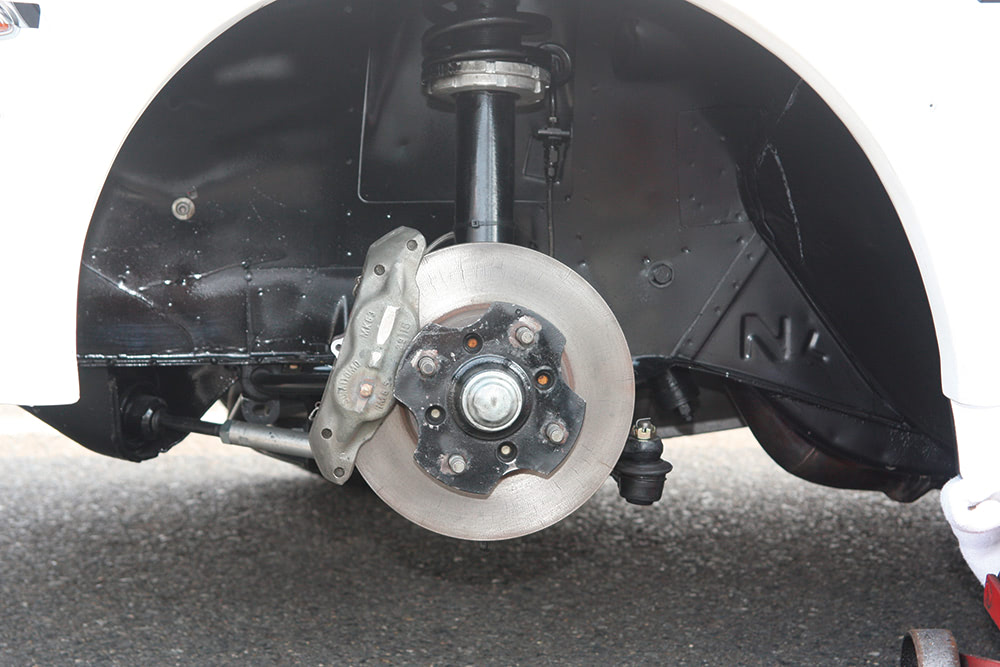 The suspension and brakes are set up for racing at that time. The panel labeled "N" on the right back of the tire house is a proof that the floor has been cut to ensure escape.
Posted: Nostalgic Hero April 2011 issue vol.144 [All information in the article is current at the time of publication]