Headline
"Pixel Buds" landing in Japan-Google's complete wireless earphones, 20800 yen including tax
Google announced on August 4th that its completely wireless earphone "Google Pixel Buds" will be released in Japan as well. It will be priced at 20,800 yen and will be available for sale on August 20.Google storeIn addition to this, we also handle it at telecommunications carriers [KDDI, Softbank], home electronics mass retailers [EDION, Costco, BicCamera, Yamada Denki, Yodobashi Camera]. In addition, at the same company as Pixel BudsPixel 4aIn addition to the announcement of "Announcementdoing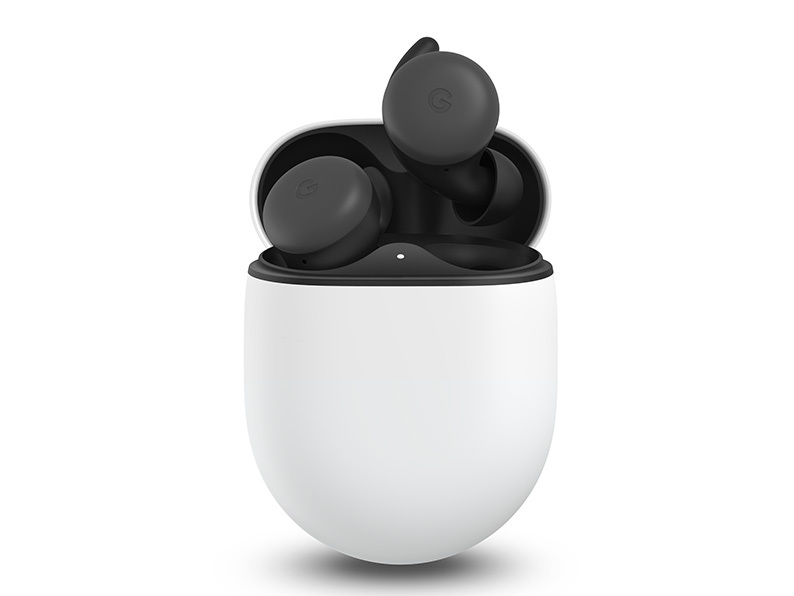 "Google Pixel Buds"
This product was announced at "Made by Google '19" held in October 2019, and will be the second generation wireless earphone for the company. The first generation appeared as a wired type, but the second generation was completely redesigned like Apple's AirPods.
▽ Pixel Buds has a built-in 12mm dynamic driver. In addition to scanning the shape of the ears of thousands of people, we searched for a body shape that fits many people, and by using a fixing arch and a soft-fit ear tip, it said that the adhesion was further improved. In addition, the body incorporates air holes to make it easier to hear the surrounding sounds and reduce the feeling of pressure.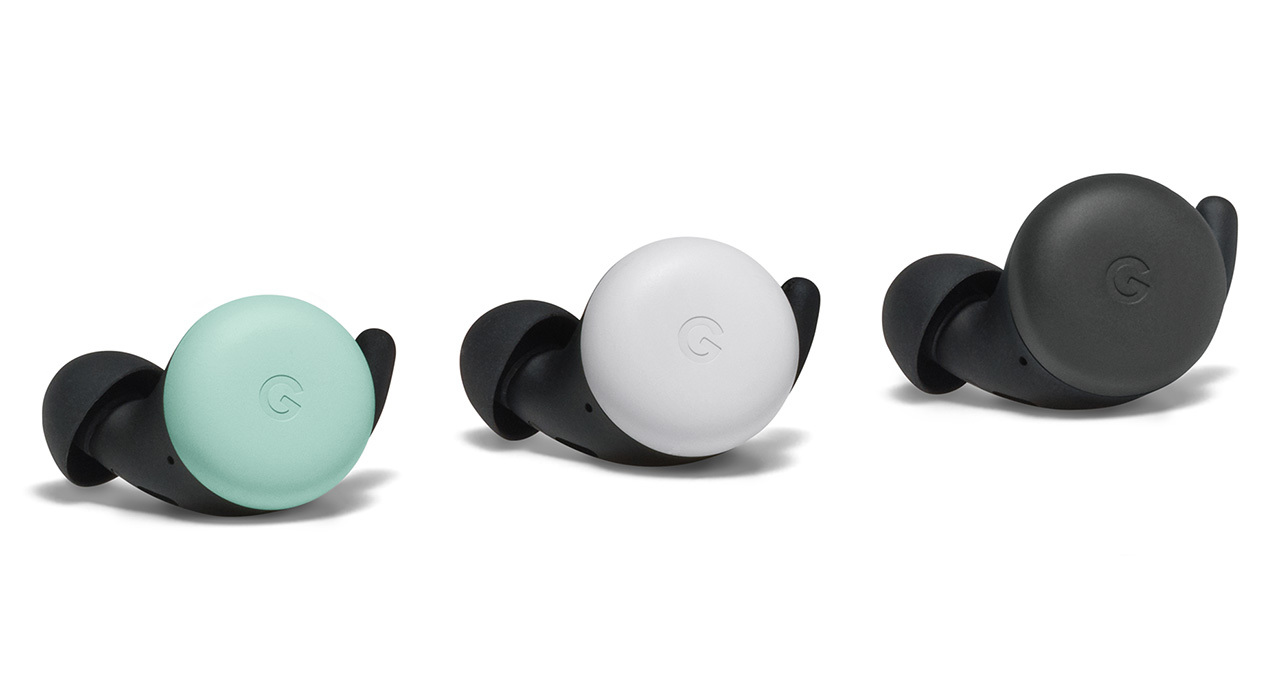 Three colors are available: "Clearly White", "Almost Black", and "Quite Mint".
Microphone performance has also been improved, and in addition to two beamforming microphones, a voice accelerometer that detects the movement of the chin is installed. Even in a noisy environment such as running or windy scenes, clear call voice is realized. In addition, it supports "adaptive sound" that automatically adjusts the volume according to the amount of ambient noise. It also has waterproof performance equivalent to IPX4.
Real-time translation is available by combining smartphones compatible with Android 6.0 or later. You can talk by simply saying "OK Google, translate into English." It supports 40 languages ​​including Japanese and English, and by downloading the language data in advance, translations can be used even without an Internet environment. A mode for translating long sentences such as English speech will be implemented in the future.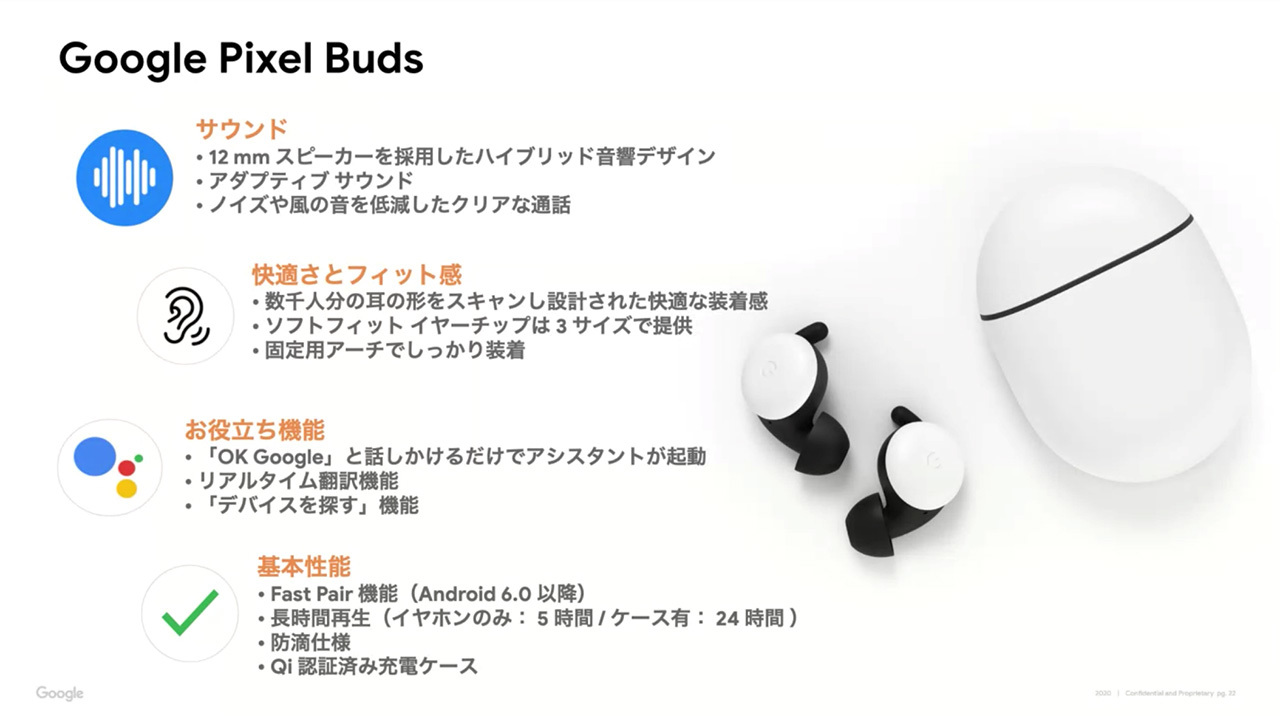 Music can be played for up to 5 hours on a single charge. By using the case, you can use it for up to 24 hours. It also supports quick charging and can play music for 2 hours in 10 minutes [1 hour for full charge]. In addition, the case is Qi certified, and charging starts just by placing it on the wireless charging pad.
Note that not only Android but also iOS devices and PCs can be connected, and music playback, voice calls, touch operations, wireless charging, etc. can be used. Pixel Buds compatible apps, Google Assistant, real-time translation, and adaptive sound are only supported on Android 6.0 or later devices. In addition, Pixel smartphones can be easily connected using "Pixel Buds pair setting".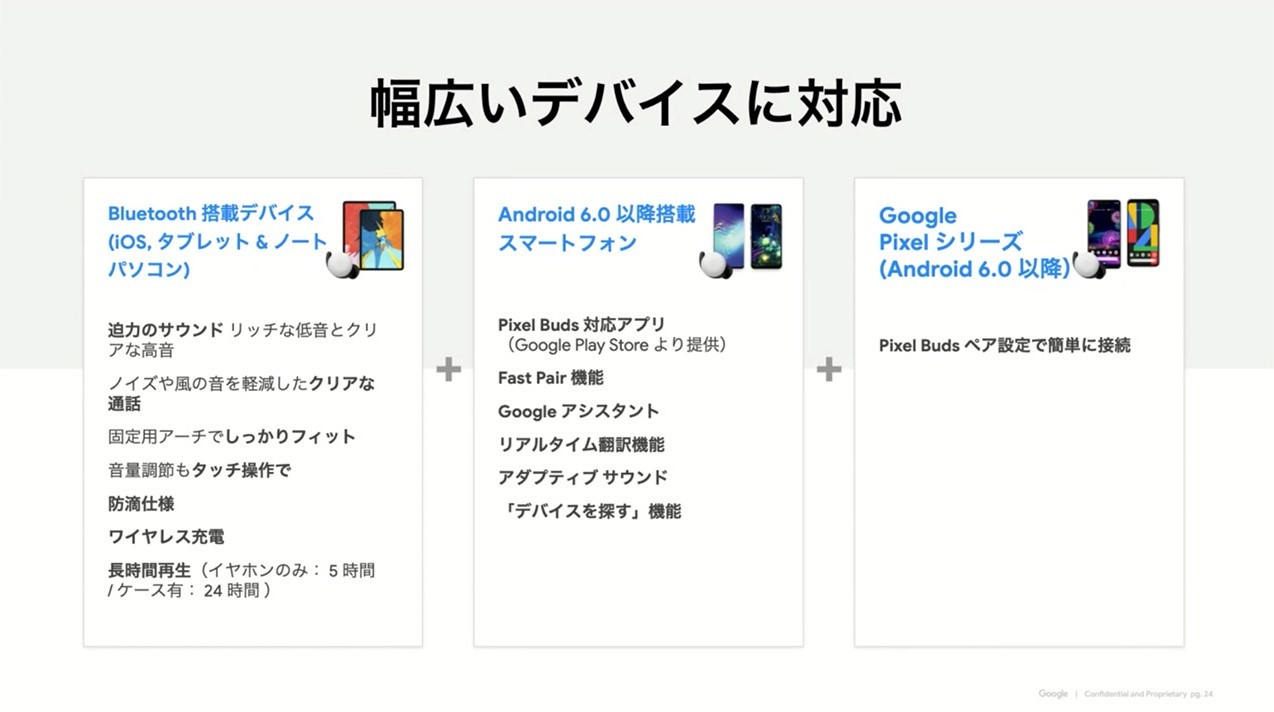 Basic functions can be used on iOS devices
Source link