Technology
Pointed out that the top Google search results are occupied by "Google owned websites"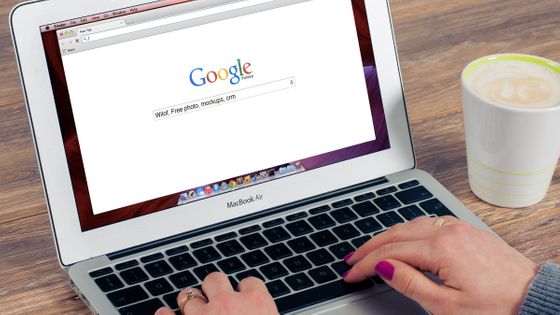 Pointed out that the top Google search results are occupied by "Google owned websites"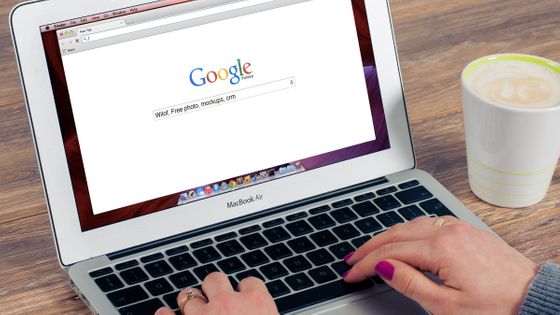 Google search is widely used around the world, and it is said that nearly 90% of searches conducted throughout the United States use Google search. A non-profit news site that investigates technology-related issues regarding such Google searches.The MarkupAn analysis conducted by The Company found that "the top Google search results are dominated by "Google owned websites"".
Google's Top Search Result? Surprise! It's Google – The Markup
https://themarkup.org/google-the-giant/2020/07/28/google-search-results-prioritize-google-products-over-competitors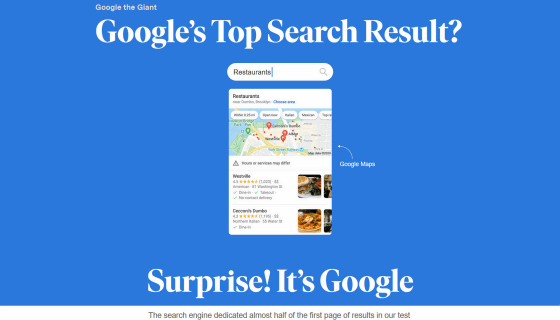 Co-founder of GoogleLarry Page"We want to get you out of Google and move you to the right place as soon as possible," he said about Google Search. In other words, Mr. Page thought it was important for the search engine to display a website link that would be an appropriate answer to the search word and direct the search engine itself to the appropriate website quickly.
However, recent Google search results are provided by Google-owned websites and GoogleKnowledge GraphIt is occupied by Google, and Mark thinks that the content it provides is the "right place" for users.
In fact, Markup surveyed the most recent 15,000 popular queries and found that 41% of the first pages displayed when searching mobile devices such as iPhone are actually Google-owned websites or knowledge graphs Turned out. If you limited to the page range displayed immediately after pressing the search button and did not scroll, 62.6% was occupied by Google related things. Of the sample queries used by Markup, once in 5 times, it seems that there were no links to websites other than Google within the range displayed on the screen immediately after the transition.
For example, if you search Google on the word "myocardial infarction" on iPhone X,Search result screenIs like this. First of all, the dictionary definition provided by Google is displayed on the panel, and below that, the related search function "PEOPLE ALSO ASK" also provided by Google is displayed.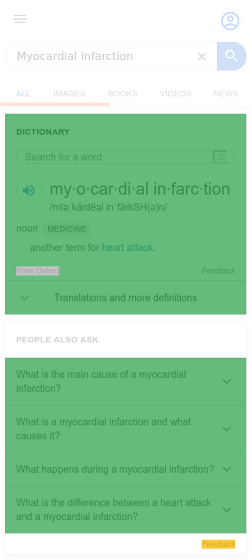 Below that is a knowledge graph provided by Google…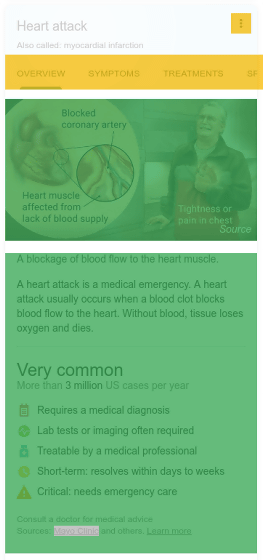 After the search for other illnesses was recommended in the "related conditions" panel, links to websites not related to Google were finally displayed. By the time users reached links to non-Google websites, they had to scroll about 42% of the page.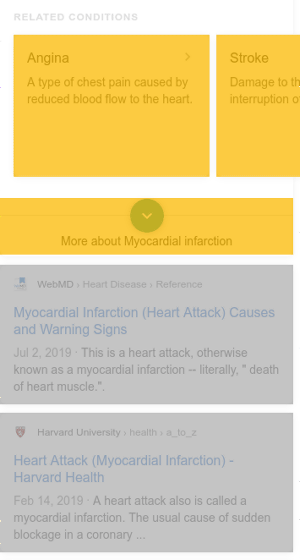 Looking at the image below, you can see how the screen displayed when searching with the word "Linux" changed between 2000 and 2020.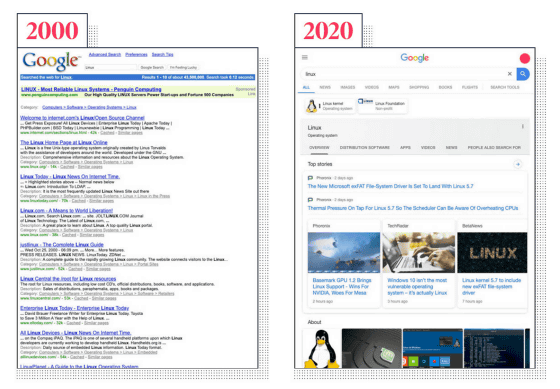 Markup points out that Google is changing its policy of "leaving users out of Google promptly and directing them to websites related to search words", and trying to keep it to Google-related websites as much as possible. It has been pointed out that "traffic from organic search to general websites has been significantly reduced", and it is said that the increase in ad inventory has spurred this problem.
Organic search traffic is decreasing due to increase in Google search inventory-GIGAZINE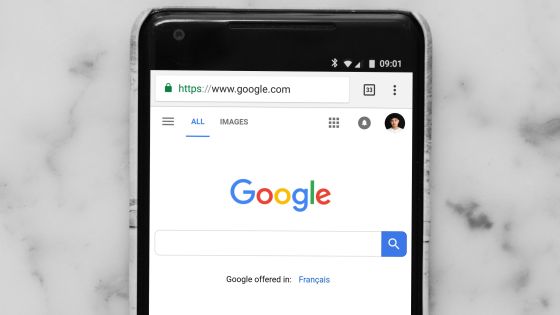 A number of industries and websites have criticized Google's strategy to prioritize its own links prior to links to competing websites. In November 2019, travel researcher Skift said, "The fact that Google is taking advantage of search engines to take market share from competitors in the travel sector is no longer controversial.''Your websiteArgued that the entire online travel industry is suffering.
Travel-related websites are one of the industries that have suffered a lot of damage due to Google's preferential treatment on the Google search results screen. A service that allows you to find cheap airline ticketsGoogle Flight"Is displayed on the Google search result screen of the user who entered the word to search for an airline ticket, so it is blocking the flow to other travel related websites.
On the other hand, it is a major online reservation siteExpediaOrBooking dot comPays the advertising fee to Google and displays the advertisement on the search result screen. As such, Markup pointed out that travel websites that compete with Google are not just competitors, but also Google customers in some cases.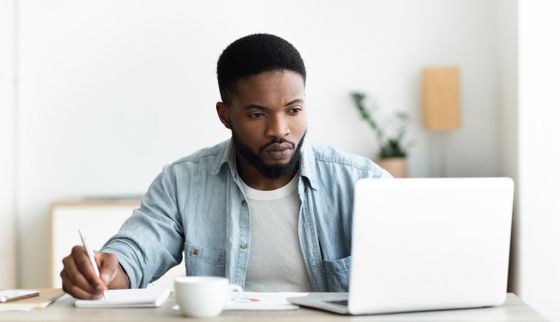 It seems that there were discussions within Google regarding the decision to emphasize its website and services on the search result screen. In connection with the antitrust investigationEuropean CommissionGoogle's in-house e-mail, which was obtained by Yahoo!, said that by displaying its own product on the search result screen, there was a case where the traffic increased more than double.
Meanwhile, Google spokeswoman Lara Levin claimed that the Google search results screen wasn't designed to prioritize Google-related websites. He said that all displayed content was selected based on the user's interests and validated through a rigorous testing process. He accused Markup of its research methods "based on a sample of non-typical searches."
In addition, Levin explains that the age has already changed with regard to the policy that Mr. Page insisted in 2004 to "move to the website promptly from the Google search screen". At that time, it was important to get people from the search results screen to your website, but it's not the case in the modern world of search technology, Levin said.
Search engine analyst Rand Fishkin said2019 surveyThen, I found that 12% of the clicks by the users on the search result screen go to the website owned by Google. "Google can keep its users on the platform for maximum long-term profit," said Fishkin.
In recent years, there has been a movement to regard Google's control as a problem, and Google and the parent companyAlphabetFaces lawsuits related to antitrust laws. In 2017, the price search service operated by Google on the search result screen "Google ShoppingThe European Commission has imposed a fine of 2.42 billion euros (about 300 billion yen) on Alphabet, saying that it has given priority to "and has given disadvantages to other price comparison sites."
Google is fined about 300 billion yen for violating EU competition law (antitrust law)-GIGAZINE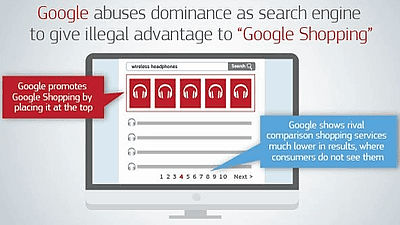 But in 2019, 41 comparative shopping sites will(PDF file)letter"We haven't experienced a significant increase in traffic to our website even after sanctions on Google." Google has continued to abuse its control, accusing the industry of a once-injured industry not fully recovering.
Copy the title and URL of this article
Source link