Headline
Power retail startup "Looop" rises to 4th place-financing and market capitalization ranking in August 2020
For Startups on August 19th, an information platform specialized in the growth industry areaSTARTUP DB," announced the "Domestic Startup Funding Ranking" for January to July 2020.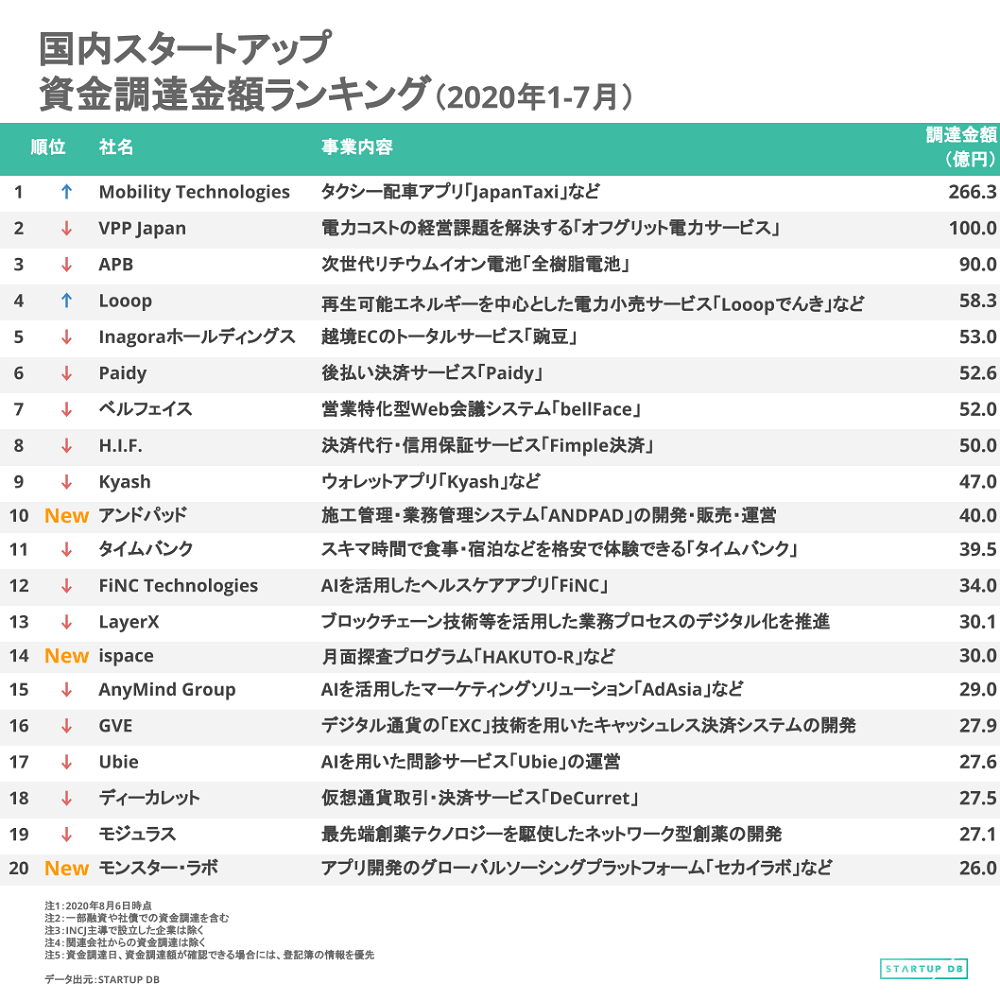 According to it, Mobility Technologies, which handles taxi dispatching applications such as "JapanTaxi" and "MOV", has raised a total of ¥22,575 million. The cumulative amount of funds raised in 2020 amounted to 26,625 million yen and jumped to the top of the ranking. In addition, three companies, Andpad, ispace, and Monster Lab are newly ranked. In addition, Looop, which was ranked 13th in the previous month's ranking, raised 3 billion yen and is now in 4th place.
Mobility DX Company Mobility Technologies has a capital and business tie-up with NTT Docomo, Tokyo Century, Dentsu Group, and Dentsu, and has raised a total of 22,755 million yen. As a result, the cumulative amount of funds raised since the establishment was 39,525 million yen.
 Even in the total amount of fund raising for the full year 2019, the company that has exceeded 20 billion yen is EPARK1, so it can be seen that the scale of fund raising this time is outstanding. Mobility Technologies is expected to work towards the realization of mobility services and data services in smart cities, as well as autonomous driving services.
It was revealed that Looop, which is a startup that develops electric power retail business centered on renewable energy, has raised 3 billion yen of green bond bonds with Mitsubishi UFJ Bank as an underwriter on April 30. In addition, as of June 30, we have increased the capital by a third-party allotment of ¥2.83 billion, and the underwriters are ENEOS, NEC Capital Solutions, Sojitz, Japan Green Power Development, and a total of 6 other companies. Has become.
Construction management and operations management system ANDPAD has raised 4 billion yen from four existing investors, Globis Capital Partners, DNX Ventures, Salesforce.com and BEENEXT. , Ranked in 10th place. The funds raised this time will be used to strengthen recruitment and digitalization of the construction industry.
Ispace, newly ranked in 14th place, is a space startup from Japan that works on the development of lunar resources by the private sector. It is known from the register information that the fund has been raised for 2,999 million yen. The company has raised approximately 13,570 million yen since its founding, including this time, and has raised 10,350 million yen, which is the highest ever in Series A domestically by 2018. In addition, it was ranked 18th in the market capitalization ranking of domestic startups in August, with an estimated market capitalization of 43.8 billion yen, the second largest market capitalization in the space area after Astroscale Holdings.
Monster rank, which develops digital consulting and product businesses, ranks in 20th place. The company is a global company with more than 1,200 members worldwide, with offices in 26 cities in 15 countries and is familiar with the markets of each country. Since the last round of funding, announced the implementation of seven funds and about 4.2 billion yen of funding by operating companies as underwriters by the end of July. According to the register information, the amount of money raised in 2020 is about 2.6 billion yen.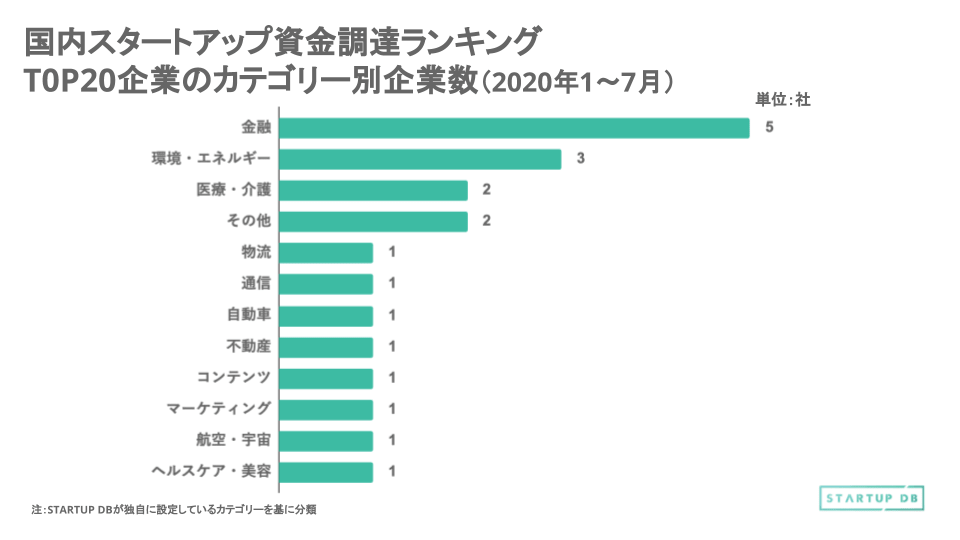 ‥
By category, finance is the largest with 5 companies, followed by environment and energy with 3 companies, followed by medical and nursing care and 2 other companies. In the environment and energy field, VPP Japan, which solves the management problem of electric power cost, APB of next-generation lithium-ion battery, and Looop mentioned above, were among the names. These three companies are ranked up to 5th in the funding ranking, and all of them have raised more than 5 billion yen in 2020. With the exception of the five financial companies, there is no category with a remarkably large number of companies, indicating that companies in various fields are procuring heavily.
"Ispace" and "Looop" ranked in market capitalization ranking
④ For Startups has also announced the "domestic startup assumed market capitalization ranking" as of August 3. In the same ranking, it is calculated based on the issued and outstanding shares listed in the registry. Subsidiaries and companies established under the initiative of INCJ are excluded. In the case of procurement in US dollars, it is calculated using the exchange route as of August 3.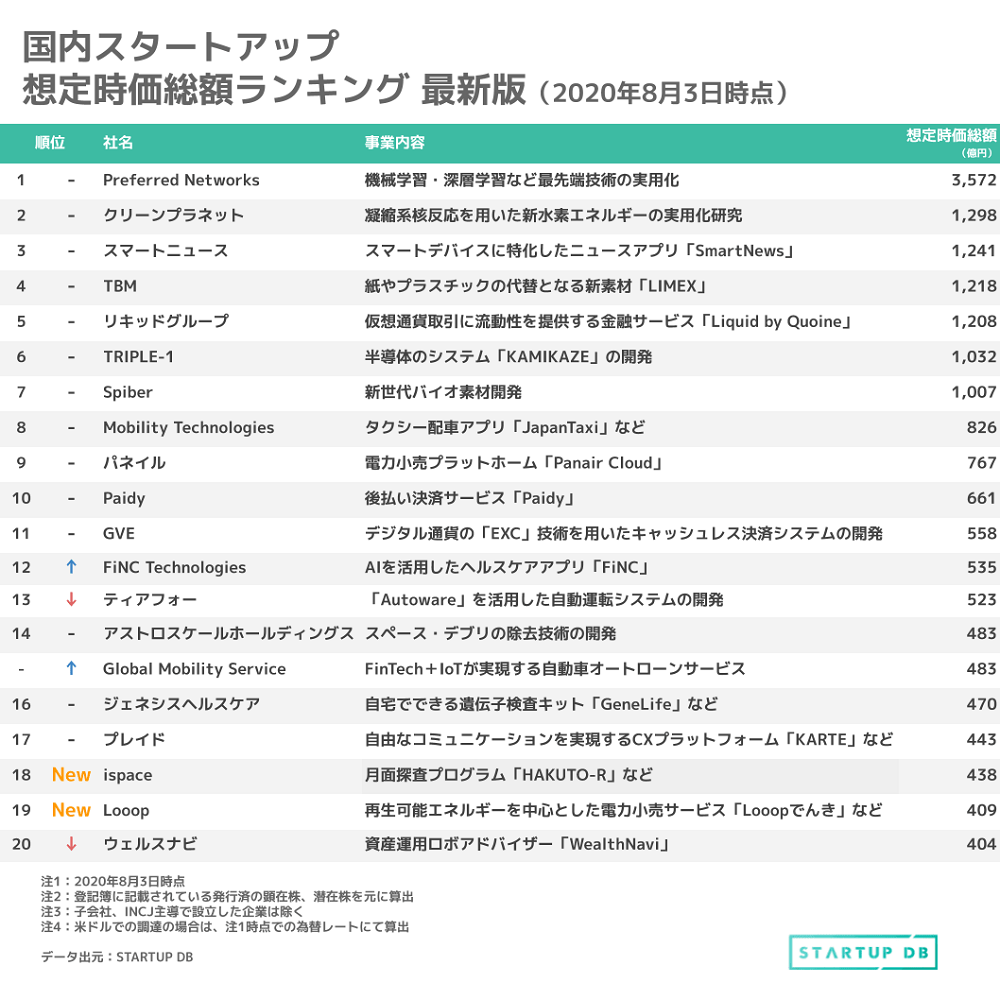 ▽ In the market capitalization ranking of August, ispace and Looop newly ranked in 18th and 19th, respectively. In addition, the market capitalization of the top 20 companies has all exceeded 40 billion yen.
▽ From the registry information, it was revealed that ispace had newly raised JPY 2.99 billion in July. At the end of July, we announced the completion of the final design of the Mission 1 Lander [moon lander] for the private lunar exploration program "HAKUTO-R". We will start assembly in 2021 and launch it in 2022. There is.
In June, Looop funded 2.83 billion yen from all six companies, including ENEOS, NEC Capital Solutions, Sojitz, and Japan Green Power Development, and also signed a capital and business alliance with ENEOS. Through this procurement and collaboration, the company intends to strengthen its nationwide sales by developing new services that bring together each company's expertise in power generation and energy management.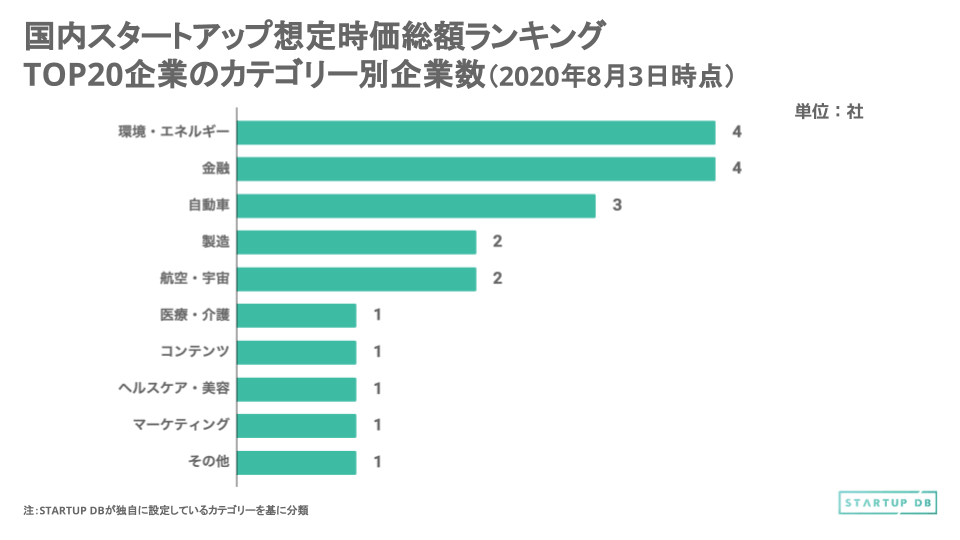 According to category, environment/energy and finance are the largest, with 4 companies ranked in each, and 3 in the automotive field. Looking at the change from the previous month, the number of companies in the automobile domain decreased and that of the aerospace field increased by one. ZMP, which develops the autonomous driving system "RoboCar", which had been ranked in the previous month, and Erie Power, which develops a large lithium-ion battery and power storage system, are out of the ranking.
 Instead of these, Looop, which operates the electricity retail service "Looop Denki", and ispace in the aviation and space area are newly ranked. As a result, "Aerospace" increased by one company, "Environment/Energy" remained unchanged, and "Automobile" decreased by one company.
Source link