CASIO
Print in 15 seconds, experience a Casio nail printer with Maison Kose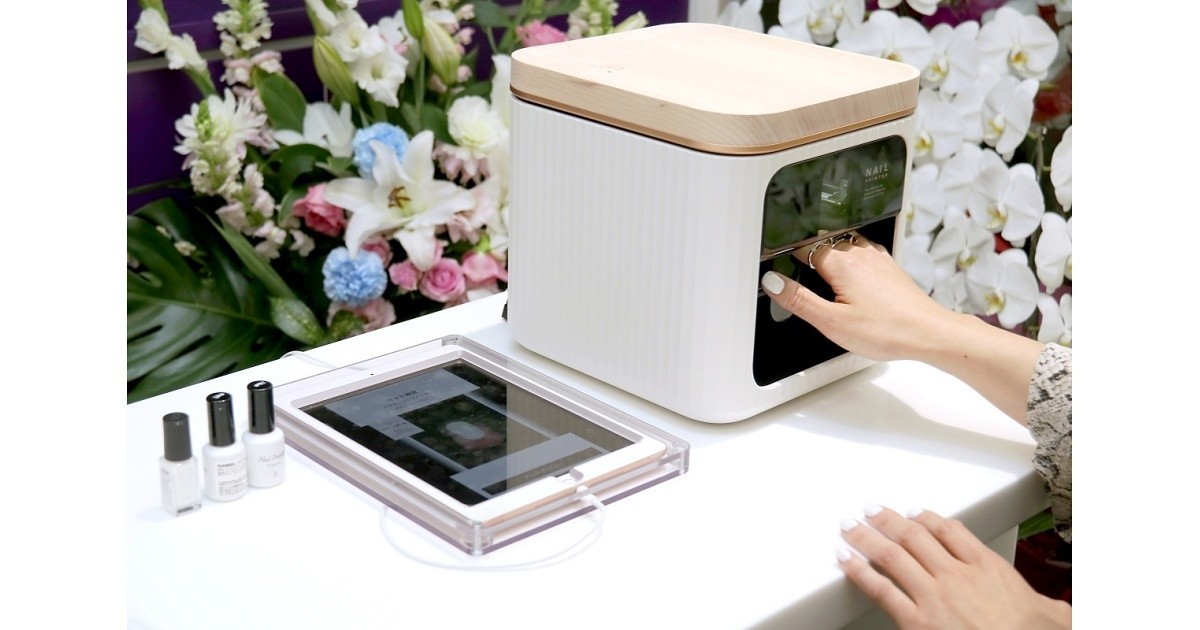 Casio is developing its business in the beauty tech field, and is collaborating with cosmetics manufacturer Kose. The first approach isNail printers and related servicesis. Kose installed five Casio nail printers at Maison KOSÉ, an interactive store that opened in Ginza, Tokyo in December 2019, with a free nail experience and questionnaire with one finger per visitor. Conducted a survey. He has participated in experience-based meetings, aiming to gather new nail service needs and information.
What are the most popular nail printers?
So, it is a nail printer experience where you can usually form long lines. All operations are performed on the tablet connected to the nail printer. Select the desired pattern from the card on which nail art is printed, read the QR code of the card with the tablet camera, register it, insert your fingers one by one into the nail printer, recognize the shape of the nail, and print … This is the general flow.
As a preparation, apply a white nail polish [Kose's NAILHOLIC] to make the nail shape recognized by the nail printer and a pre-precoat to fix the nail printer ink. Ink is a safe product with cosmetics registered, but it is water-soluble and easily soluble in water, so it is always protected by applying a top coat after printing. In addition, this time it is printed on multiple fingers [nail], but the general experience is one finger.
I have painted NAILHOLIC [white] in advance, but you can rest assured that all the necessary items are available at the store. Since it is the basis of image recognition [the nail printer recognizes the nail part], it is good to paint it so that it does not protrude as much as possible [correction on the tablet is also possible].
Apply pre-precoat and dry for about 3 minutes. You can also use a nail dryer here
Completion is completed when the nozzle makes one round. My Navi News Digital's editor-in-chief Hayashi has been overwhelmed by the speed of one finger and 15 seconds ….
If there are no irregularities, you can print on the gel nail. If you paint a white gel on the base, you can enjoy it many times.
The quality printed by the nail printer is truly beautiful. Although a slight white background can be seen in the shadowed area, the finish looks good.
This nail printer uses the technology Casio has cultivated in digital cameras and printers. For example, image processing technologies such as digital camera image recognition and image correction. After recognizing the shape of the nails captured by the nail printer's internal camera, calculating the curvature and angle of the nails, the basic pattern is adjusted by applying partial compression and contour correction.
It is said that more than 1,000 examples of shapes and curvatures have been learned in advance to perform this process. The same goes for density correction of printers. Here too, the pattern is adjusted according to the curvature of the base of the nail, so that it can be printed evenly on the edge where the color tends to be thin. Since the printer design technology of image analysis / recognition and printing is particular about printing quality, high-definition expressions that are difficult with existing similar products are possible.
A new invention unique to Casio Computer and Kose
Toshiyuki Iguchi, Casio Computer's executive officer, said that Casio Computer's beauty tech business is now in a new direction. He also thought that know-how in safe, secure and high-quality cosmetics would be indispensable for hardware development and usability improvement utilizing existing assets.
"Therefore, we decided to collaborate with Kose, who has knowledge of beauty and price research for cosmetics. The main aim is to personalize beauty. This is a proposal that captures the "nail" as a place to communicate views and individuality. I hope that we can create a service that focuses on content, media, and print quality. "[Iguchi]
Demonstration machines for nail printers will be gradually added to nail salons, cosmetics counters, and event venues to gather feedback. He also stated that one goal was to complete a printing system without preparing nails, and to provide a more casual nail experience tailored to TPO.
In the beauty tech field, developments in various directions are being considered, such as the development of skin diagnostic tools that apply skin cancer detection methods using sensing technology, and cosmetic materials that use print technology such as nozzles. Casio and Kose will work together to meet the needs of each other and resolve issues, and provide services that are unique to these two companies.
Nail printer experience at the Hall of Fame
The Maison Kose, where you can experience nail printers, is the first directly operated concept shop that offers a new beauty experience, "Beauty Attractions," by selecting a variety of Kose brands. Mr. Yoshinori Haratani, Executive Officer of Kose, said, "We want to create a place where we can provide better experience value by using the Internet and digital tools to communicate with customers and reflecting purchasing data and behavior data." I introduced it.
Nail printers are just one of those experiences. Printing with one finger lasts about 15 seconds, and 15 minutes including preparation and drying, so try it with your own finger when shopping. It is easier if you use a base white nail polish [KOSÉ NAILHOLIC WT005]. Let's go to see Casio's technology [even if you can't experience it] without thinking that men are "shops for women". I think that you can feel "Seeing is believing." It is also recommended to go with a female friend or her. You will surely be pleased.
At Maison Kose, you can try and buy the Tarte brand, which you can only find here. At the counseling space on the second floor, you can also experience the mysterious mirror "Snow Beauty Mirror" that can perform skin care and base color diagnosis. The huge signage on the walls and the display of all Kose brands are quite spectacular, so please enjoy it along with the nail blinker experience.
Source link