Headline
Rakuten announces original 5G smartphone "Rakuten BIG"–69,800 yen with built-in camera display
Rakuten Mobile will launch a 5G service on September 30th.Rakuten UN-LIMIT VOfficially announced. Along with this, two original smartphone models were announced.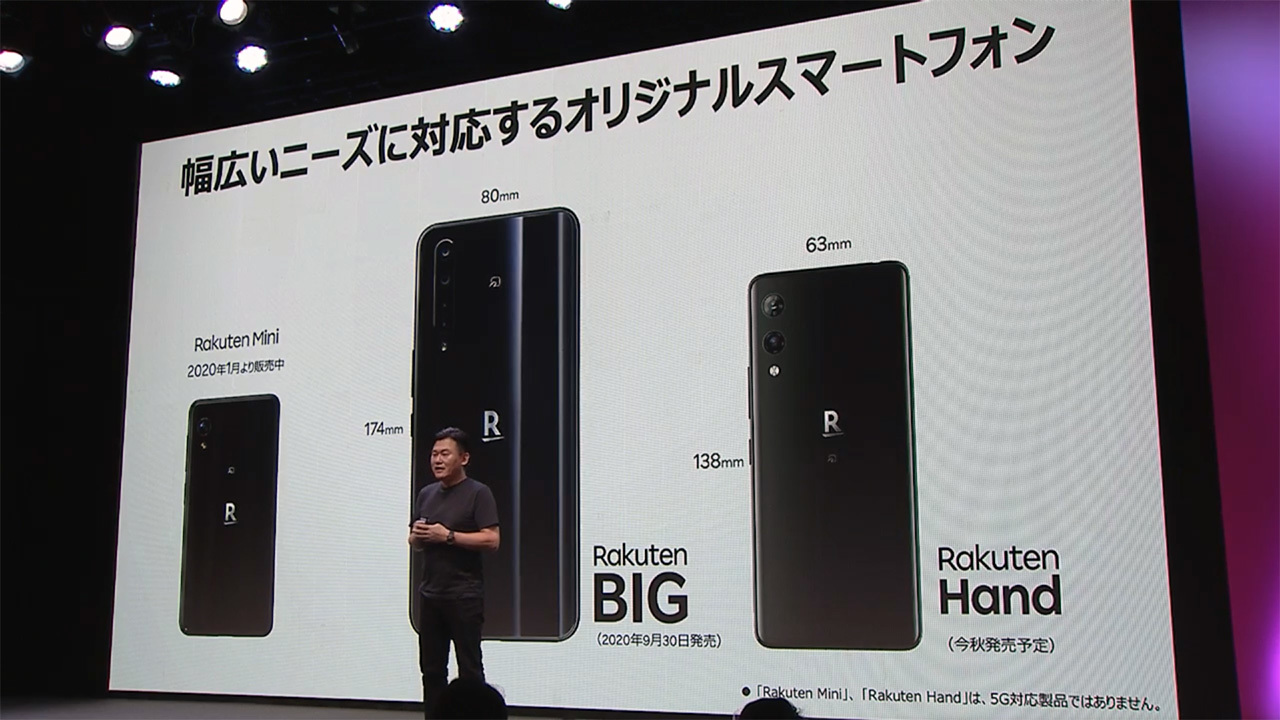 Rakuten's own smartphone is now 3 models
Rakuten UN-LIMIT V offers the 4G plan "Rakuten UN-LIMIT 2.0" [2980 yen per month] unchanged. By using "Rakuten Link", you can use unlimited voice calls, and you can use data communication as long as you are on Rakuten line for both 4G and 5G. Also, in the partner line area [KDDI line, 4G only], communication is possible at 5GB per month and up to 1Mbps after exceeding. The one-year free campaign will continue.
The announced original terminals are 5G compatible "Rakuten BIG" and 4G compatible "Rakuten Hand". A lineup of 3 models including the "Rakuten Mini" already on sale.
"Rakuten BIG" with built-in in-camera under the display
Rakuten BIG is an original smartphone that supports millimeter wave / Sub-6, and is equipped with a 6.9-inch organic EL display [2460 x 1080 pixels] with an in-camera of about 32 million pixels built in at the bottom of the screen. Unlike the punch hole design that is the mainstream these days, it is finished in a neat design without an in-camera. The company claims that this display is the "world's first" for mobile FeliCa-equipped smartphones.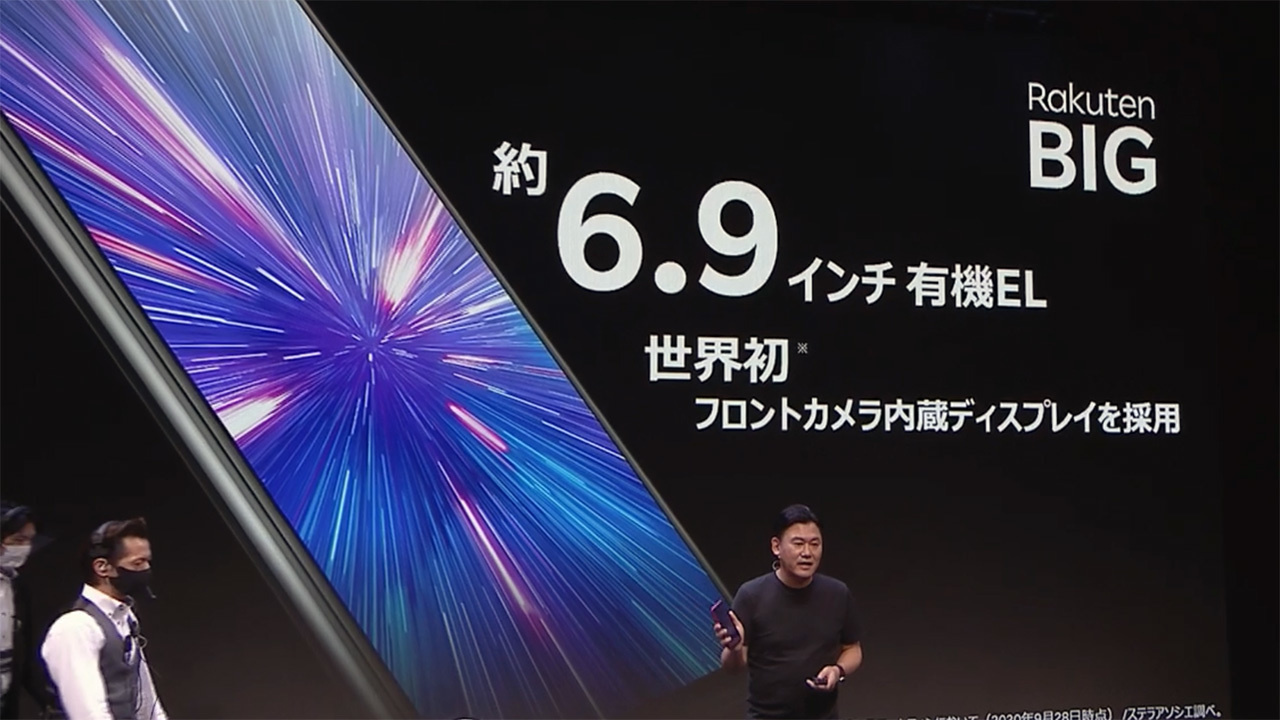 Built-in in-camera under the display
Other specifications include Qualcomm Snapdragon 765G 5G, RAM 6GB, storage 128GB, Osaifu-Keitai, and a fingerprint sensor with a built-in display. The camera consists of a main camera with about 64 million pixels, an ultra-wide-angle camera with about 8 million pixels, a depth positioning camera with about 2 million pixels, and a macro camera with about 2 million pixels. It also has IP68 waterproof performance and has sufficient specifications as a middle class.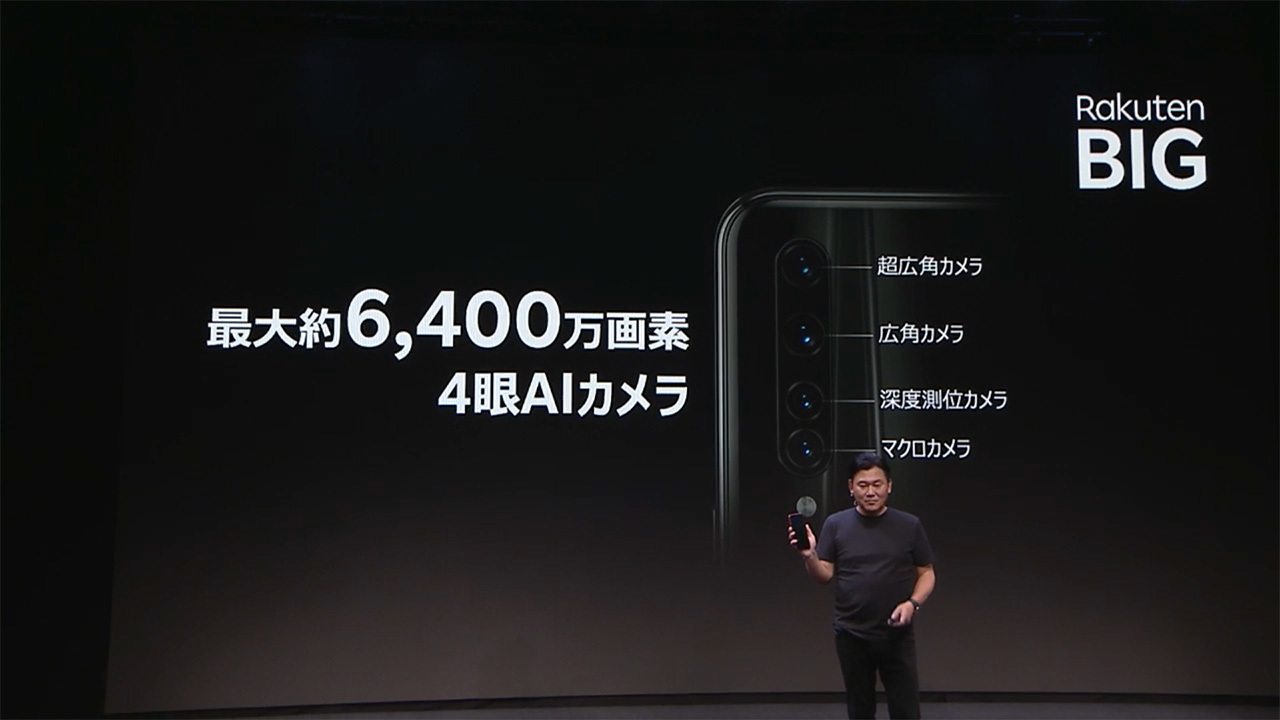 Equipped with a 4-eye camera
The size is about 174 x about 80 x about 9 mm, and the weight is about 227 g, which is heavyweight as the name of BIG. The battery is 4000mAh and can be charged via the USB-C port. In addition, the compatible SIM is only eSIM, and it does not support face recognition or wireless charging.
Release starts on September 30th. Available on the website or at Rakuten Mobile's Futakotamagawa store. The lineup includes black, white, and crimson red [released in November], and the price is 69,800 yen including tax.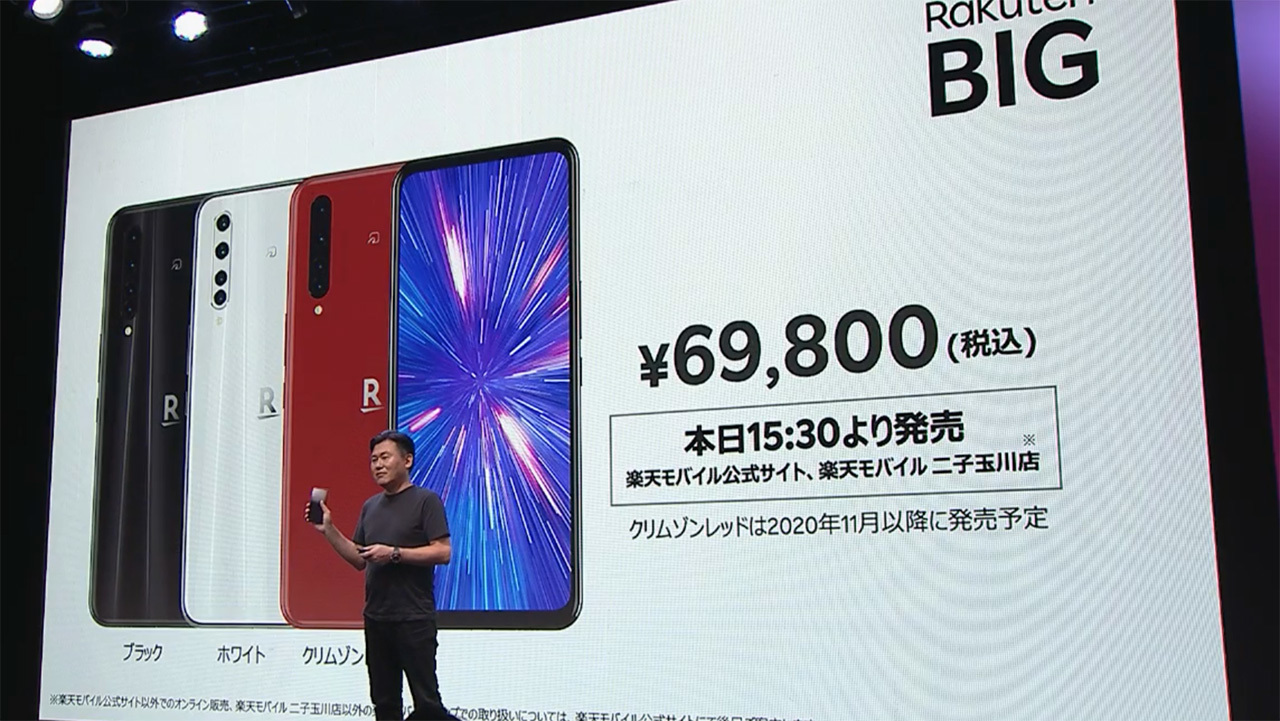 69,800 yen including tax
"Rakuten Hand" that fits in your hand with 5.1 inches
Rakuten Hand, a new model of 4G smartphone, is equipped with a 5.1-inch organic EL display. The edge part is curved, and it is said that it has achieved the slimmest width for a mobile FeliCa compatible smartphone of 5 inches or more. The display also has a built-in fingerprint authentication sensor.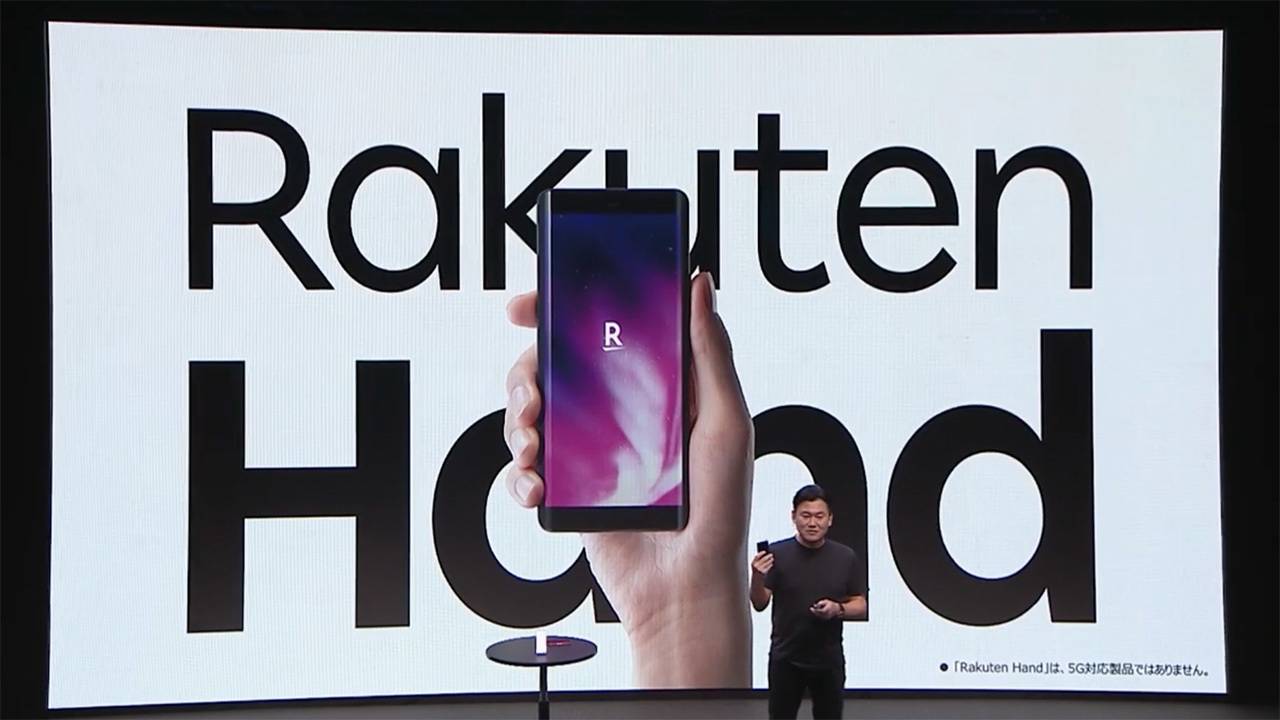 "Rakuten Hand" aiming for a size that fits in your hand
SoC is equipped with Qualcomm Snapdragon 720G. It supports Osaifu-Keitai, 2800mAh battery, and 4×4 MIMO communication. In addition to the main camera with approximately 48 million pixels, the camera is equipped with a separate camera for depth positioning. It also has a built-in front camera with about 16 million pixels. Details such as RAM, storage, size, and price will be announced on the Rakuten Mobile official website at a later date.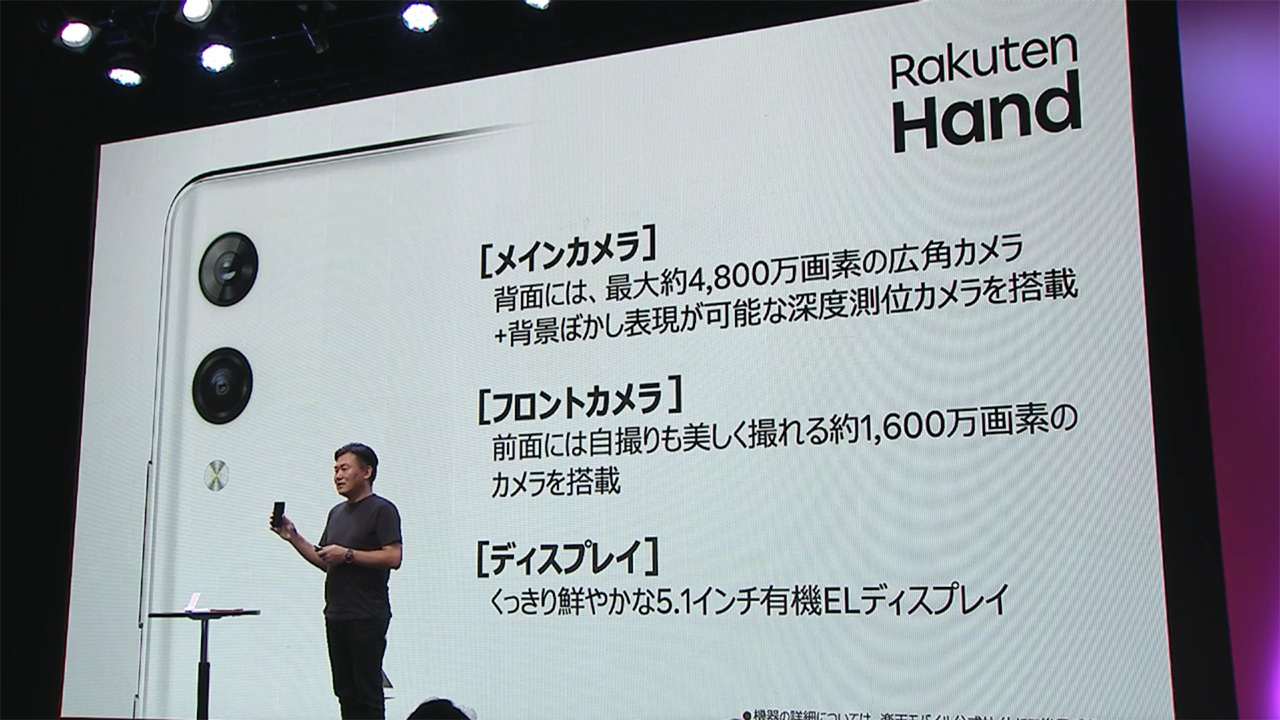 The cameras have a dual configuration, but one is used for depth positioning, so it does not have a separate ultra-wide-angle camera.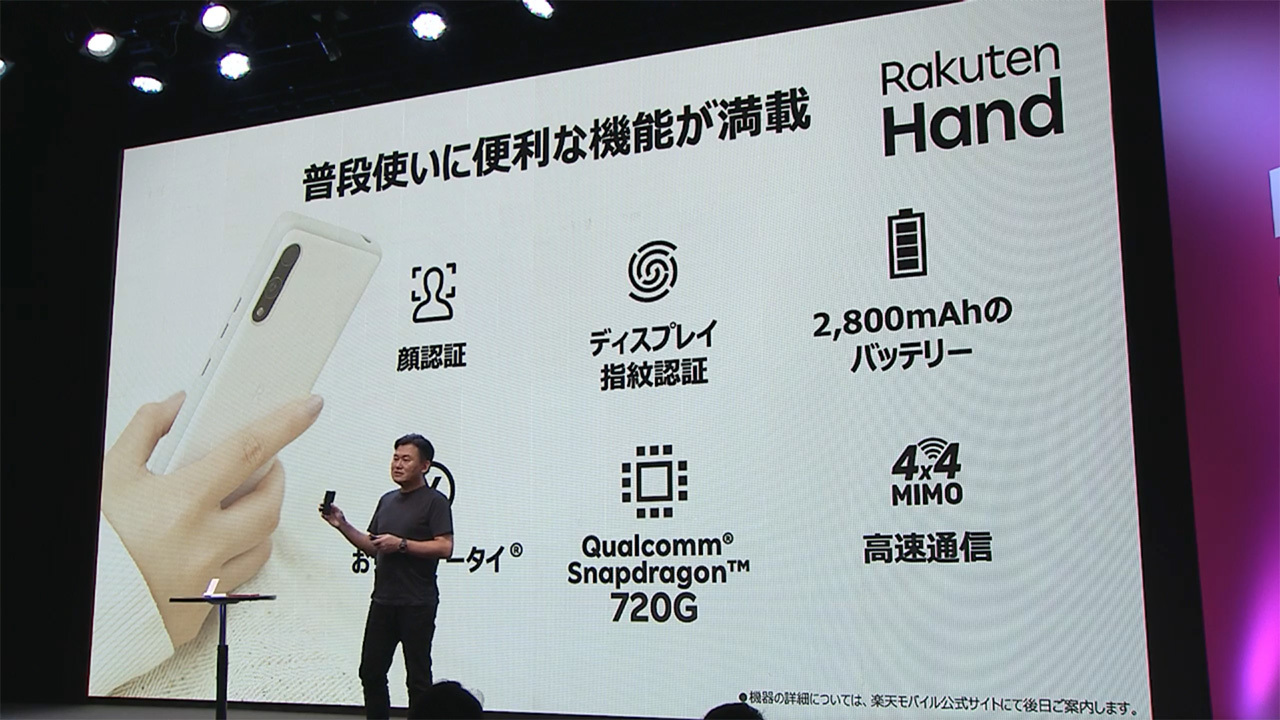 Details such as RAM were not disclosed
"AQUOS R 5G" is updated to support 5G
In addition, the company announced that it will support Sub6 5G with an update for Sharp's high-end smartphone "AQUOS R5G" that has been on sale since June. In addition to Snapdragon 865 5G, AQUOS R5G is equipped with RAM 12GB, storage 256GB, 120Hz compatible 3K IGZO display and abundant specifications. It has a built-in 4-eye camera and supports 8K video recording.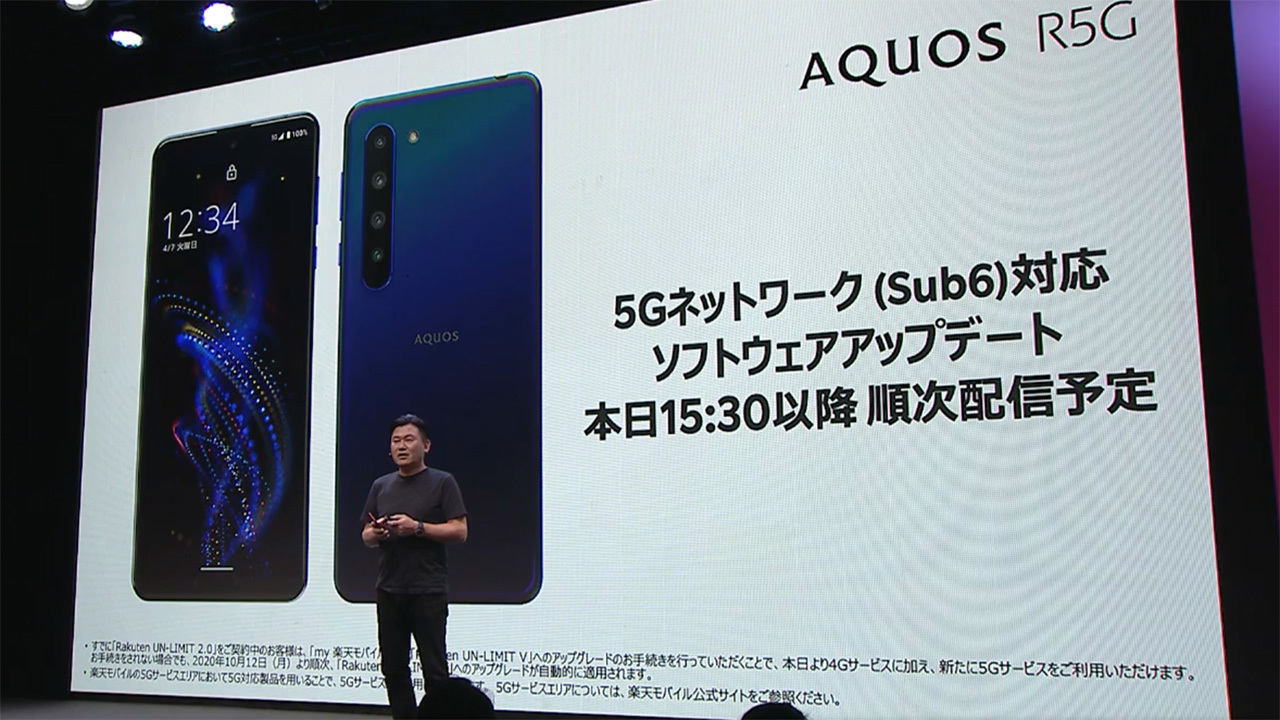 Source link