CASIO
Report on the actual voices that you learned from actual use! Electronic piano "Privia" "PX-S1000"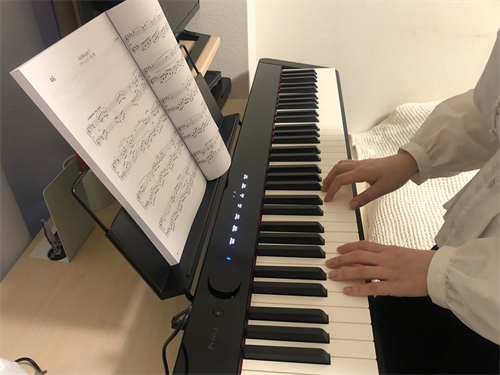 Casio Computer, which has gained popularity due to its sound like a grand piano, small size, light weight and high interior quality, despite being an electronic piano."Privia" "PX-S1000". This time, we asked three women living alone to use the product to explore the appeal of such "Privia" "PX-S1000".
The following three people asked. I heard the "raw voice" that was used immediately.
T ・ C (20's, female)
14 years of piano experience. In addition to participating in contests, he also has experience in accompaniment at school events such as graduation ceremonies.
HM (20's, female)
9 years of piano experience. At that time, he participated in the competition twice a year. He hasn't touched the piano since he started living alone.
K ・ M (Female, 20s)
4 years of piano experience. He said, "Somehow I bitten a little when I was in elementary school …."
A feeling of size suitable for life that fits in a 7 tatami room
T ・ C (20's, female)
Because it is compact,Even if you put it in a 7 tatami room, it will fit in your life without feeling oppressedI like it. Because it is a weight that can be carried alone by a woman, I am also happy that it can be moved easily when cleaning.
I used the electronic piano for the first time, but I was surprised that the playing comfort, pedals, and speaker quality were better than expected. PX-S1000The sound resonates with the power of the finger. Therefore, it is possible to have strong and weak strength according to the song you want to play, so the range of expression is wide and fun. Also, unlike the time when you learned that the dedicated application contains the scores of famous songs you played in the past and the function that is scored when you play them, you can play the piano like a game did. Even after living alone, I thought, "I want to play the piano again!", But I couldn't get enough hands considering the room layout and financial aspects. However, this also clears that worry. I started playing the piano again, and when I had time I enjoyed playing songs that I used to play in accompaniments and competitions.
A feeling like a grand piano
HM (20's, female)
The number of keys is 88, the same as a grand piano, and the playing comfort is comparable to a grand piano.The electronic piano I've played in the past was impressive with a light touch, but the PX-S1000 has a moderate weight, making it easy to add dynamics, and has the feeling of "playing".
It is also convenient to have a metronome and recording function. Because you can adjust the volumeI can play without worrying even at the end of work nightAlso ◎. I'm glad I can play without earphones. The quality is so good that I want to use it even when I pull it out when I want to play, so I want to resume my new hobby at this time. In the past, I mainly played classical songs that I played in competitions, but now as a hobby, I want to enjoy my favorite movie songs and Japanese music.
Play while playing your favorite music on Bluetooth compatible speakers
K ・ M (20's, female)
We were worried about being able to put room as there was not much space with 6 tatami mats, but there was no problem. further,Simple design fits into the room more than expected.
It was an impression that it was light when playing the keyboard with an electronic piano,PX-S1000 can select the weight when playing the keyboardSo I'm glad I can just weigh it right for me. Furthermore, it is surprising that it can be used as a Bluetooth speaker. I didn't think I could play my favorite music by connecting my electronic piano to my cell phone. I had no chance to touch the piano since junior high school, so I was glad that the score was attached. When I was a child, I often watched music programs and played them without forgetting the sound. But with the PX-S1000, you can play your favorite songs while playing. Often the score is not available for the latest song, so it's fun to play along with it while listening. Recently I often listen to songs from bands with many piano parts, but now I have a piano at home so I want to copy it to my heart's content.
The charm of the "Privia" "PX-S1000" that I learned from actually experiencing it. From the voices of the three people, we found that many people who gave up purchasing for reasons such as "take a place" or "will not bother the neighborhood" when living alone. However, with the "Privia" and "PX-S1000", you don't need to worry.
This product is designed to fit neatly into a room even when living alone and has high interior design. In addition, those who have been playing the piano in the past are convinced that the sound quality and playing feel of a grand piano are suitable for the lifestyle of modern people. If you play as a child and want to start over again, or want to find a new hobby in your new life, why not start this spring?
(PR) courtesy of Casio Computer
Source link