Technology
Research results that people who own luxury cars like Benz AudiBMW are " disgusting guys ''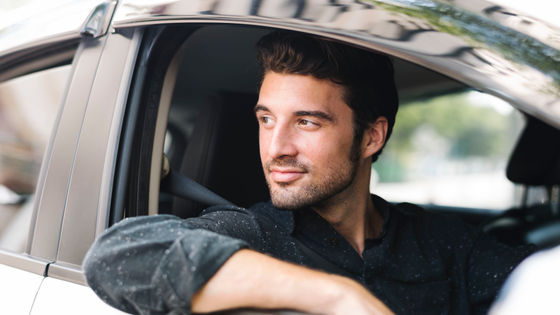 Research results that people who own luxury cars like Benz AudiBMW are " disgusting guys ''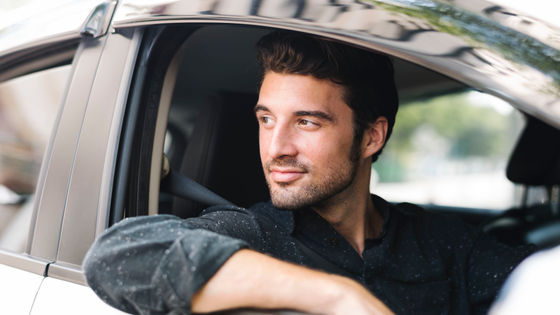 In the past,Becoming rich loses five humanitiesPsychologists have pointed out that a new study of luxury car ownership and personality has shown that "men who drive luxury cars are self-centered."
Not only assholes drive Mercedes.Other disagreeable men, also conscientious people drive high-status cars-Lönnqvist–International Journal of Psychology-Wiley Online Library
https://onlinelibrary.wiley.com/doi/full/10.1002/ijop.12642
Owners of high-status cars more likely to be 'self-centred men', study finds | CarAdvice
https://www.caradvice.com.au/822679/owners-high-status-cars/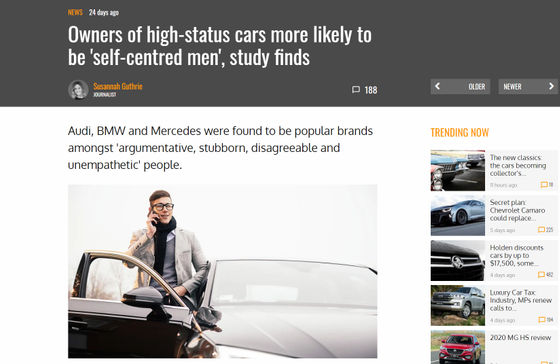 Owners of high-status cars are on a collision course with traffic
https://medicalxpress.com/news/2020-01-owners-high-status-cars-collision-traffic.html
Two types of people buy luxury cars
https://www.news.com.au/technology/innovation/motoring/motoring-news/survey-shows-two-types-of-people-buy-luxury-cars/news-story/b5fbaf42d7a89ecf85a8859a12e1a854
New Finnish study confirms that BMW and Audi owners drive like idiots | TreeHugger
https://www.treehugger.com/cars/new-finnish-study-confirms-bmw-and-audi-owners-drive-idiots.html
Researchers such as Jan Erik Lönnqvist, a sociologist at the Faculty of Social Sciences at the University of Helsinki in Finland, embarked on a study of the science fiction drama "X File" and the movie "Earth to EchoThe writer of Benjamin Van Allen, a writer known for working on the project, tweeted on Twitter. In 2018, Allen tweeted on Twitter, "Whether a bad guy rides a Mercedes, or a Mercedes-Benz gets a bad guy," and lamented the driving morals of the Benz owner.
Do assholes drive Mercedes, or does driving a Mercedes turn you into an asshole?

— Benjamin Van Allen (@BenVanAllen) June 27, 2018
" Especially, those who ride 'High-speed German cars' such as Audi, BMW, Mercedes-Benz seem to be more likely to drive too fast and recklessly without giving way to pedestrians, '' Lönnqvist said I am.
Lönnqvist and colleagues conducted a psychological survey of Finns in cars to see if it is true that driving in "fast German cars" is a rough thing. This research includes a Finnish market research firmTaloustutkimus Oy2422 Finns participated in the recruitment. According to the preliminary survey, 1892 people excluding 530 people, including those who did not have a car in the first place, those who were too minor in the car type, those who refused to report income, " openness, honesty, extroversion, Coordination and neuroticism "Five factors of personality traits (Big Five)A personality test to check was conducted.
Also, when the participants were rated 30 kinds of car brands on which they were riding by 13 car experts, five of " Audi, BMW, Jaguar, Lexus, Mercedes-Benz '' were classified as luxury cars Was. An analysis of the relationship between the tendency to ride such a luxury car and the personality revealed that it was found that "people with a disgusting personality are riding a luxury car." It seems to have been remarkable in "male lacking in sex."
The following is a diagram showing the relationship between the type of vehicle and the coordination by gender, where the blue line in the graph is male and the red line is female. Also, the vertical axis shows the status of the car, the horizontal axis shows the cooperativeness, and looking at the left half of the graph, it can be seen that men with a negative cooperativeness value tend to have a higher car status. You. Women, on the other hand, did not see this trend.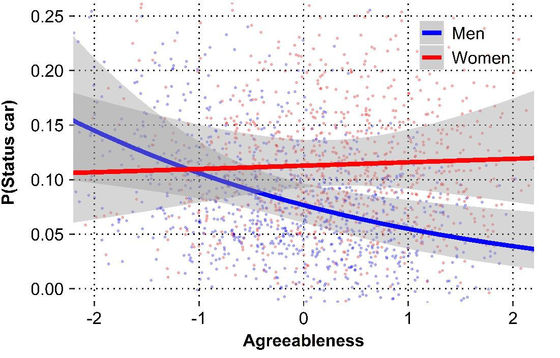 According to the research team, the researchers said, "People with personality traits that seem to be offensive personality seemed to be attracted to high-status cars. These people often assumed themselves to be excellent and flaunted. It's an insatiable type of thing that can also explain the desire to ride a high-performance car, and the same reason that luxury cars break traffic regulations more often than others. '' And commented.
On the other hand, Lönnqvist and colleagues have found that groups opposite to their antisocial personality traits also prefer luxury cars. It is "man and woman with high integrity." According to Lönnqvist about this result, "This is probably related to the height associated with the luxury car. There is a corresponding image in the type of car, and by driving a reliable car, they themselves He also sends a message that he is a trustworthy person. "He pointed out that just because you are in a luxury car does not mean you have a bad character.
Copy the title and URL of this article
Source link