Headline
Second-hand clothing up-cycle "2.5th distribution" changes the problem of clothes loss–FASHIONTECH PROJECT report
The problem of food loss, which causes a large amount of surplus food that must be discarded, has already been recognized as something familiar to many people, but in recent years, the problem of fashion loss associated with the disposal of clothing has also been highlighted. .. It is said that 1.5 billion garments remain unsold each year in Japan alone and are discarded as they are. It is arguably the first issue to be resolved in the current trend toward a sustainable and sustainable society.
 SREU [slew], a fashion brand whose concept is "one-piece ready-made clothes", is making unique efforts to solve the problems of fashion loss. The company, which remakes old clothes and finishes them into new products, recreates clothes that are no longer needed to increase added value, and goes beyond the framework of secondary distribution to become a "2.5th distribution" flow. And proposes a new era of fashion.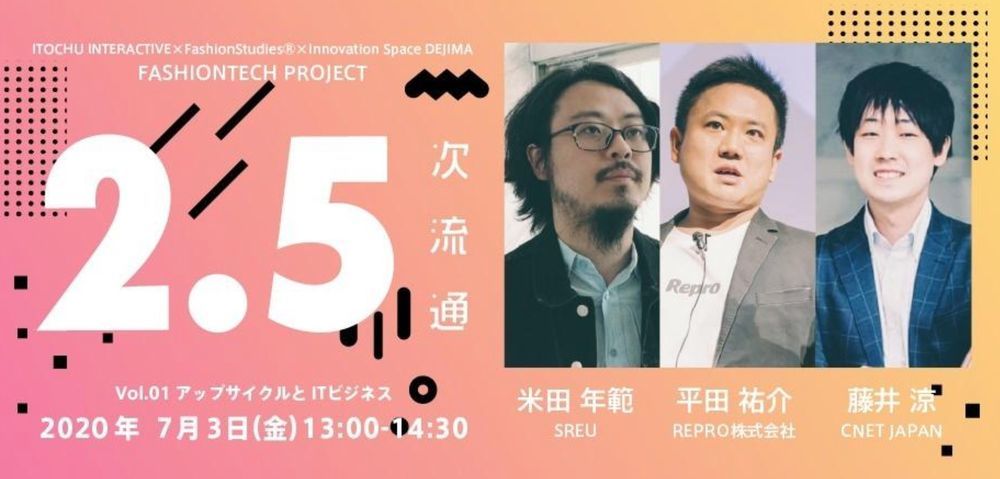 The first "FASHION TECH PROJECT" discussion on the theme of "up cycle and IT business"
ITOCHU Interactive [IIC] held an online seminar titled "FASHION TECH PROJECT "Series 2.5th Distribution Vol.01 Upcycle and IT Business"" in July. With SREU representative Tomonori Yoneda as a host, we will welcome guests every time, cooperate with various technologies including 2.5th distribution and EC, and explore the possibility of new business with all three webinars Become.
For the first time, we had a deep exchange with Mr. Yoneda for many years and welcomed Mr. Yusuke Hirata, CEO of Repro who develops next-generation CRM services for domestic BtoC, and talked about the up cycle and the possibility of IT business dealing with one-off items. The day's moderator was Ryo Fujii, the editor-in-chief of CNET Japan.
Definition of "up cycle" considered by SREU
Unlike conventional mass-produced off-the-shelf products, SREU creates only one fashion item in the world and sells it for general distribution. After starting with the brand "FURUGI-NI-LACE" in 2016, it rebranded the current SREU in 2019, and participated in the fashion show "Tokyo Collection" held in the autumn of the same year, which attracted attention.
Mainly developing a business that sells "one-off items" that are remakes of used clothes by putting them in normal distribution
 Second-hand clothes that could not be sold because they were unsold at the shop and were originally discarded or flowed to overseas markets, or were made by clothing manufacturers as product samples. In addition to simply remaking them, we also plan and manufacture fashion items that have undergone so-called "up-cycles" in which they are redesigned to enhance their value. Another unique feature is that the pricing is set from a marketing perspective that emphasizes the "price that makes you want to buy" rather than the cost and manufacturing effort.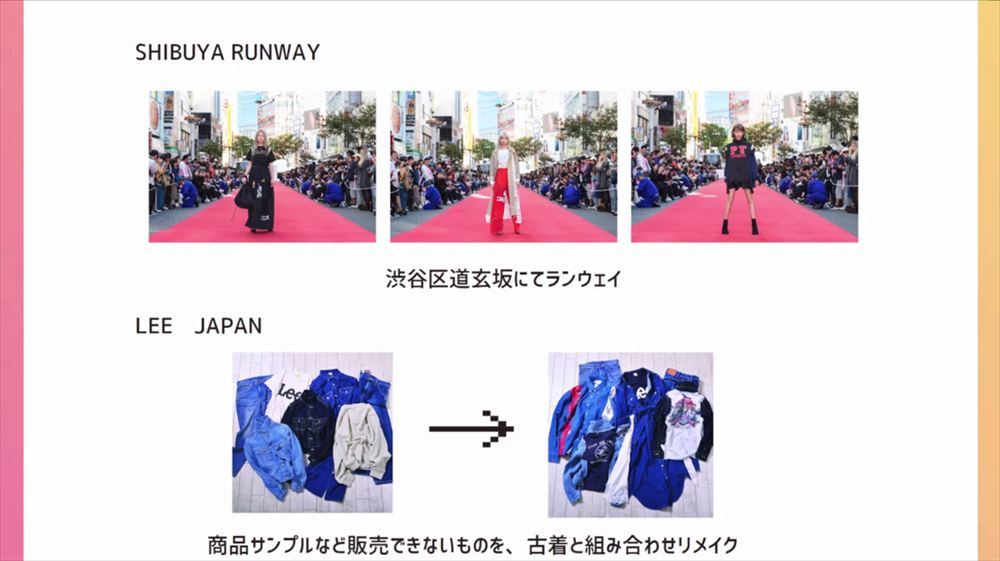 We also manufacture products based on sample products of major brands.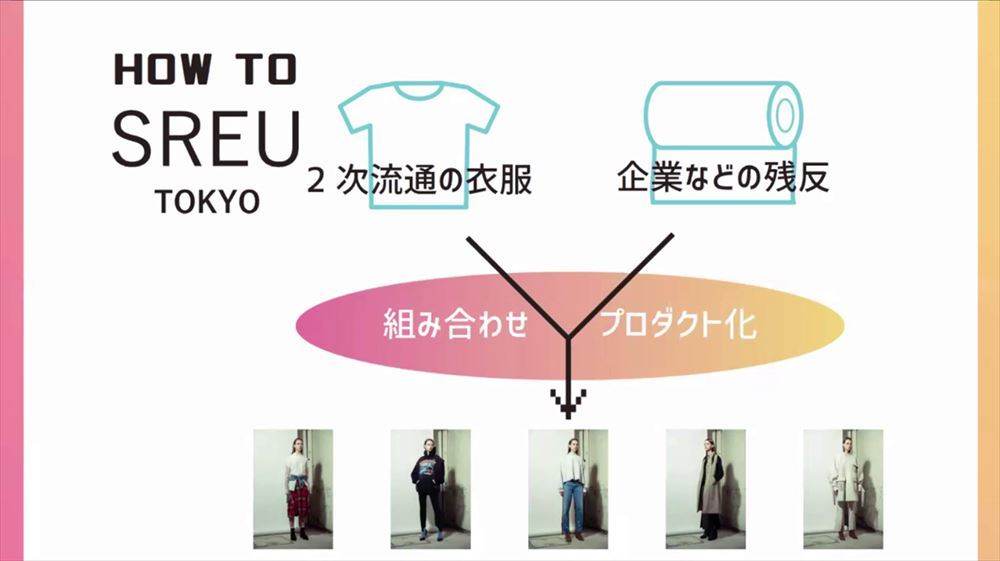 We will continue to fully develop products that combine the remains of apparel manufacturers, which had been discarded until now, with second-hand clothing, etc.
The circulation of fashion represented by such an up cycle is called "2.5th distribution" in SREU, and it is the "first distribution" that is first distributed and sold after manufacturing, or once passed into the hands of consumers. Later, it is distinguished from the "secondary distribution" that is sold through second hand clothing stores and auctions. Mr. Yoneda defines that "the product that does not go through the secondary distribution due to the presence of spots or holes and that it is redesigned and valued and sold again" is the 2.5th distribution, up-cycle product.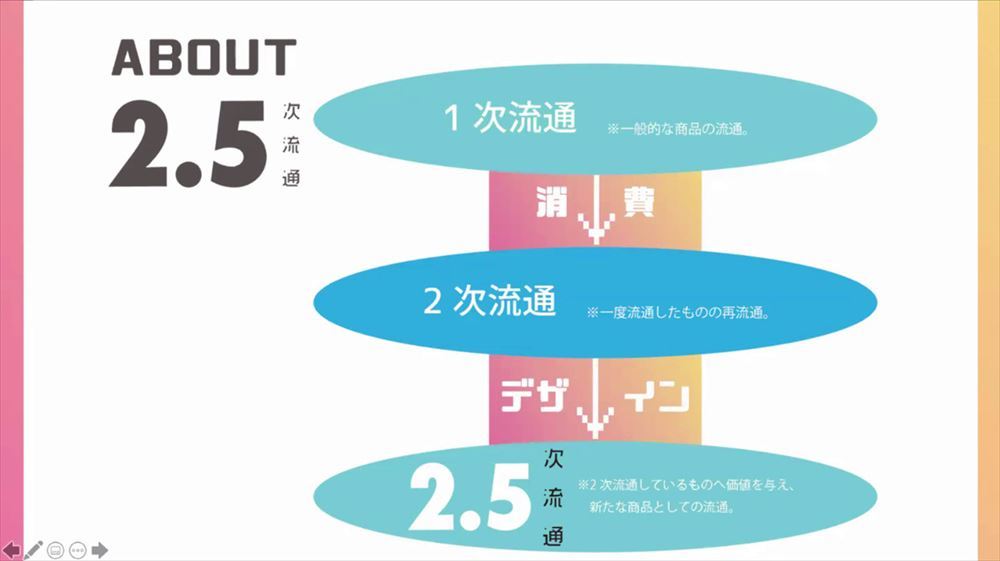 The 2.5th distribution is a new product with added value added to the second distribution by remake, up-cycle, etc.
Repro, on the other hand, was founded in 2014. We provide companies with a marketing solution for BtoC that collects behaviors and attributes of users who use smartphone applications and websites such as EC services and enables them to take optimal actions for individual users based on them. ing.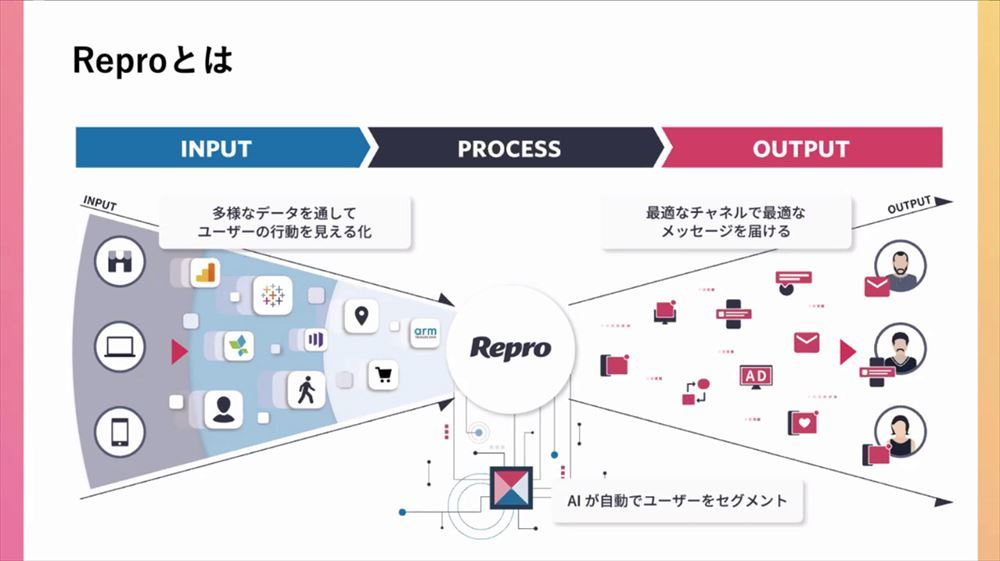 Repro provides BtoC marketing solutions
By utilizing the company's solution, it becomes possible to make recommendations and guidance to users through email distribution, push notifications, and pop-up displays on apps and the web. Currently, in addition to apparel companies, it is being introduced to major companies in e-commerce, finance, human resources, and entertainment companies, and a subsidiary has also been established in Singapore to start developing services for Asia and the world.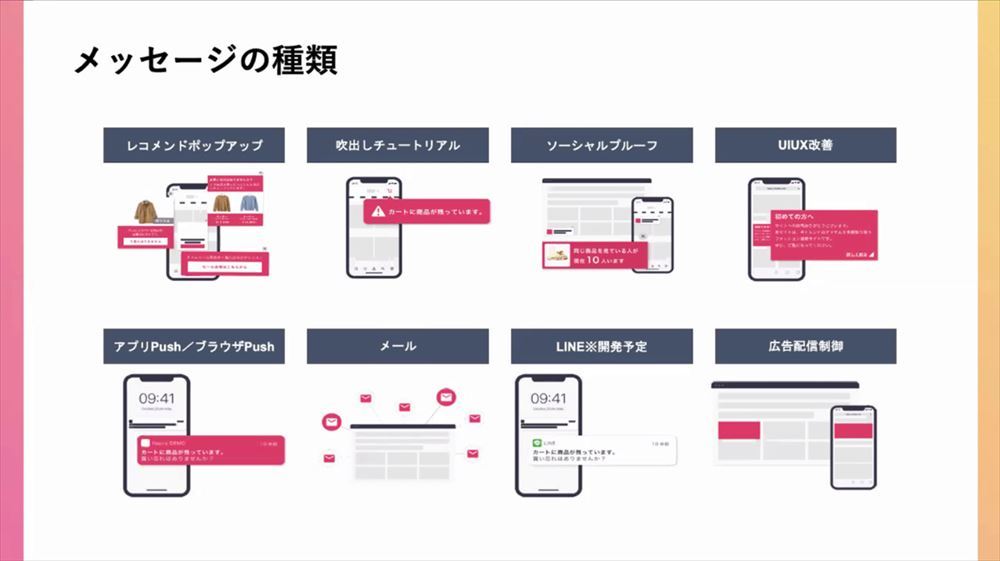 Depending on the user's attributes and behaviors, push notifications, pop-ups on apps and the web are displayed.
Corporate CSR activities and fashion are a promising combination
The collaboration between SREU and Repro was at the fashion show "Tokyo Collection" held in October 2019. Until then, it seems that SREU was in charge of producing Repro's original T-shirts, and SREU thought that if it could be an interesting and unusual activity in the Tokyo collection, SREU approached Repro. Was the catalyst for the collaboration.
SREU's usual style is to use old clothes as a material and remake it, but at this time, it is clear that there are extra Repro new staff T-shirts made in the past, and it is reborn in the form of an up cycle using it as a raw material, I decided to exhibit as a new work. The "Repro" logo can be seen on the belts, shorts, and tote bags worn by the models that actually appeared at the fashion show. Since the logo is diagonal or upside down, it usually conflicts with the brand guidelines of the company, but Mr. Hirata said that it was specially ignored.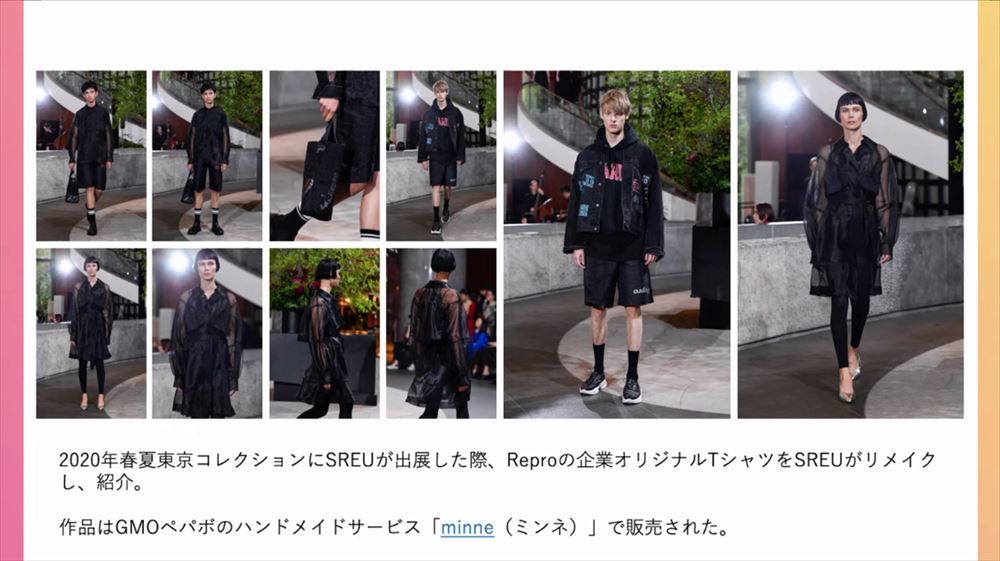 Based on the Repro T-shirts that I made in the past, I made a work to be exhibited at a fashion show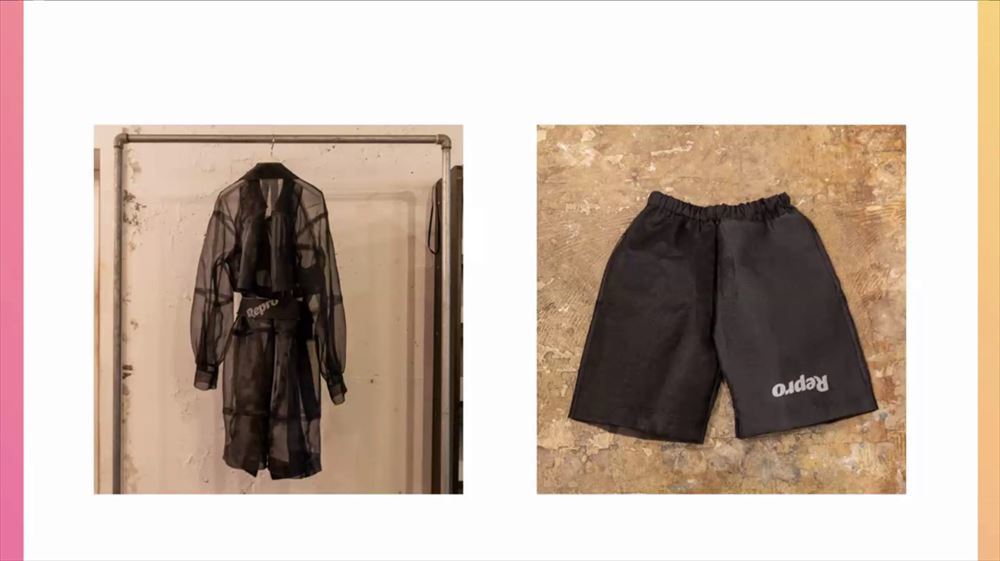 You can see the Repro logo on the belt and half pants in a diagonal or upside down shape
Through these efforts, Mr. Hirata realized that the up cycle is also suitable for corporate CSR activities. There is a lot of attention around corporate CSR activities around the world, and there is a trend in which the contribution to society is more important than large corporations, otherwise human resources will not gather, he said. Under such circumstances, it is also as a new CSR for companies that fashion brands tie up with companies like this time , Or as one of the trends of fashion in the future, we see it as a promising option.
Mr. Yoneda responded, "Tie-ups with companies seem to be interesting, so I would like to aim for it." "Sustainable is a trend right now," leading companies are beginning to work on it, but they say "everyone will have to be aware of it in the future." When that happens, it is difficult for large companies to work quickly with their own resources, even if they become aware of sustainability for the first time. However, with the support of fashion brands like SREU, it is likely that even large companies will be able to work smoothly.
How companies communicate that there is a "large amount of waste inventory"
▽ Up-cycle and movement of the 2.5th distribution must play a major role in the future society where sustainable is important. By combining this with the power of technology, it is possible to develop services that are more efficient and useful for both producers and consumers.
For example, by matching product planners and designers with production plants around the world to quickly deliver high-quality products, a service called "AnyFactory" or items that are displayed in videos are tagged. Services such as "TIG", which allows users to tap detailed information at any time to tap it, will help solve future issues and strengthen businesses in the 2.5th distribution. ANA's "avatar-in," which allows you to remotely operate self-propelled avatars and do shopping without going to the local area, seems to have a high affinity with the fashion industry.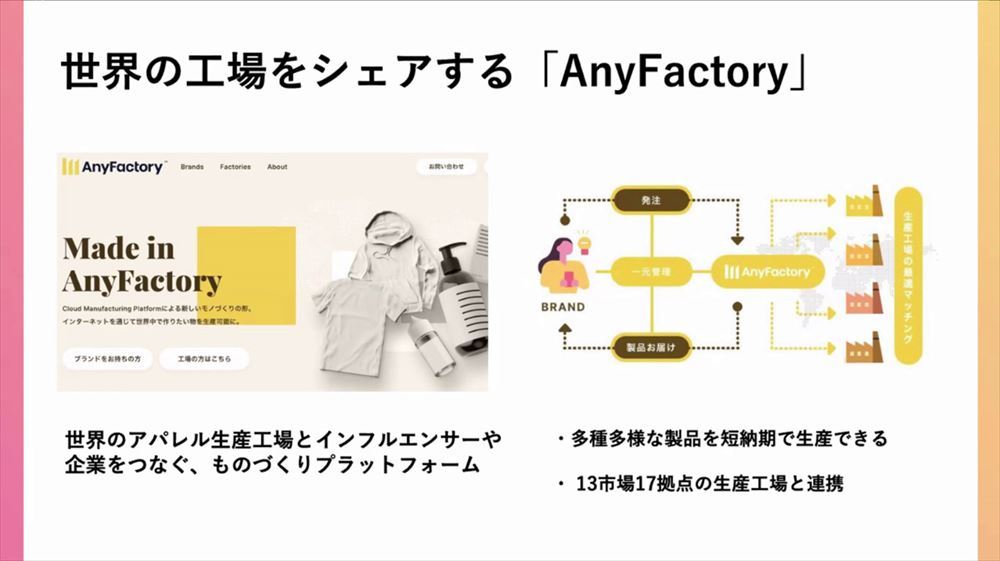 Matching service with production factories "Any Factory"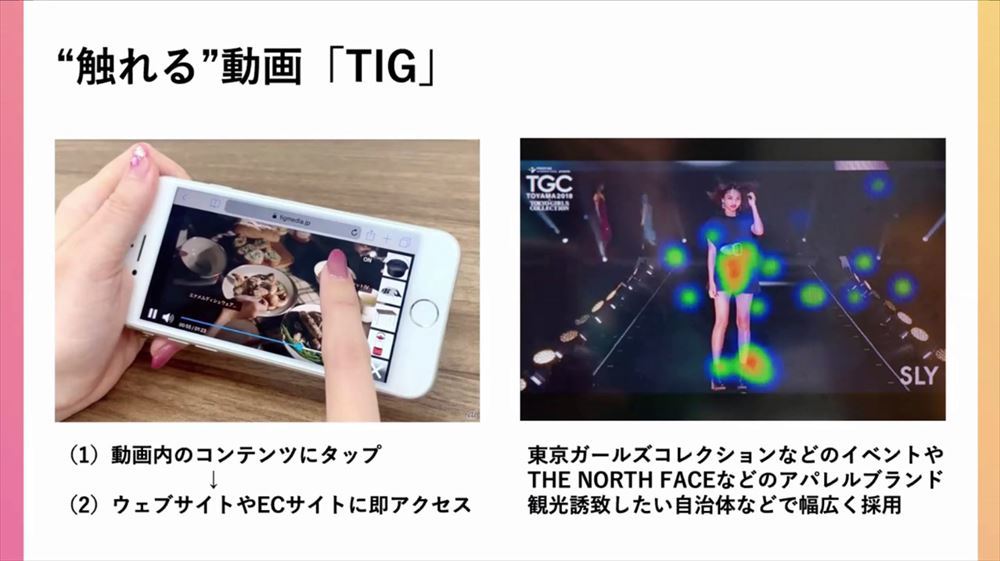 "TIG" that you can get information by tapping the part you care about in the video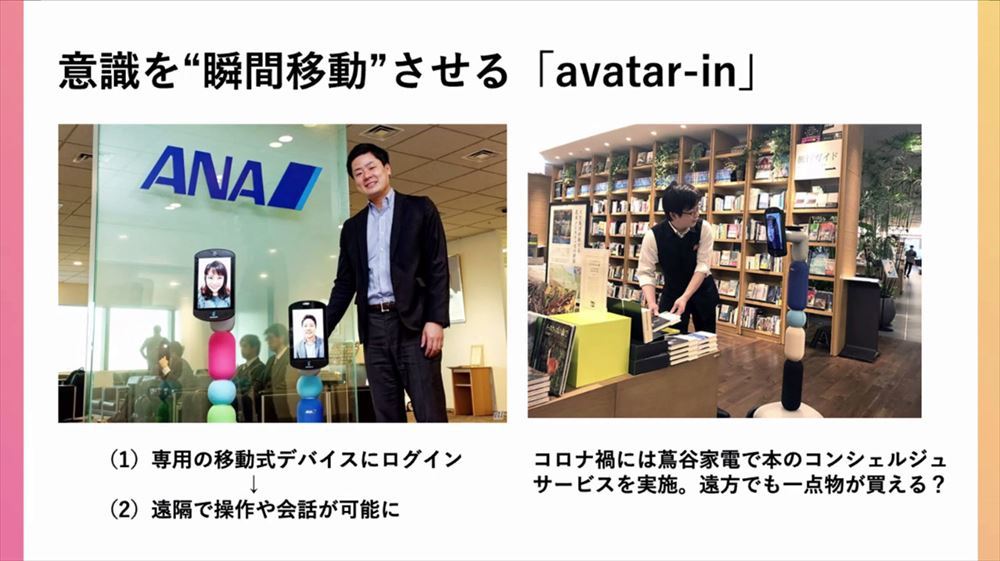 By remotely operating a self-propelled avatar with a screen, you can create an atmosphere as if you were there "avatar-in"
Mr. Hirata mentioned the mechanism of fully custom-made suits at unmanned stores, which is realized under the brand "STAMP" of FABRIC TOKYO. It seems that the automation of production factories has already progressed beyond imagination, and it is highly possible that the fashion industry will continue to evolve by further applying IT's power.
However, he once again pointed out that "the biggest issue for society as a whole now is the large amount of waste inventory." On the other hand, we think that it will be possible to minimize waste inventory by improving demand forecasting with machine learning, but when it is large like a major brand, it is inevitable that "opportunity loss will occur." Considering this, we will mass-produce it, so the waste inventory will never be zero." Therefore, it is important to work together with emerging fashion brands such as SREU to develop products that make use of the waste inventory.
On the other hand, Mr. Yoneda argued that it is necessary to reconsider how to communicate to the public, understanding that major brands are in a situation where it is "difficult to publicize that there is too much inventory". It was For example, since large quantities are manufactured so that consumers can purchase them at low cost, some products may be discarded due to that, but from now on, appealing that they will be utilized in different forms instead of being discarded By doing so, I propose that "a negative story can be turned into a positive one."
Although the movement of the 2.5th distribution is just beginning, it can be one of the direct solutions to social issues, and the number of services that can support it from a technical perspective are appearing one after another. It seems that more and more attention will be given from now on. The content of the seminar made me feel that the fashion industry can be expected to continue to grow as a promising market by approaching it from a different perspective from the conventional business of mass production and mass consumption.
In SREU, the pattern data of the mask and how to make itReleasedoing. In addition, the second online seminar for the 2.5th distribution in the series "Upcycle and intellectual property rightsWill be held on August 21st.
Source link