Headline
Sharp, new corona affected sales, but supply chain is almost normal–white goods contribute to profits
Sharp announced its consolidated results for the first quarter of the fiscal year ending March 2021 [April-June 2020]. Sales increased 0.4% year-on-year to ¥517.2 billion, operating income decreased 37.8% to ¥9.0 billion, ordinary income decreased 44.1% to ¥7.7 billion, and net income decreased 36.6% to ¥7.9 billion. ..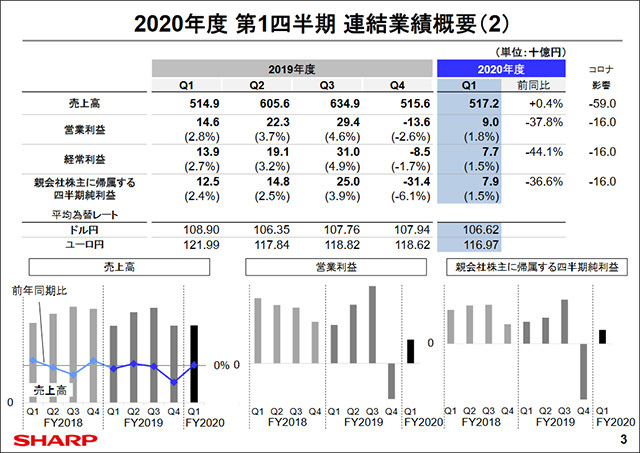 2020 first quarter consolidated financial results overview
Katsuaki Nomura, President and COO of Sharp, said, "Despite the new coronavirus having an impact on sales, the supply chain, including the production bases in China, was generally normalized at an early stage, and sales and profits will be in the fourth quarter of 2019. In the business solutions business, due to the continued closure of offices, the business volume and equipment installation did not progress, and the print volume declined, causing both the main unit and supply to decline. , And the performance of each of the other businesses is steadily recovering."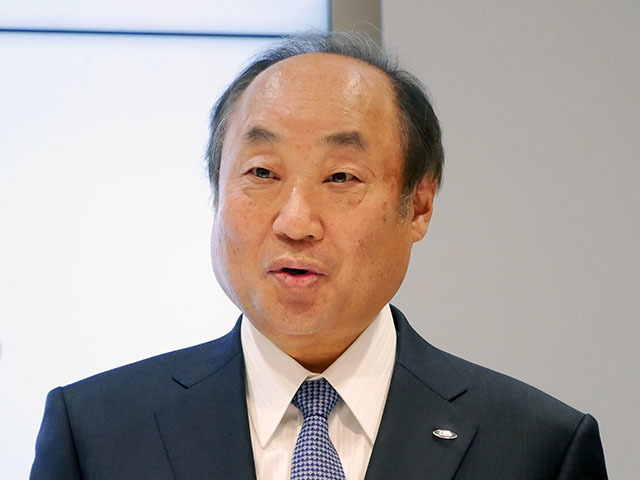 Mr. Katsuaki Nomura, Sharp's President and COO [photographed at the financial meeting on February 4]
The effects of the new coronavirus are said to be about 59 billion yen in sales and 16 billion yen in operating income.
By segment, smart life sales increased 1.9% year-on-year to 184.5 billion yen, and operating income increased 2.1 times to 13.4 billion yen. "As for white goods in ASEAN, sales declined due to the impact of the new coronavirus, but sales in the device business, etc. increased. The result of efforts to improve cost-effectiveness led to an increase in profits. In addition to the above," microwave ovens, air purifiers, etc. have grown significantly in Japan. Washing machines struggled in April, but washing machines and refrigerators have also grown since May. Vacuum cleaners have also grown since May. White goods have contributed to profits, and the deficit of devices has disappeared."
▽ Sales of 8K ecosystem increased by 1.7% from the same period of the previous year to 267.1 billion yen, and operating income fell from a surplus of 6.5 billion yen in the same period of the previous year to a deficit of 4.9 billion yen. "Business solutions were affected by the closure of offices. Sales of finished TVs increased in Japan but decreased in China. Sales of display devices increased for PCs, tablets, and smartphones. However, sales for automobiles decreased and the product mix deteriorated."
Flat-screen TVs were tough overseas, but in Japan, demand for nest nesting grew and it turned into the black. The Blu-ray recorder was also doing well. However, business solutions were in the red, and in-vehicle displays were in the red as well.
ICT sales decreased 8.2% year on year to ¥88.3 billion and operating income decreased 39.4% to ¥4.4 billion. "Communications launched a new product in June of the same period last year, but this year it has declined due to the fact that it was in the second half of the year. The telecommunications business, Dynabook is in the black."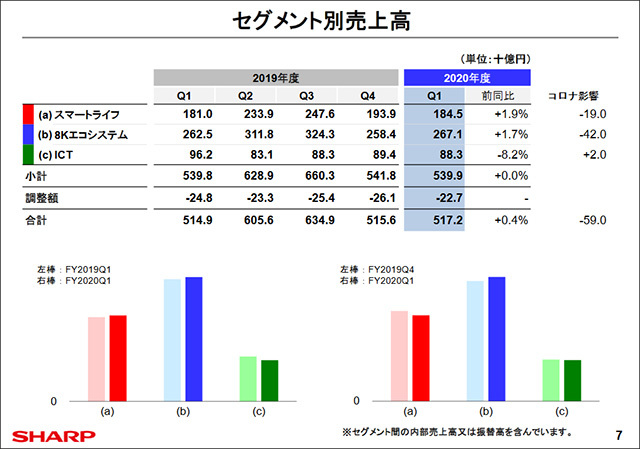 Sales by segment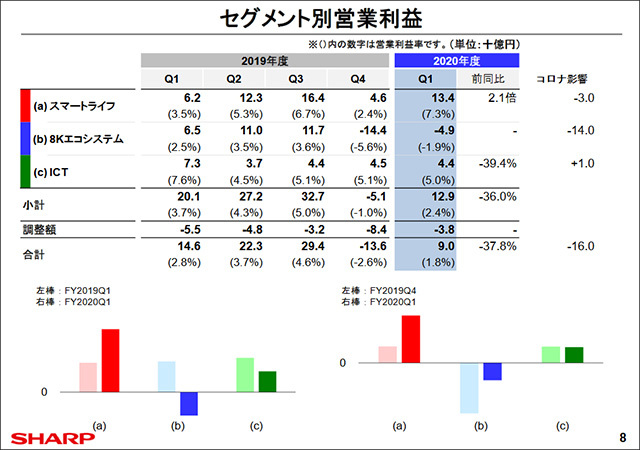 Operating income by segment
Launch of OLED TV in Japan "I want to grow my business firmly"
On the other hand, the forecast for the full year ending March 2021 is that sales will increase 3.5% year-on-year to 2,350 billion yen, operating income will increase 55.4% to 82 billion yen, and ordinary income will increase 26.0% to 70 billion yen. Net income increased 138.6% to ¥50 billion. Until now, the company had not announced the full-year outlook, saying that it was difficult to predict trends in new-type coronavirus infections.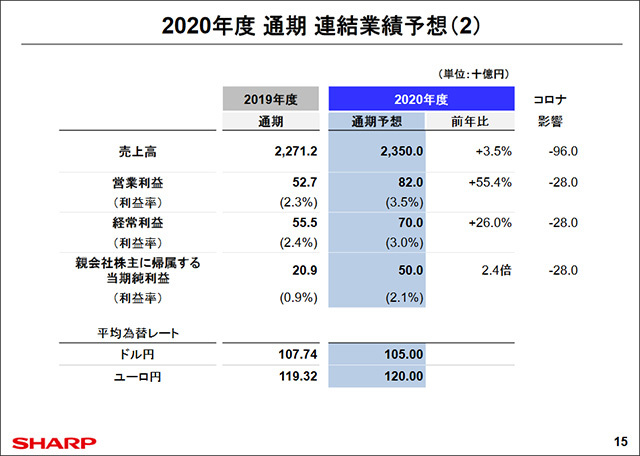 FY2020 full-year consolidated earnings forecast
President Nomura and COO said, "Since it is difficult to determine when the new coronavirus will end, the performance forecast was formulated on the assumption that normalization of economic activities in each country will proceed in stages. Since the supply chain has been normalized, the business is expected to recover once restrictions on sales are eased. We will continue to improve our financial position.
"Although the epidemic of the new coronavirus and the US-China trade friction continue, the business performance is on a recovery trend, and the final profit and loss in the first quarter is in the black. In fiscal 2020, in response to changes in the environment, We will strive to recover, improve our financial position, and increase shareholder value. We aim to be a company that can maintain its performance even in the New Normal era and contribute to society and society."
In addition, "FY2020 was a year in which a new medium-term management plan started, but the business environment has changed significantly due to the new coronavirus and the US-China trade conflict. Under the new business promotion system, It will be one year in which we will focus on the response and solidification of the foundation for the next medium-term management plan."
Sharp has been working on "Transformation'' as a business transformation for the next 100 years from the three years to FY2019, but one year of 2020, preparation for the next medium-term management plan, transition period , And the idea of ​​working on recovery of business performance and strengthening of business structure under the theme of "Transition". In addition, it states that it will formulate the next medium-term management plan in three years from 2021 to 2023, and will work on realizing the business vision under the theme of "Realization".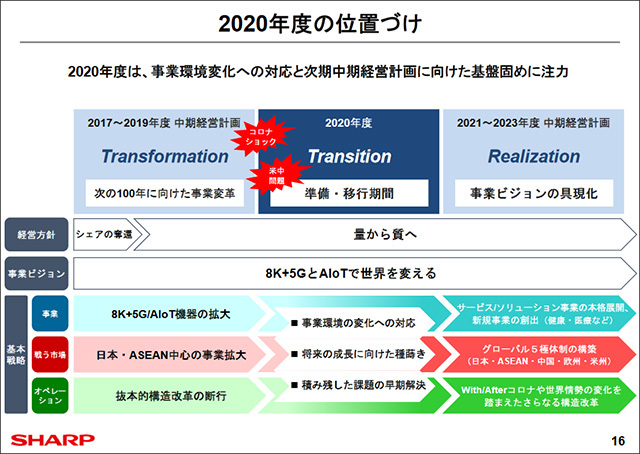 Positioning in 2020
"In addition to creating various products and devices centered around 8K + 5G and AIoT, we will work to strengthen our service and solution businesses, build a global five-pole system, and improve our financial position. Response to changes in the business environment, future Will sow seeds for the growth of and the early resolution of the remaining problems."
Regarding the next mid-term business plan from FY2021, "We would like to announce it by the beginning of FY2021 after identifying the effects of the new coronavirus."
▽We did not clarify the business outlook for each segment in FY2020, but we mentioned the direction.
 In Smart Life, sales are expected to increase slightly year on year, and profit is expected to grow by 40%. "Assuming growth in white goods and a breakaway from device deficits. Demand for cleanliness and health awareness and demand for nest nesting are expected to boost demand for health appliances and cooking appliances as well as air purifiers and air conditioners. Is thinking of strengthening sales of AIoT devices related to smart life. We also want to increase sales at EC sites that currently handle Sharp masks and the like."
8K ecosystem plans to grow double-digit in sales and profit both year on year. "We expect that the impact of the new Corona will ease in each country, and we look forward to growth in IT solutions such as demand for working from home, convenience store-related demand, smart offices, and support for teleworking."
Also, for display devices, "We want to quickly respond to customer demand. Strengthen the display business for PCs, tablets, and medical devices. We aim to increase the market share for smartphones." Regarding TV, he said, "I want to grow my business steadily," after touching on the launch of organic EL TVs in Japan.
ICT is expected to increase both sales and profits. "We will thoroughly respond to businesses in the education field, including the GIGA school concept, and strengthen sales of new products. Dynabook is the demand for telework and education field. In addition to hardware, we would like to strengthen not only the hardware, but also the service business." Regarding smartphones, in addition to strengthening the mid-range, we plan to strengthen sales of 5G in the second half.
Regarding the main initiatives in fiscal 2020, "The business environment is changing drastically, including the demand for new lifestyles, and we are leveraging our resources to contribute to lifestyle changes and consider this as a business opportunity. I will go."
In white goods and TVs, we will respond to nesting demand and focus on hot cooks, Helsio Deli, high-value-added TVs such as 8K and 4K, and proactively install products equipped with plasma clusters as health awareness rises. Appeal. With regard to PCs, it is said that the demand will be captured by PCs, tablets, large touch displays, etc., in line with the expansion of telework, the introduction of IT operations, and the domestic and international educational ICT such as the GIGA school concept.
In the communications field, we plan to grow smartphones, routers, and tablets that support 5G services from the second half of FY2020. With regard to business solutions, although demand will remain harsh, office demand is expected to recover moderately, and COCORO OFFICE and unmanned solutions will be developed to meet demand for telework. As for displays, we anticipate growth in demand for medium-sized panels for tablets and PCs, panels for large-sized touch displays, etc., by capturing demand accompanying the progress of telework and educational ICT. It will also strengthen its membership business such as COCORO STORE.
At the interview, we also explained the new business structure that started in June 2020. In the future, Chairman and CEO Daisho Kure will be in charge of overseas operations and President Nomura and COO will be in charge of domestic operations. A new executive structure with five senior executive officers in charge of smart life, 8K ecosystem, ICT, ASEAN/Oceania/Americas/Europe, and China was added. The Senior Managing Director will specialize in the construction of business and regional strategies to enhance the comprehensive strength of One Sharp."
On the other hand, on August 5th, the display business was spun off and Sharp Display Technology was founded. "We have excellent technology such as IGZO and we are accelerating investment in next-generation displays. The aim is to make it easier to conduct flexible collaboration with other companies. The impact on business results this fiscal year will be minor." Regarding the acquisition of Japan Display's Hakusan Plant, "I would like to refrain from details." However, as a leading company of LCDs, it will lead to the development of next-generation displays as a result of a request from a specific customer, a contribution to Japanese society as a listed company. From this point of view, we are proceeding with the examination."
Also, regarding the spin-off of the camera module business, "as announced in May, we are considering aiming for spin-off in FY2020."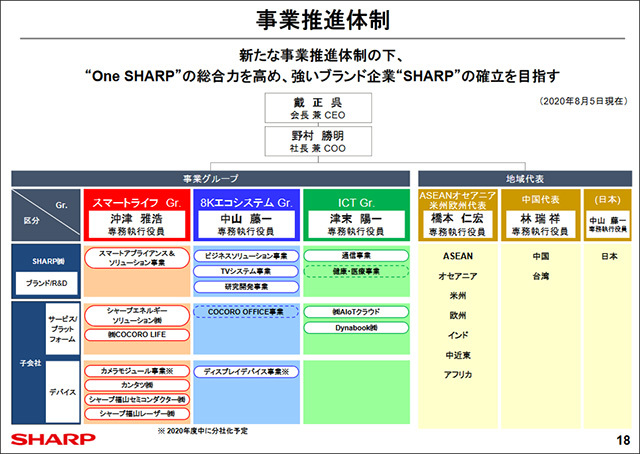 Business promotion system
Source link