Headline
Sharp turns profitable in all segments-prolonged impact of new coronavirus could procure parts from outside Hubei
Sharp announced consolidated results for the third quarter of fiscal 2019 [April to December 2019]. Net sales decreased 0.9% year-on-year to ¥ 1,075.5 billion, operating income decreased 2.7% to ¥ 66.3 billion, ordinary income increased 3.4% to ¥ 64.1 billion, and net income decreased 16.9% to ¥ 52.4 billion. became.
In the third quarter [October-December 2019], consolidated sales decreased 1.2% year on year to 634.9 billion yen, operating income increased 38.5% to 29.4 billion yen, and ordinary income increased 64.9%. Net income was 31.0 billion yen, up 13.1% to 25 billion yen.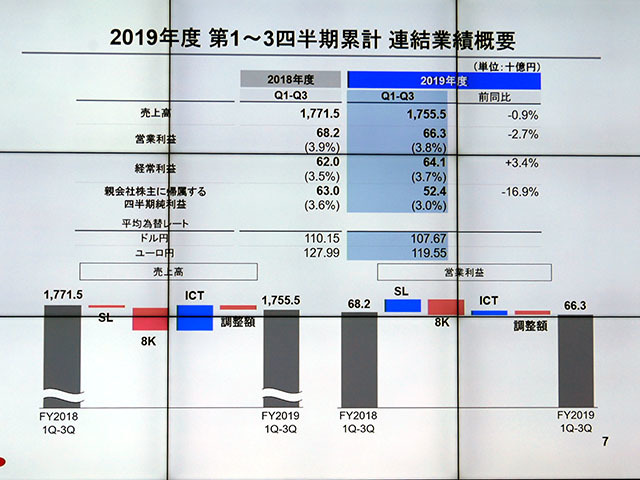 Summary of consolidated business results for the first three quarters of FY2019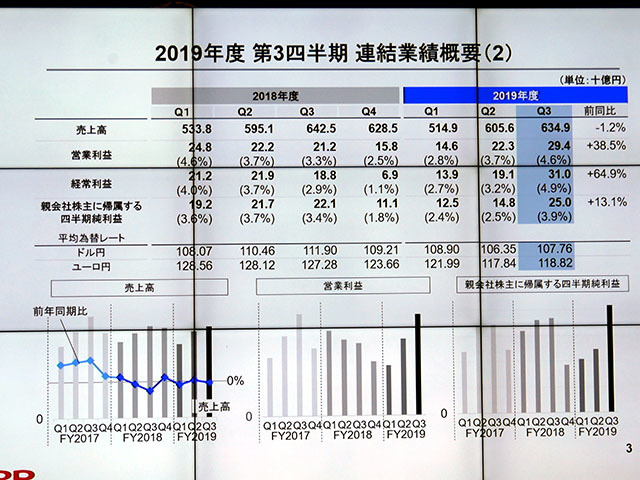 FY2019 3Q Consolidated Business Overview
Katsuaki Nomura, Representative Director and Executive Vice President of Sharp, said, " Although the harsh business environment continued, including the prolonged U.S.-China trade dispute, stable profits were secured in the third quarter due to steady progress in transformation. However, profits were at the same level as in the first quarter of fiscal 2018. The recovery was on the bottom in the fourth quarter of fiscal 2018, and each profit increased further from the second quarter. For the first time in six quarters, it has risen above 4.5%, and margins are approaching 4%. Operating and margins are recovering for three consecutive quarters. All segments are in the black. " Summarized.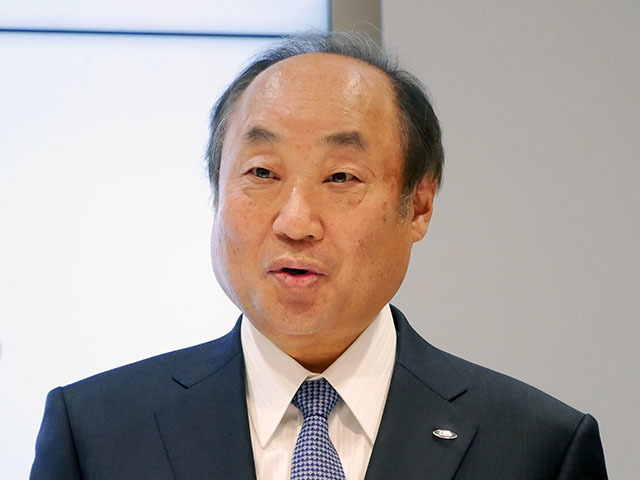 Katsuaki Nomura, Representative Director and Executive Vice President of Sharp
セ グ メ ン ト In the first nine months, Smart Life sales decreased 1.6% year on year to ¥ 662.6 billion and operating income increased 34.5% to ¥ 35.1 billion.
"Smart Life saw an increase in sales and profits in the third quarter. In white goods, sales of air conditioners, refrigerators, and washing machines grew due to strong sales of locally fitted home appliances overseas. Sales of devices such as semiconductors and camera modules also increased. However, in the domestic white goods business, profits declined due to the reaction to the consumption tax hike. " Regarding the domestic consumer electronics business, "The reaction was smaller than the consumption tax hike in 2014, but the return was weaker than expected. In the industry as a whole, 80% was in October compared with the previous year and 90% in November.12 I thought that the moon would return, but it was only about 90%, sharp exceeded it slightly, air conditioners etc. weakened due to the warm winter. I look forward to the demand related to the Tokyo Olympics. "
Sales of the 8K ecosystem were 898.8 billion yen, down 8.2% year on year, and operating income was 29.3 billion yen, down 27.6% year on year. "As for display devices, sales of panels for smartphones of specific customers grew, but sales of tablets and PC panels, which had new product launches different from the previous year, decreased. In-vehicle panels were also affected by the market environment. In the TV market, the Chinese market was in the red in the first quarter, but has been in the black since then.The Japanese TV business saw sales and profits decline in the third quarter due to the consumption tax hike. There is. "
In ICT, net sales increased 51.0% year-on-year to 267.7 billion yen and operating income increased 27.4% year-on-year to 15.5 billion yen. "In telecommunications, although sales and profits declined in the third quarter due to the effects of changes in carrier fee structures, Dynabook grew. Dynabook continues to be profitable. AIoT cloud is also growing."
Sales by segment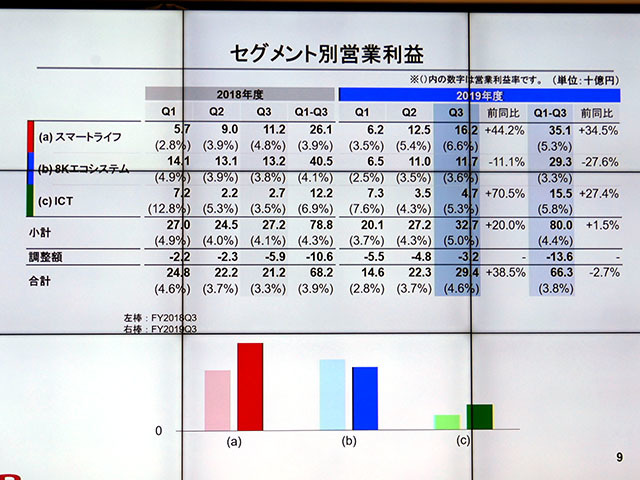 Operating income by segment
On the other hand, the full-year forecast for FY2019 has been revised downward. Sales declined 200 billion yen, up 2.1% from the previous year, to 2,450 billion yen. The profit target remains unchanged, with operating profit increasing 18.8% to ¥ 100 billion, ordinary profit increasing 37.7% to ¥ 95 billion, and net income increasing 7.8% to ¥ 80 billion.
"We expect our recovery trend to continue, and we expect sales and profits in the fourth quarter to exceed those in the third quarter. There have been some unusual movements, such as the demand reform being delayed from what was expected and some parts being affected by the shortage of parts, etc. The policy is to prioritize quality over quantity and prioritize profit over sales. In light of past performance and future conditions, we have revised our full-year forecasts for sales, but decided to keep the initial forecasts for each profit. "
New coronavirus, if prolonged, to procure parts from outside Hubei Province
Regarding the effects of the new coronavirus, "It is difficult to calculate the effects rationally at this time, and we have not reflected them in our earnings forecasts." The production has been suspended since the Chinese New Year until February 9. If prolonged, parts procured from Hubei Province will be produced at a different production site in China. I would like to consider procurement from
The company's main initiatives in the second half of the year include " a steady recovery in customer demand, resulting in a significant recovery in the device and display businesses '' and " acquisition of new customers and expansion of business globally, including in Europe, North America and China. '' , " Strengthening the B2B business in white goods and televisions, starting with the energy business, '' " Launching compatible devices in a timely manner in line with the launch of 5G services, '' " Strengthening business with new products such as 8K devices, '' Expand services such as IoT, cloud, smart life, etc. "and" Realize the above measures steadily by utilizing cross-industry collaboration and M & A. "
"In the third quarter, sales of IoT devices increased in addition to devices and displays that steadily captured customer demand. In addition to launching new models of 8K TVs, launching local fit products globally, and B2B business In the fourth quarter, the company expects to expand its business globally, particularly in Asia, and to increase sales of 5G-related equipment.In addition, it will be able to capture projects that are delayed from the third quarter in the fourth quarter In addition, the demand for the Tokyo Olympics and the demand for entrance to school can be expected.The fourth quarter will be able to improve the business performance.We will carry out flexible business management in response to changes in the environment and continue transformation, Aim to improve recovery, improve financial position, and increase shareholder value. "
The new medium-term management plan, which will be launched from fiscal 2020, states, "We are currently reviewing and formulating measures. We are working to expand our business centering on 8K, 5G, and AIoT. We will set the stage for a sustainable growth phase toward the future. We will provide an opportunity for explanation after May 2020, after the announcement of the full year 2019 financial results. "
Regarding the acquisition of Japan Display's Hakusan Plant, "We are considering in-house contribution to business results, risks, prices and conditions. The Hakusan Plant is a company that manufactures panels for specific customers [Apple]. The equipment is newer than the first factory. "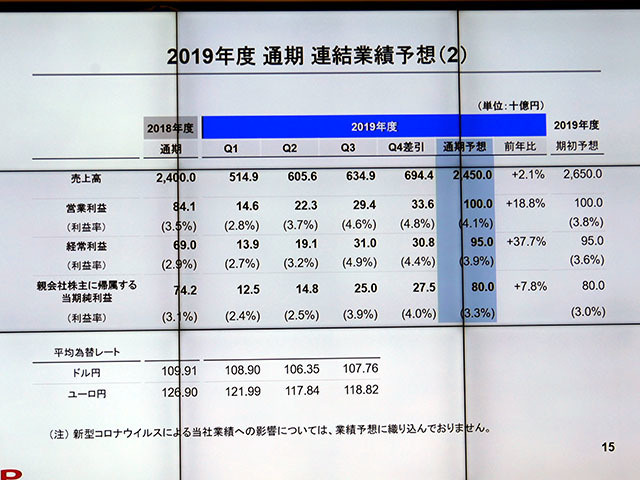 2019 full-year consolidated forecast
Source link